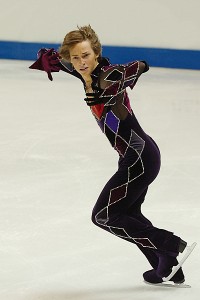 Feeling underwhelmed by his performances on the Grand Prix series last season, an eighth place finish at Skate America and fifth place showing at Cup of Russia, Adam Rippon went to Toronto, Canada, last winter looking for guidance. He left with a new direction for his skating.
"I traveled to Toronto to work with [choreographer] David Wilson before Christmas last year and met Brian [Orser] while I was there," two-time World Junior Champion Rippon said. "I liked the style of his coaching and returned shortly after Christmas as his student."
With only weeks until the 2009 U.S. Championships, Rippon parted ways with Nikolai Morozov, who coached Japanese skaters Shizuka Arakawa to the 2006 Olympic gold medal and Miki Ando.
"Nikolai helped me a great deal," said Rippon. "I learned a lot about figure skating as his student. He became very busy last season and I needed to find a coach that could give me more attention."
Rippon finished seventh at the nationals, only a few weeks into his partnership with Orser. In February, the partnership proved even more successful as Rippon claimed a second straight World Junior Championship.
"I feel honored to hold two World Junior Champion titles," said Rippon, who trains alongside World Champion Yu-Na Kim of Korea. "This year I feel better prepared to compete in the senior ranks nationally as well as internationally.  My main goal is to improve my skating every year."
When Rippon kicks off his season at Trophee Eric Bompard in Paris, Oct. 15-18, the first event in the 2009 International Skating Union (ISU) Grand Prix of Figure Skating circuit, the partnership will get a true test. He faces strong competitors including 2007 World Champion Brian Joubert of France, 2008 NHK Trophy Champion Nobunari Oda of Japan and two-time World Junior bronze medalist Sergei Voronov of Russia.
Rippon also faces a tough challenger from Team USA. Former U.S. silver medalist and reigning pewter medalist Ryan Bradley won the silver medal at 2008 Skate Canada over Evan Lysacek, who went on to win the 2009 World Championship. He started his season with a fourth place showing at Nebelhorn Trophy.
"All skaters at the senior ranks are very talented and no one should ever be underestimated," said Rippon, who skated to an eighth place finish at 2008 Skate America and fifth at NHK Trophy. "I don't think of skating in that way. I just want to skate my best every time I am on the ice."
Rippon will perform two new programs when he competes in Paris.

"I am training in Toronto with Brian Orser, my coach, five days a week and have two new programs this season choreographed by David Wilson," Rippon said before leaving for Paris. "My short is 'Jonathon Livingston Seagull' and my long is to 'Barber Violin Concerto'. I love my programs and am looking forward to presenting them in the fall."
If he wins a medal in Paris, it would be his first senior medal.
Trophee Eric Bompard is the first event of the 2009 International Skating Union (ISU) Grand Prix of Figure Skating circuit. The series, now in its 15th season, consists of six international events in a cumulative, point-scoring format. The top six scoring athletes in each discipline move onto the Grand Prix Final, Dec. 3-6, in Tokyo, Japan, which will be combined with the ISU Junior Grand Prix of Figure Skating Final for the second consecutive season.
The six Grand Prix events are Trophee Eric Bompard, Oct. 15-18, in Paris, France; Rostelecom Cup, Oct. 22-25, in Moscow Russia; Cup of China, Oct. 29-Nov. 1, in Beijing, China; NHK Trophy, Nov. 5-8, in Nagano, Japan; Skate America, Nov. 12-15, in Lake Placid, N.Y.; and Skate Canada, Nov. 19-22, in Kitchener, Canada.
The points toward the Grand Prix Final that are awarded for each place are 15 points for first; 13 points for second; 11 points for third; nine points for fourth; seven points for fifth; five points for sixth place; four points for seventh place; and three points for eighth. In pair skating, only the top six receive points.
__________
Figure Skaters Online strives to be an accurate source of information related to the sport of figure skating. To report an error, please e-mail the news editor. Include the article date and title in your e-mail.