Recap by Gina Capellazzi, website administrator
Header photo by Robin Ritoss, Starr Andrew mixed zone photo by Francesca S.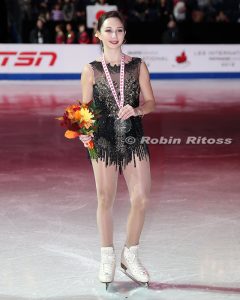 LAVAL, QUEBEC–Russia's Elizaveta Tuktamysheva was crowned the ladies champion at Skate Canada International Saturday.
Tuktamysheva opened her "You Don't Love Me", "Petite Fleur" and "Cat Groove" free skate with a fall on her triple axel, which she successfully landed a day earlier in the short program. The early mistake did not stop the 21-year-old from landing her remaining jumps, five triples and her two double axels. She would finish the free skate in third place, but with her short program advantage, managed to keep the top spot to win gold.
"I didn't skate well today. I fell on my first jump-the triple axel. I was nervous," Tuktamysheva admitted. "I'm happy I am in first place, but I need to work a lot. My next event is the NHK Trophy in Japan and I'm very glad I can go there. I want to improve my triple Axel and skate better in Japan."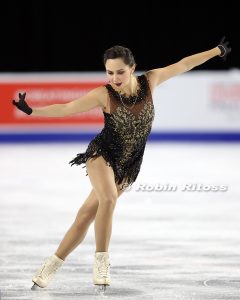 This is Tuktamysheva's  first Grand Prix gold since the 2014-15 season, where she won gold in both her Grand Prix events and won the Grand Prix Final title, Europeans and the World Championships. This was the season following the 2014 Sochi Olympics, where Tuktamysheva failed to make the Russian Olympic team. Tuktamysheva also failed to make the 2018 PyeongChang Games.
"I can definitely say that missing the Olympic games is not what motivates me. I can't really explain it why I have a comeback after the Olympic games. Maybe it is because everything is over and new paths are opening up. It is like a fresh start, starting from scratch and you feel like if you skate well, you can achieve good results and when I feel that, that gives me the focus to fight and compete well."
Tuktamysheva scored a 203.32 overall.
Japan's Mako Yamashita, who was making senior Grand Prix debut, finished behind Tuktamysheva by a a margin of 0.26 points to claim the silver medal.
Skating last in her "Madame Butterfly" routine, Yamashita completed six clean triples. She finished second in the free skate and moved up from third in the short program to finish in second place overall.
"I was really happy with both of my performances–the short and the free, I was able to do all that I can do at this point. So I'm very happy with the results and the scores that I was given," the 15-year-old told the media.
"I didn't expect to win a medal today. I did the best I could and this led to me winning a medal. I learned a lot and I need to improve a lot," she added.
After costly mistakes had her in seventh place after the short program and skating last in the first warm-up group, Evgenia Medvedeva sought redemption in the free skate and delivered the highest scored free skate program of the ladies event. Medvedeva's  free skate featured six clean triple jumps and her only mistake was an underrotation call on her triple loop. Before addressing her performance at the press conference following the ladies event, Medvedeva congratulated Tuktamysheva on her win.
"I really respect her and I'm really proud to be on the podium with her," she said of her country mate.
"It wasn't my best at all, there were a lot of mistakes and a lot of places to work, but I just feel that I stepped forward today," Medvedeva said of her performance. "I was not happy with the short program, but I was happy with the free program."
"My next Grand Prix is in France and I have three weeks. In three weeks, I can do a huge [amount of] work. I want to improve my skating skills and focus on my technique, on the spins, my jumps. In France, I have to win in order to be sure to go to the Final," the two-time World Champion said.
2017 U.S. bronze medalist Mariah Bell placed fourth with a total score of 190.25; Elizabet Tursynbaeva, of Kazakhstan, moved up from sixth place to finish in fifth place with 185.71 points. Japan's Wakaba Higuchi rounded out the top six, after dropping from second to sixth(181.29 points) after some errors in her free skate.
—————————————————————————————————————————————————————————————————————-
Mixed Zone Reaction
(Complied by Francesca S.)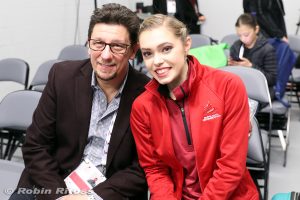 Alaine Chartrand (CAN)  (172.17, finished in 8th overall)
After short program
Thoughts on your short program performance?
"I felt good just standing there. I felt comfortable and it carried through the program. I didn't get a head of myself with a good beginning. I still went into my last jump, through the footwork and the spins and everything, focusing one at a time."
Thoughts on your short program score?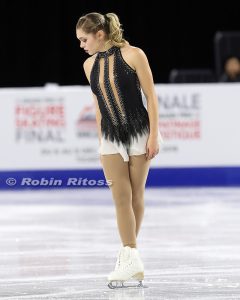 For sure, I think there are still points to be gained and I know that I have gotten higher scores before with all clean elements so I will have to see if there are any levels that I missed, underrotations, so that I can improve more toward Nationals. I just came from Skate America where I had a really poor short program outing, so it was great to feel so happy and satisfied with my performance.
How did you spend your time between Skate America and Skate Canada?
I traveled home from Everett (Washington) on Monday all day because the three hour time change and there was a delayed flight in there too. Then Tuesday, I kind of just got back into it and I still kind of felt weird from travel so that day wasn't super productive and then Wednesday, it was like 'let's start building again'. So it literally felt like I just competed two days ago, even though it wasn't two days ago, it felt like it was.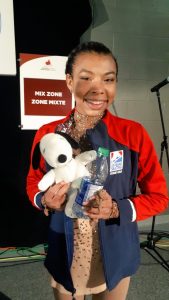 Starr Andrews (USA) (174.72, finished in 7th overall)
After short program
Thoughts on the short program?
"I felt really good. It was like practice. I just took it one step at a time, one jump at a time and kept my pace so I wasn't rushing."
Skate America did not go so great for you and you only had a short time to refocus and perform well.
"It is definitely (a short time). I can't believe I already did my short program here. I never actually competed twice in a row, so this is new to me. It is okay. I find it just fine."
How are you going to approach the free skate?
"I'm going to approach the same way I did today. Take it one step at a time. I had a really good practice the day before I came here and we actually changed my whole program. We switched up all of my jumps and stuff, so I feel really confident with this program. I have been practicing it really well so I think I'll be okay."
Evgenia Medvedeva (RUS) (197.91, finished in third overall)
After free skate
Thoughts on your performance?
"It is a terrible feeling when you feel sorry to yourself. It is awful. It is awful, not only for my mind but for my body. I'm really thankful to (coach) Brian (Orser) who really worked with my mental health yesterday so so much.  He really supported me in a hard moment. I would just say to him, 'Can I go to your room? I need to talk. I just need to talk. I don't care about what. I need to talk.' And until about 1 a.m., we just talked about my performances, what we are going to do today, what we are going to do in the future, about our main goals, about our small goals, everything and everything. And the rest of the night, I just tried to wake up my insides to be a hunter (laughs) and today I felt like a wild animal. I can't say wild cat yet cause I don't have enough grace for that. (laughs)"
What did Brian tell you?
I can only say one thing that he really supported me yesterday.