Recap by Gina Capellazzi, website administrator Figure Skaters Online
Header photo and on-ice photos by Robin Ritoss; mixed zone photos by Francesca S.
LAVAL, QUEBEC — After suffering a rough fall on his triple axel in his short program Friday, 2018 Olympic silver medalist Shoma Uno, of Japan, rallied back to win his second consecutive Skate Canada International title Saturday.
In his "Moonlight Sonata" free skate, Uno completed four quadruples, including a quad flip, quad toe-double toe and quad toe. His quad salchow was called under-rotated. While he had no problems with his two triple axels, Uno fall on the triple flip of his triple-axel-euless-triple flip combination and the triple toe in his triple salchow-triple toe combination.
"Today's performance–I was able to get out all my frustration from yesterday and I was able to perform well throughout the program," Uno said.
"I'm happy I recovered from yesterday's mistakes and landed the jumps," Uno added. "I went all out 100% from the beginning so that's probably why I was tired at the end and made mistakes."
Uno finished with a total score of 277.25.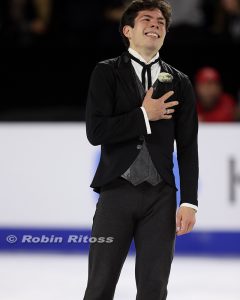 Canada's Keegan Messing, who lead by almost seven points after the short program, delivered a strong Charlie Chaplin free skate, but his program did not have a starting base value technically compared to Uno. That meant Messing needed to be perfect to maintain his first place position. With a mistake on his second quad toe, Messing had to settle for the silver, his first-ever Grand Prix medal.
"I was very excited to win the short program yesterday and I came into the long program very excited to put out a performance for the home crowd again. I went out there–I didn't rotate my quad lutz, but I took every element one step at a time, and the crowd was right behind me, helping me through the whole program. All in all, I'm very excited to leave with a medal."
"The fact that my first Grand Prix medal was won on home soil, it just makes it all the better," he added. "The crowd was amazing and were behind me the whole way. I'm very honored to have received this."
Messing finished with a total score of 265. 17.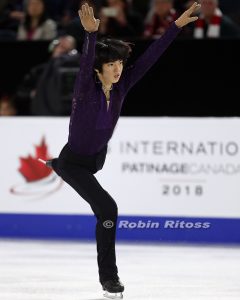 In only his second Grand Prix season, Korea's Junhwan Cha took home the bronze at Skate Canada. After a fall on his opening quad toe, Cha recovered to complete a quad salchow. The only other mistakes was an edge call on his triple lutz and an under rotation on the triple salchow of his triple flip-Euler-triple salchow.
"Today my performance was a little hard than yesterday, but I really tried my best and I really work hard until my program finish. I had a mistake on the first jump but I think I kept going through so I'm very satisfied with that."
"Today marks my first Grand Prix medal and I'm very happy," he added.
He finished with a total score of 254.77.
Russia's Alexander Samarin finished off the podium in 4th place. Team USA's Jason Brown moved up from a 11th place short program to finish in 6th place.
========================================================================
Mixed Zone Reactions
Complied by Francesca S.
Roman Sadovsky (CAN) (210.60, finished in 12th place overall)
After short program
What happened out there?
I thought my overall skate was really strong. They (the judges) didn't think I had all my rotations in there. I think I'll just go home and improve on that.
Any stress out there?
Actually, I was okay out there. I tend to be a nervous skater and I had Autumn Classic a few weeks ago. That one was a big one for me because it has been a long time since competing, Nationals was the one before. I think having Autumn Classic behind me made me feel more comfortable out on the ice today.
I guess I'm just trying to get my name out there and show them I can compete with the other guys.
What is your goal for the long program?
Skate the best that I can. I know that sounds really boring and really simple but that is all that I can do at this point.
After free skate
What was your mindset when you went out there?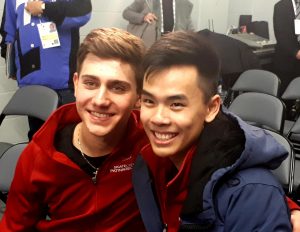 Honestly, I had nothing to lose being in 12th place. I was just going there to put out the best program that I could do. I'm still not happy with it but I guess that is just where I am at right now.
What do you think the potential is of this program?
The content is there and I think Mark (Pillay) did a good job choreographing it. I just want to continue working on it and hopefully it will all come together by Nationals.
Daniel Samohin (ISR) (225.89, finished in 8th overall)
After short program
Thoughts on your short program performance?
"I had a really rough season last year. I was really happy to skate how I did at the Olympics because even before the Olympics I had a dislocated shoulder and at Worlds, I dislocated my shoulder two days before I went to Worlds so I just had a lot of stuff like that but I just have been preparing for this season. I'm definitely really motivated, I'm training much harder, I'm eating different. I'm doing everything I possibly can to keep myself positive, even on practices. I couldn't do the quad at yesterday's practice, the second practice, but I wasn't really worried because I know what I worked in one of my practices so I was really happy with what I did right now because I set myself to go for it confidently and I did it. So I think I'm really happy with this skate and hopefully it will improve even more during the season."
How have you changed your diet?
"Trying to eat much cleaner for myself. It is nothing crazy. Just eating more vegetables. I'm not vegan but I'm almost there. I eat fish and meat still because my dad is Russian and Georgian and we have that meat side so I can't give up that(laughs), but just kind of less bread, rice here and there, just really trying to eat cleaner to feel lighter and obviously training other than the ice, like running, off-ice, all those extra stuff."
How is your shoulder?
"I have been basically doing physical therapy every day. I live with a rubber band. That is my best friend. (laughs). Here right now, I don't do it because I talked to the doctor and he said 'you know when you are at a competition, it is a little different you have more adrenaline.' He said 'just the most important thing is to keep it calm and relaxed' because mostly what my issue was is that my shoulder would get stiff and so when I fell and hyperextended it, that is when it would pop-out. Luckily, I don't have any bone issues so my bone isn't chipped or anything like that. It was just those falls were unlucky. Just very unlucky. It was just three of them. Now I'm just more aware when I fall so something I do go a little cautious for my quads, but it is a part of it. I rather keep my arm than go through surgery and all that stuff. I want to be able to fix it this way and do quads at a competition when it matters(laughs)."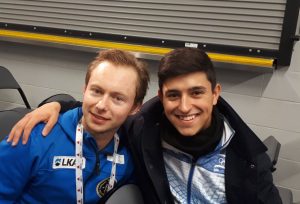 Thoughts as you head into the free skate?
"Today I definitely learned that my short program was my weaker side. I'm definitely more of a long person type of guy. Whenever it came to the short program, I think I would get just a little bit more nervous. I really don't get that nervous. I just got more nervous because I do have less elements and you are like,'I have to hit it all' and I learned that the training that I did to lead up to this helped me a lot with my short program mostly. For the long, I feel confident. I'm ready to set myself to go on to the next day."
What are your goals for the season?
"To do just more clean skates. That is definitely my goal. We are going to work towards being more positive with my skates and always having clean skates. The placement right now doesn't really matter. It will matter when I'm doing more clean skates and when the judges see that I'm consistent. So that is my goal to really to be consistent in my skating."

Is this a good start to your goal?
"Today is definitely a good start. I already had two competitions this season that were Challengers and they weren't clean but they were good for what I usually skate in this part of the season so for this competition this is exactly what I wanted and expected so I'm very happy with my skate."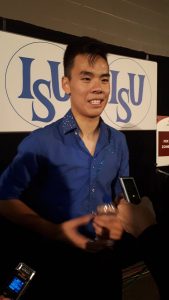 Nam Nguyen (CAN) (240.94, 5th place overall)
After the free skate 
Thoughts on your performance?
"It felt like a dream I guess. It has been a extremely long time since I had that experience so I'm really stoked to put out two solid performances this week. It is a big change from last week. We made several tiny changes to the program. To most, it would seem unorthodox to change the program between competitions, but for me I'm so used to changing (my programs). Sometimes I'll change in practice at home on the fly and add some random stuff. But I'm very happy with how I handled myself and dealt with external factors in this competition."
What changes did you make?
The first one was in the short. I changed my Lutz to a flip because I hate lutzes. That was the only one in the short. For the long, I was supposed to do quad toe, quad salchow, quad salchow–three quads, but I didn't feel (comfortable). I can do it in practices, but with the quad toe, it is baby steps, and in this point in my career, you shouldn't have any baby steps, but for me, it kind of works so I started to do it in competition practice here so that actually boosted my confidence a bit, so I may add the quad toe to the short and the long. So in this program (at Skate Canada), I did two salchows only and then added the second triple axel and then the second half we changed the order a bit.