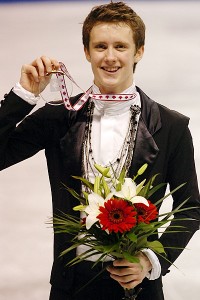 When Jeremy Abbott stepped on the ice Saturday for his free skate at Skate Canada in Kitchener, Ontario, Canada, he knew that he needed to come up big if he wanted the opportunity to defend his title at the Grand Prix Final.
Skating to Camille Saint-Saens "Symphony No. 3," Abbott pulled out all the stops, landing a quadruple toe and a triple flip in the opening moments of his program. He went on to land seven more triple jumps, including the triple Lutz-triple toe-double loop combination and triple Salchow-triple toe, to secure the gold medal with the 153.99 point program.
Abbott finished with 232.99 points, just edging out the free skate winner Daisuke Takahashi (231.31) of Japan, who settled for the silver medal. Joining the two men on the podium was the surprise Frenchman Alban Preaubert (212.28), who pulled up from fourth place after the short program.
With the 1-2 finish, Abbott and Takahashi earned enough points for a spot in the Grand Prix Final, Dec. 3-6, in Tokyo, Japan, claiming the fourth and fifth in the point standings. The other skaters who advanced are the top three skaters in the series: Japan's Nobunari Oda; the United States' Evan Lysacek; and France's Brian Joubert. American Johnny Weir claimed the sixth spot.
Abbott is the only American man ever to win the Grand Prix Final title.
"I'm pleased," Abbott said. "I was really nervous going into it. I heard Daisuke's score, and it was very big. I just really wanted to keep it together. I wasn't worried about winning. I wanted to put the quad out there for the first time this season, and to keep the rest of my program together."
World Championship silver medalist Patrick Chan of Canada finished sixth overall in his first appearance since becoming injured. He fell three times in his free skate: on the triple Axel, which was downgraded; the triple Lutz; and the triple Salchow. Chan also received an edge deduction for the wrong take off on the triple flip in his triple flip-triple toe.
Stephen Carriere finished seventh in the free skate for 188.31 points, moving him from 10th after the short program to eighth overall. He landed seven triple jumps including two triple Axels, one in combination with a double toe, and a triple toe in combination with two double toes. His circular footwork was a Level 2 but his straight line received a Level 3.
Armin Mahbanoozadeh finished ninth with 186.48 points but he was eighth in both portions of the event. After falling on the element of his program, the triple Axel, Mahbanoozadeh recovered for a triple Axel-double toe and a triple flip-triple toe, three of the seven triples he performed. Both footwork passes were Level 2 but his spins were Level 3.
Skate Canada is the sixth event of the 2009 International Skating Union (ISU) Grand Prix of Figure Skating circuit. The series, now in its 15th season, consists of six international events in a cumulative, point-scoring format. The top six scoring athletes in each discipline move onto the Grand Prix Final, Dec. 3-6, in Tokyo, Japan, which will be combined with the ISU Junior Grand Prix of Figure Skating Final for the second consecutive season.
The six Grand Prix events are Trophee Eric Bompard, Oct. 15-18, in Paris, France; Rostelecom Cup, Oct. 22-25, in Moscow Russia; Cup of China, Oct. 29-Nov. 1, in Beijing, China; NHK Trophy, Nov. 5-8, in Nagano, Japan; Skate America, Nov. 12-15, in Lake Placid, N.Y.; and Skate Canada, Nov. 19-22, in Kitchener, Canada.
The points toward the Grand Prix Final that are awarded for each place are 15 points for first; 13 points for second; 11 points for third; nine points for fourth; seven points for fifth; five points for sixth place; four points for seventh place; and three points for eighth. In pair skating, only the top six receive points.
__________
Figure Skaters Online strives to be an accurate source of information related to the sport of figure skating. To report an error, please e-mail the news editor. Include the article date and title in your e-mail.