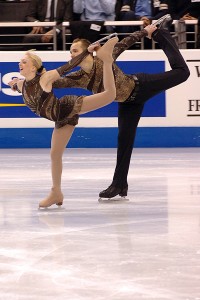 It was a historic effort for World Champions Aliona Savchenko and Robin Szolkowy of Germany on Saturday at Skate Canada in Kitchener, Ontario, Canada. The pair finished with a personal best 206.71 points, the highest score ever awarded in pair skating.
Russians Maria Mukhortova and Maxim Trankov, the two-time European Championship medalists, who were second in the short program and free skate in Canada, won the silver medal with 185.71. Former World bronze medalists Jessica Dube and Bryce Davison of Canada claimed the bronze medal with 166.93.
U.S. silver medalists Caydee Denney and Jeremy Barrett placed fifth overall following a season best 101.64 points for their solid performance to  "Scheherazade" free skate, which included side-by-side triple toes and side-by-side double Axel-double Axel sequence. They also performed throw triple Lutz and throw triple loop.
Caitlin Yankowskas and John Coughlin, who recently won the gold medal at the Ice Challenge in Graz, Austria, dropped from sixth after the short program to seventh overall following a seventh place free skate to the Pearl Harbor soundtrack. Their program started with a solid triple twist that received a positive grade of execution. They also performed a throw triple Salchow, side-by-side triple toes and a throw triple loop along with two Group 5 lifts.
Neither American pair could catch the medalists as they finished with 157.09 and 143.61 points respectively.
Debuting their new free skate to the soundtrack to Out of Africa − their original free was scrapped after a poor showing at Trophee Eric Bompard, Savchenko and Szolkowy were not perfect as he singled the planned side-by-side double Axels after the opening side-by-side triple toe-triple toe sequence and throw triple flip. But the pair was solid on other elements including the two Group 5 lifts, a triple twist and program ending throw triple Salchow.
With the solid performance, Savchenko and Szolkowy brought their point total to 206.71, surpassing the long standing world record 206.54 points received by three-time World Champions Xue Shen and Hongbo Zhao at the 2004 Grand Prix Final in Beijing.
Skate Canada is the sixth event of the 2009 International Skating Union (ISU) Grand Prix of Figure Skating circuit. The series, now in its 15th season, consists of six international events in a cumulative, point-scoring format. The top six scoring athletes in each discipline move onto the Grand Prix Final, Dec. 3-6, in Tokyo, Japan, which will be combined with the ISU Junior Grand Prix of Figure Skating Final for the second consecutive season.
The six Grand Prix events are Trophee Eric Bompard, Oct. 15-18, in Paris, France; Rostelecom Cup, Oct. 22-25, in Moscow Russia; Cup of China, Oct. 29-Nov. 1, in Beijing, China; NHK Trophy, Nov. 5-8, in Nagano, Japan; Skate America, Nov. 12-15, in Lake Placid, N.Y.; and Skate Canada, Nov. 19-22, in Kitchener, Canada.
The points toward the Grand Prix Final that are awarded for each place are 15 points for first; 13 points for second; 11 points for third; nine points for fourth; seven points for fifth; five points for sixth place; four points for seventh place; and three points for eighth. In pair skating, only the top six receive points.
__________
Figure Skaters Online strives to be an accurate source of information related to the sport of figure skating. To report an error, please e-mail the news editor. Include the article date and title in your e-mail.