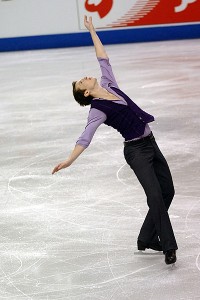 Before Jeremy Abbott took the ice for his short program at Skate Canada, he received tragic news from Colorado Springs, Colo. His friend Haley Rose Gans, who he knew when training at the Broadmoor Skating Club, had died earlier in the day in a skiing accident at Breckenridge Ski Resort in Colorado when she hit a tree.
He dedicated his 79-point, first place short program in Kitchener, Ontario, Canada, to his friend. "She was a sweet girl," he told reporters after his performance to "A Day in the Life" by the Beatles.
Abbott reeled off a triple flip-triple toe combination, a triple Axel and a triple Lutz in his program. The reigning Grand Prix Final Champion got a level four for all three spins and a level three for both step sequences.
"I am very happy with how I skated and I am excited going into the free skating," he said. "After [NHK Trophy] I really learned a lot about the [free] program and places that kind of needed a little tweaking here and there, and I feel a lot more comfortable with the program than I did in Japan. The program was still very, very new, it was less than two months old. Now it's only two weeks older, but having gone through that experience I do feel a lot more comfortable and confident going into tomorrow."
He leads Japan's Daisuke Takahashi (76.30) and Denis Ten of Kazakhstan (75.45). Reigning World Championship silver medalist Patrick Chan is sixth with 68.64 while Americans Armin Mahbanoozadeh (65.30) and Stephen Carriere (59.40), the 2007 World Junior Champion, are eighth and 10th.
Mahbanoozadeh fell in his program but landed a triple Axel, triple flip-triple toe and a triple lutz at the beginning of his program. His circular step sequence received a Level 2 but his straight line footwork was given a Level 3. For his three spins, he received a Level 2, a Level 3 and a Level 4.
Carriere fell on the opening triple Axel in his program. But he recovered to land a triple lutz-double toe and a triple loop. For his non-jumping elements, he received a Level 2 and a Level 3 for his step sequences and a Level 2, a Level 3 and a Level 4 for his three spins.
Earlier in the day, Tessa Virtue and Scott Moir of Canada danced to the lead with a 40.69 point performance with the Tango Romantica compulsory dance. France's Nathalie Pechalat and Fabian Bourzat (35.55) came in second while Canadians Kaitlyn Weaver and Andrew Poje (32.18) are currently ranked third.
Americans Emily Samuelson and Evan Bates are in fourth with 31.47 while Madison Hubbell and Keiffer Hubbell, the brother and sister team who now train in Detroit, are sixth with 27.14. Samuelson and Bates finished second at the 2009 U.S. Championships while the Hubbells were fourth.
Skate Canada is the sixth event of the 2009 International Skating Union (ISU) Grand Prix of Figure Skating circuit. The series, now in its 15th season, consists of six international events in a cumulative, point-scoring format. The top six scoring athletes in each discipline move onto the Grand Prix Final, Dec. 3-6, in Tokyo, Japan, which will be combined with the ISU Junior Grand Prix of Figure Skating Final for the second consecutive season.
The six Grand Prix events are Trophee Eric Bompard, Oct. 15-18, in Paris, France; Rostelecom Cup, Oct. 22-25, in Moscow Russia; Cup of China, Oct. 29-Nov. 1, in Beijing, China; NHK Trophy, Nov. 5-8, in Nagano, Japan; Skate America, Nov. 12-15, in Lake Placid, N.Y.; and Skate Canada, Nov. 19-22, in Kitchener, Canada.
The points toward the Grand Prix Final that are awarded for each place are 15 points for first; 13 points for second; 11 points for third; nine points for fourth; seven points for fifth; five points for sixth place; four points for seventh place; and three points for eighth. In pair skating, only the top six receive points.
__________
Figure Skaters Online strives to be an accurate source of information related to the sport of figure skating. To report an error, please e-mail the news editor. Include the article date and title in your e-mail.