By Maura Sullivan Hill, staff writer
Header photo by FS Evolution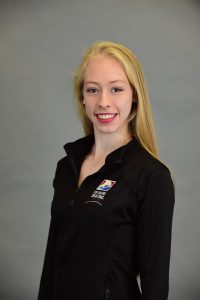 Editor's Note: Figure Skaters Online officially welcomes Bradie Tennell with the launch of her official website. You can check it out at bradietennell.figureskatersonline.com.

Bradie Tennell started her season with several winning performances in summer club competitions, including at the Broadmoor Open in June, and then won again at the Philadelphia Summer International in August.
With such a strong showing right out of the gate, she earned an invitation to U.S. Figure Skating's Champs Camp in August, and a spot on the roster at 2017 Skate America in Lake Placid, New York, from November 24-26.
"I always take the season one competition at a time," says Tennell, who will be making her Grand Prix debut in Lake Placid. "It's really a dream come true to be invited to Skate America, and I'm excited to be surrounded by so many of the world's best skaters."
With a soaring triple Lutz-triple toe combination in her arsenal, Tennell, the 2015 U.S. Junior champion, can be counted among the world's best herself. In September, she finished fourth at the Lombardia Trophy in Italy with a clean skate, behind Russian Alina Zagitova and Japan's Wakaba Higuchi, both of whom have medaled on the Grand Prix this season, and 2014 Olympic bronze medalist Carolina Kostner. Tennell notched a third place finish in the free skate, ahead of Kostner.
Tennell finished 9th at U.S. Nationals at the senior level last year and came in 7th at the 2017 World Junior Championships, after injuries hampered her training in 2015 and 2016.
She says that one of the biggest benefits of attending Champs Camp was learning the importance of listening to her body during training. "We often ignore the little aches and pains in favor of just pushing through it, and these things can lead to more severe injuries if left unchecked," she says. "My Champs Camp experience was amazing. We stayed at the Olympic Training Center, which is always a fantastic experience and a privilege."
Olympic champions Brian Boitano and Peggy Fleming were the keynote speakers at this year's camp, and shared their Olympic experience with the American Olympic hopefuls.
In her own Olympic quest, Tennell will be skating to the soundtrack from the Korean movie Taegukgi for her short program and Cinderella for her long, using selections from Prokofiev and the 2015 live-action film. Tennell says that she wanted to skate to Cinderella after listening to the soundtrack when the movie came out, but waited for the right time.
"I love both the character and her story, but wanted to wait until I felt like I could really get into character and tell the story with my skating," she says. "This year, I felt like I could do that. Out of all the programs that I've had in my career so far, this is my absolute favorite."
Benoit Richaud choreographed the free skate, which opens with the lyrical "A Dream is a Wish Your Heart Makes," before transitioning to more intense music, fraught with the anticipation of the ticking clock reminding Cinderella to get home before the spell breaks. In the short program, choreographed by Scott Brown, the focus is on showcasing Tennell's power.
"My short program music was recommended to me by a close friend. I listened to it and fell in love with how powerful it is," she says. "I could immediately see myself skating to it."
Tennell will be taking the ice at Skate America without any specific placement goals in mind.
"I want to go and soak up the experience, and do the best that I possibly can," she says. "I'm not putting any expectations on myself, because it is going to be bigger than anything I've ever done before."
Cheering her on will be mom, Jean, and younger brothers, Shane and Austin, who are on the ice plenty themselves, as hockey players.
"They are great hockey and baseball players, and I love watching them play," Tennell says. "They, along with my mom, are my biggest fans and I'm forever grateful for their support."