By Claire Cloutier, Team FSO contributing writer
Photos by Robin Ritoss
In 2021, U.S. pairs skaters Jessica Calalang and Brian Johnson endured the most challenging year of their careers. Calalang learned in February that she had tested positive for a metabolite of a banned stimulant. The news led to eight tense, trying months of uncertainty, as Calalang sought to prove she was innocent of wrongdoing. On September 30, 2021, Calalang was fully cleared by national and international anti-doping agencies, as evidence emerged that the metabolite in question could also be produced by a cosmetic preservative in sunscreens and (in Calalang's case) cosmetic products. Calalang and Johnson rejoiced at the news, having struggled to maintain their optimism amid the long months in competitive limbo.
"At Nationals last year [January 2021], we didn't have the skates that we wanted, but we were very thankful that we were given the opportunity to go to Worlds and actually have a World Championships, since we didn't go the year before because of COVID-19. So that was something that we were really excited about, and very motivated to work toward. And that all quickly changed when I received the email about my violated drug test. Then, the emotions were just all over the place," Calalang recounted.
"It was definitely an experience that we wish we didn't have to have," Johnson said.
Although the team tried to push through and stay strong, it was far from easy. "As the days and the weeks passed, where it didn't look like things were going in our favor, we started to drag our feet," Calalang admitted. "It was hard to come in and train. We were in a state of the unknown. We had no idea what our future had in store for us. And as much as we wanted to prepare, and hope for the best, it was not fun. I hated it; he hated it. It was awful. It was traumatic. And I hope that no one [else] ever has to go through that."
By early summer 2021, things started to look up for Calalang and Johnson. Another athlete–Rob Font, a UFC fighter–tested positive for the same metabolite, and research indicated that, in his case, the metabolite resulted from use of sunscreen. Calalang's provisional suspension was lifted, and she and Johnson were able to compete at several late-summer events, including Cranberry Cup and the John Nicks Pairs Challenge, where they won bronze and silver, respectively.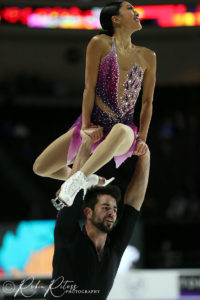 Then, they received the long-hoped-for news that Calalang was cleared and reinstated to full competition status, with her funding restored. Calalang and Johnson carried that positive momentum into their next few competitions. They placed a close 4th at Finlandia Trophy and 5th at Skate America.
In mid-November, Calalang and Johnson competed at Warsaw Cup in Poland, where they had their best free skate of the season, scoring 135.16.
"We were really happy for about 8 minutes [afterward]," Johnson said.
Then, Calalang and Johnson were horrified to see U.S. training mates Chelsea Liu and Danny O'Shea suffer a traumatic fall during their long program, which came shortly after Calalang and Johnson's at Warsaw. Liu and O'Shea had to be helped off the ice, and withdrew from the event.
"We were really scared and sad for our training mates," Johnson said soberly.
"We were watching as it was happening," Calalang recalled. "We know their program, so we knew they were almost done. And then, that happened …. We have known them for so long, on a deep level. Because Brian used to skate with Chelsea [2014-18], and I used to skate with Danny [2009-10]. We train together. So it was very scary. We wanted to be there for them, whatever they needed."
Johnson had previously scheduled a flight home for that night, so he went to the airport after the event concluded. "Jess was giving me updates while I was at the airport," he said.
Calalang returned to their hotel. "I couldn't sleep. I was so scared for them, and I was so concerned," she said. "So I hung out in the lobby with Jenni [Meno, their coach] and our team leader. I stayed up all night waiting for them to get back from the hospital. When they came back, they were in relatively good spirits, and it was really nice to see both of them smiling and talkative. That was comforting. But in the four hours that we didn't know what was happening–and being in a foreign country, with head trauma–I can't imagine how scary that must have been [for them]."
Back home in California, Calalang and Johnson have tried to keep in touch with Liu and O'Shea during their recovery. "But with concussion protocols, you can't really be on your phone or doing a whole lot," Calalang explained. "So it's been minimal contact, but they need to rest. And that is something that we know and respect." [Liu and O'Shea withdrew from U.S. Nationals last week.]
Meanwhile, Calalang and Johnson began preparing for Golden Spin of Zagreb, a Challenger Series event in Croatia in early December.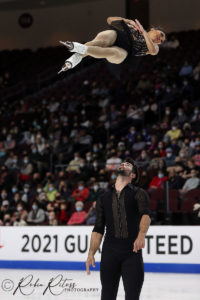 "It was a pretty quick turnaround," said Calalang. "Because we didn't get an extra [second] Grand Prix, we wanted to give ourselves any opportunity to compete, get our name out there, and get that experience again."
Unfortunately, Calalang and Johnson had mistakes in both programs at Golden Spin and placed a disappointing sixth. "Obviously, we're not thrilled with how we did," Johnson said.
"We felt very prepared going into that competition. So, to have those skates was not what we had been training at all," Calalang noted. "But, each competition is a learning experience. We've discussed what we need to do to have that not happen again. And that's something that we're working toward, heading into Nationals."
Although Calalang and Johnson have scored well all season with their triple twist and lifts, their side-by-side jumps and spins have both proved problematic at times.
With the side-by-side spins, Calalang said they're working on "just being very definitive of our technique and how many rotations we do. Just focusing on what we need to do to accomplish the skill. Making sure your leg is high enough, and your butt is low enough on the sit spin. It's all happening so fast. That's why it's important to really focus on that in training, at home. Because when you go to competition, you should be going in on autopilot."
For side-by-side jumps, Calalang and Johnson work with Oganes Hov Mkrtchian (known as "Hov"), a coach in Rafael Arutunian's group. Calalang said that they're not planning any changes with their jump training before Nationals.
"There's nothing drastic that we want to change. Nothing special needs to happen. We've just got to do it," Calalang said matter-of-factly.
With Nationals right around the corner, Calalang and Johnson feel well-prepared physically. "We're trained. Our bodies feel ready to go," said Calalang.
"Stamina-wise, we're good. Physically, we're good. We know we can do great programs. We've just got to put our mind to it when we go there, and do them," Johnson declared.
Calalang and Johnson draw strength from their supportive training group at Great Park Ice in Irvine, CA, where they train with U.S. pairs champions Alexa Knierim and Brandon Frazier, among others.
"It's definitely great training with Alexa and Brandon, and everyone else here," said Johnson. "Alexa and Brandon have a lot more experience with international events [than us]. All their insight is fantastic. Seeing them train every day is great motivation. They're great friends with us, too."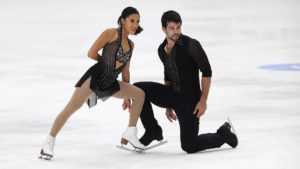 Calalang and Johnson also feel that their experience with the drug violation ordeal should provide perspective on the day-to-day challenges of training and competition.
"Competition is always [challenging] … You get nervous, you get a little stressed out. And you feel like that's the most stress you could feel," Calalang reflected. "But we always need to look back to what we went through between February and September, and remind ourselves that that was stress. Emotions were on a totally different level in that time. The things that we feel at competition should be like no sweat, no big deal. Because you're in charge of your skating. In the spring, we weren't in charge of anything."
The duo said they have not yet considered whether they will continue skating after this season. For the moment, their entire focus is on Nationals.
"We didn't even know what was going to happen this season," said Calalang. "So we're just trying to stay within this year. Because it's such a gift to be able to compete."
"Everybody always says, 'Take it one day at a time.' And we really are," Johnson noted. "We're just excited to be heading to Nashville soon."