By Gina Capellazzi, Team FSO website administrator
Header photo by Melanie Heaney; other skating photos by KRPhotogs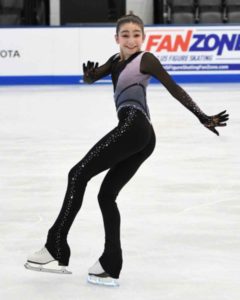 In 2019, Katie Krafchik was competing on the juvenile level, and finished in third place at the 2020 Eastern Sectionals. The New Hyde Park, N.Y. native was invited to participate in the inaugural National Development Team Camp in North Carolina in January 2020. In the fall of 2020, Krafchik captured the novice title in the virtual 2021 U.S. Championship Series.
A year later, the 12-year-old has qualified for the junior women's event at the 2022 U.S. Figure Skating Championships in Nashville, Tennessee.
Figure Skaters Online caught up with Krafchik to learn more about this up-and-coming skater before she competes in Nashville.
Figure Skaters Online: When and how did you starting?
Katie Krafchik: I started skating at the age of 5, when my mom thought it would be fun to take me skating for my fifth-birthday, which is in the winter Shortly after, she enrolled me in group skating classes because I really loved being on the ice.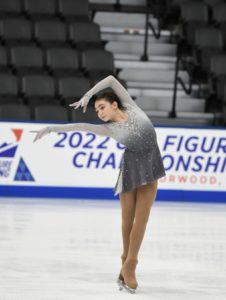 FSO: When did you start getting serious about skating?
Krafchik: I started seriously training after I starting landing my axel and some doubles at 7 1/2 and 8-year-olds. That's when I started to get really excited about jumping and wanting to perform.
FSO: What is your favorite thing about skating?
Krafchik: My favorite thing about skating is being able to perform and compete, and feel my music, showing spectators and the judges what I am capable of doing.
FSO: What is your least favorite thing about figure skating?
Krafchik: There really isn't anything I don't like about the sport; skating is my true passion. But if I have to pick something then I would say breaking in new skates isn't my favorite thing.
FSO: Where do you train? How many hours a day do you train?
Krafchik: I train in Long Island, N.Y. and upstate N.Y. I train on average of 3 and 1/2 to 4 hours a day on the ice, plus off-ice training daily as well.
FSO: What skating club do you represent?
Krafchik: I represent the Skating Club of New York
FSO: Who are your coaches?
Krafchik: My coaches are Gilberto Viadana and Elena Pavlova. I also train with other coaches, including Dmitriy Serebrenik and Fabio Mascarello. I have been working with Gilberto for close to a year and a half, and Elena and Dmitriy for more than two-and-a-half years. I previously worked with Igor Krokavec.
FSO: What are your coaches like and how is your relationship with them?
Krafchik: My coaches are very knowledgeable, and focused on supporting and helping me realize my goals.  I have very good relationships with all of my coaches.  I trust them and they always support me through all my training. They are very proud of me.
FSO: What are your programs this season and who choreographed them?
Krafchik: My short program is titled "Happiness Does Not Wait", and my free skate is "Modern Times" by Charlie Chaplin. When I heard the short program music for the first time, it moved me so much that I knew in an instant that it was the right choice; I just felt it. For my long, I loved Charlie Chaplin performed by (2018 Olympic bronze medalist) Javier Fernandez (of Spain) and his performance inspired me to skate to Charlie Chaplin. Elena Pavlova does all my choreography. She is fantastic to work with because she knows me so well.
FSO: COVID-19 has definitely impacted our lives. How long were you off the ice in 2020 and how did you stay motivated during that time and as competitions were cancelled.
Krafchik: I was off the ice for almost 12 weeks; it was incredibly challenging and stressful.  I did a lot of off-ice and cross training while I was off the ice to stay in shape and stay motivated.  I participated in ZOOM off-ice classes with my coaches.
FSO: What was it like to finally get back on the ice?
Krafchik: It was amazing to get back to what I love so much. I was so happy to be back on the ice.
FSO: What was it like to compete in a virtual championship series last season? I'm sure you never experience that before.
Krafchik: Competing in a virtual championship was different than anything I have experienced. It was strange not to have an audience or judges present, but my coaches were still there so that part was the same. It was also strange not to get a score right away, and have to wait.  That part was hard. However, I was so grateful for the opportunity to compete even though it was unconventional.
FSO: You have progressed quickly — moving from juvenile to junior in a very short time. What do you contribute to your development as a skater or why do you think you have developed so quickly?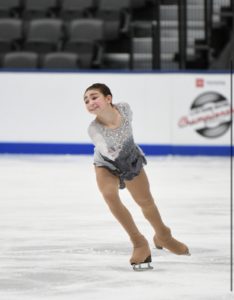 Krafchik: I think my work ethic and passion for skating has underscored my development, together with very solid technique has helped advance in such a short period of time.
FSO: You participated in the inaugural 2020 U.S. National Development Team Camp – what was that experience like and how did you benefit it from it?
Krafchik: It was such an exciting new experience. I got to train with different coaches across different areas of expertise to learn and develop further. It was also so much fun to get to know my peers from different parts of the nation. I also qualified for the 2021 U.S. National Development Team Camp as well.
FSO: You were out most of the summer/fall season with an injury. What happened?
Krafchik: I had an issue with my leg in late July.  I was off the ice for close to a month, and then had to return slowly and build back up. I resumed full training not too long before the qualifiers.
FSO: You competed in Norwood just few weeks after resuming full training. Did you feel prepared for the competition and how did you think you skated in your junior debut?
Krafchik: I felt as prepared as I could have been at that moment under the circumstances of building back my jumps and not having run my program as much as I would have liked through a normal season, plus not having competed all season.I was pleased with my skate overall, however I recognize there were areas for improvement, which I will continue to work on.
FSO: What was your reaction when you found out that you qualified for the U.S. Championships, in your junior debut?
Krafchik: I was so thrilled and happy I was able to put out a solid program and score to qualify. It was my original goal for the season and I felt proud to have accomplished it through dedication and perseverance.
FSO: What are you looking forward to about Nationals?
Krafchik: I am looking forward to stepping onto an Olympic-sized rink and skating with my whole heart and soul.  I am looking forward to the experience and just being in this incredible moment and learning everything I can learn during my time there to use as I continue my journey in this sport.
FSO: What are your goals for Nationals?
Krafchik: My goals for nationals are to go and truly experience the moment and skate from my heart.  I am focused on competing against myself and hope to achieve a personal best score.
FSO: Who are the skaters you look up to and why?
Krafchik: I look up to and respect so many skaters from the U.S. and internationally. To name a few, I look up to Jason Brown because I love the way he feels the music and performs, plus he has gorgeous edges. (I look up to), of course, Nathan Chen as a pioneer in this sport with his jumping capability and overall skating. I am looking forward to seeing them skate at Nationals! I also look up to many of the Russian ladies for their jumping capability.  In particular, I admire Kamila Valieva because she is the total package.  Everything she does is exquisite and effortless.
FSO: What are your goals for the future with your skating?
Krafchik: My goals are to make Team USA and continue to skate on the national level as a junior and eventually a senior. I will continue to work on growing technically and artistically with the goal to receive opportunities to compete internationally, such as Junior Grand Prix events and world events. My long-term goals are to competitive on the senior circuit and skate internationally on the senior level as well. Big picture, and not to sound cliché, of course, I would like to go to the Olympics one day.
FSO: What do you think has been your greatest achievement thus far in your skating career? 

Krafchik: I think my greatest achievement thus far is qualifying for junior nationals, especially in light of so many challenges I had this year. I am proud of my ranking being third in the eastern section and 7th in the nation. I also realize I have a lot of room to grow and I'm looking forward to growing as a skater and individual.

FSO: What are you doing for school? How do you balance school and skating?
Krafchik: I am currently homeschooled and in the 7th grade.  The homeschool schedule allows me flexibility so I am able to get my work done in between training and on weekends.
FSO: As a 12-year-old, what else do you like to do besides skating?
Krafchik: I absolutely love to cook and bake; especially bake.  I like to look at recipes and come up with my own creative twist. One of my favorite treat recipes is Boston Cream Pie cupcakes. I also like to come up with creative, healthy clean recipes to keep my diet healthy, but interesting at the same time. One of my all-time favorite healthy recipes are pumpkin spice muffins. The reason they are healthy is because there is no sugar, or butter or oil. These muffins use oat flour, whole wheat flour, applesauce, pumpkin puree, eggs, milk or water, and a little bit of agave for sweetness. 
To follow Katie Krafchik's skating career, follow her on Instagram.