By Sean Conlon and Gina Capellazzi, Team FSO
Photos by Danielle
At the inaugural team event at the 2014 Olympic games, Russia claimed the first team event gold medal. In Beijing, the Russian Olympic Committee reclaimed the top spot at the team event.
For Team USA, who has the won bronze medal in the past two team events, took home the silver medal in Beijing, and Team Japan took the bronze.
Here's a recap of each disclipine:
Men
For the men, Team USA's Nathan Chen and Japan's Yuma Kagiyama stole the show in the short program and free skate, respectively.
Short Program
Starting off Day 1 of the team event, the men's short program set off Team USA's early lead in the competition, with Nathan Chen winning the segment by over six points.
Seeking redemption after his disappointing showings at the Olympics four years ago, Chen immediately took command of the ice with his "La Bohème" program – one that he brought back from the 2019-20 season. He opened his short program with a quad flip, earning 4.24 in positive Grades of Execution (GOE) – the most of any element. But he did not let this force him to get ahead of himself.
Chen continued the rest of the program with ease, also earning positive GOEs on his triple Axel and quad Lutz-triple toe and receiving level fours on his spins and step sequence.
"As we've seen since 2018 (Olympic Winter Games PyeongChang 2018), even if someone doesn't have the best skate, we have an incredibly strong team to back us all up," the 22-year-old said. "That's certainly the case this time around – I'm happy I did my part and skated as good as I can."
The reigning world champion earned 111.71 for his performance, an ISU personal best and just 0.11 shy of the world record set by Yuzuru Hanyu. This earned Team USA 10 points, putting them first in the team standings heading into the remaining two events for Day 1.
In anticipation of facing Hanyu and other medal contenders in the individual event, Chen is carrying this victory into next week's competition.
"It's nice to be able to have run-throughs like this," he said about being able to perform before the individual event. "Whatever you can take from each practice, whether good or bad, you take with you, and that's the same thing with competition."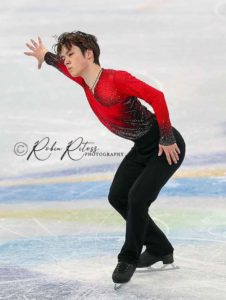 Japan's Shoma Uno placed second in the short program after nailing a quad flip, a quad toe-triple toe, and a triple axel. With two level four spins, he scored 105.46 for his performance, which – like Chen's – is a personal best. His second-place finish here gave Japan 9 points in their hunt for the podium.
Russian Olympic Committee's Mark Kondratiuk rounded out the top three with his short program. While he hung on to his opening quad toe and triple Axel, he skated the program nicely, receiving positive GOEs on all elements, including a quad Salchow-triple toe combination and a level four step sequence. His performance scored 95.81, which earned the Russian Olympic Committee 8 points for the segment.
Free Skate
Heading into the men's free skate, the Russian Olympic Committee sat in first place with 36 points. Team USA were narrowly behind them with 34, and Japan were third with 29. Between ROC and Team USA, the hunt was on for the gold medal. But Japan's Yuma Kagiyama gave both teams a run for their money.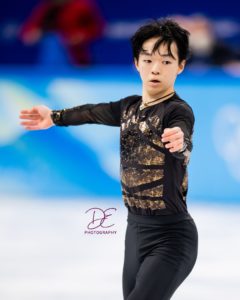 Kagiyama, who skated in place of Uno, was off to a solid start in his free, opening his program with a quad Salchow followed by a quad loop, a quad toe, and a triple Axel-triple toe combination. He then went on to execute a quad toe-Euler-triple Salchow combination as well as three more triples.
"I did a really good job today and I would like to say my performance today is perfect," Kagiyama said following his free skate. "But I need to even try harder in my individual events."
Scoring 208.94 for the performance – a personal best – the 18-year-old won by over 27 points, earning 10 points for Japan and firmly positioning himself as a medal contender in the individual event.
ROC's Mark Kondratiuk placed second in the free skate, opening with a quad toe and landing two quad Salchows in the second half – one of which was in combination with a triple toe. His only error was doubling the Salchow in his planned triple Lutz-Euler-triple Salchow combination after he got too close to the boards. He receiving 181.65 for his electric performance to music from Jesus Christ Superstar, widening ROC's lead by earning them 9 points.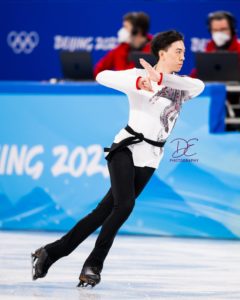 Team USA's Vincent Zhou, who skated in place of Chen, finished in third place around 10 points behind Kondratiuk. The beginning of his program was off to a shaky start after landing his quad Lutz on the quarter, popping his planned quad flip into a single, and under-rotating his quad Salchow and quad toe.
"I was nervous, but I practiced and warmed up better than [in] previous competitions, so that [helped] me relax a little more."
This relaxation proved to help him in the second half of his program, where he landed a quad Salchow-triple toe combination, a triple Axel-Euler-triple Salchow combination, and a triple Axel-double toe combination. Scoring 171.44 for his performance, Zhou earned Team USA 8 points going into Day 3 of the team event.
The individual men's event takes place Feb. 8 and 10.
Editor's Note: Following the conclusion of the team event, Vincent Zhou announced his withdrawal from the individual event on Feb. 7 due to testing positive for COVID-19.
Ice Dance
Rhythm Dance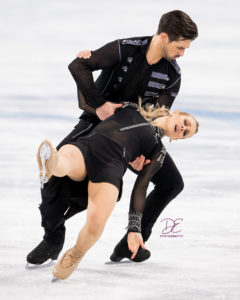 The rhythm dance followed the men's short program event where Team USA had taken an early lead with Nathan Chen's winning short program. That lead was extended when Madison Hubbell and Zachary Donohue won the rhythm dance with a strong performance. Their Janet Jackson rhythm dance earned level four for the twizzles and stationary lift. They earned a personal best score of 86.56 and earned 10 points for Team USA, bringing their team's total points at the time to 20.
Russian Olympic Committee's Victoria Sinitsina and Nikita Katsalapov narrowly lost the rhythm dance to Hubbell/Donohue after Katsalapov lost his balance in his twizzles. They earned 85.05 points and received 9 points for ROC, for a total of 17 points following the two events.
Italy's Charlene Guignard and Marco Fabbri's Michael Jackson rhythm dance earned a season's best score of 83.83. They finished in third place and secured 8 points for Team Italy, which had a total of 14 points after the two events. 
Canada's Piper Gilles and Paul Poirier finished behind Guignard and Fabbri in fourth place. Their Elton John rhythm dance earned a score of 82.72 and earned 7 points for Team Canada, which had a total of 10 points after the two events.
Shiyue Wang and Xinyu Liu were fifth in the rhythm dance with 74.66 points and contributed 6 team points for Team China, which had a total of 11 points following this segment of the team event.
Free Dance
Team USA chose to substitute Hubbell and Donohue for three-time U.S. champions Madison Chock and Evan Bates. Their alien-astronaut themed program to the music of Daft Punk earned level four for their lifts, twizzles and dance spin to achieve a new personal best of 129.07 points and earn 10 points for Team USA.
"I felt very present in each moment of the program," said Bates following the free dance. "I couldn't tell you what I was thinking at any point in the program, but I just remember being very present and enjoying it.  Especially when we came around the diagonal at the end, we're hearing our teammates cheering us on, it really lifted us and gave us energy for that last push of the program."
At the conclusion of the dance event, Team USA sat in second place with 58 points.
Reigning World champions Sinitsina and Katsalapov delivered a fluid performance to their Sergei Rachmaninov's Piano Concerto No.2 and earned level four for five of their elements. However, the two-time European champions received a one-point deduction for an extended lift that cost them first-place They earned 128.17 points and earned the Russian Olympic Committee nine points.
"I think we skated well. We did everything we wanted," said Sinitsina. "We wish to have more of a crowd. It felt like that element was really missing, just to have crowds cheering for us, but we felt really good about how we skated today."
Despite still having the women's free skate to go, Russian Olympic Committee had already sealed the gold medal.
Two-time Canadian champions Piper Gilles and Paul Poirier finished behind Sinitsina and Katsalapov in third place. Their "Long and Winding Road" free dance earned a score of 124.39 and earned 8 points for Team Canada, which had a total of 45 points heading into the final event.
"We are really thrilled to have completed our first event at the Olympic Games," said Poirier. "It's such a mix feeling to be able to do both of these programs again in the individual event. That's a special feeling for us. Both programs were really strong, but there were a few moments where we felt could be stronger."
China's Shiyue Wang and Xinyu Liu were fourth in the segment with 107.18 points. Their Kung Fu Piano free dance contributed 7 team points for Team China, which had a total of 44 points following this segment of the team event.
"In general we are quite satisfied with our performance today," Wang said. "We were able to show the emotions we wanted to convey. Because we do not have much experience in big events, we still need to improve our levels and skills, but generally we are satisfied with ourselves."
Misato Komatsubara and Tim Koleto of Japan were fifth in the free dance at 98.66 points. They contributed 6 team points for Team Japan, which had a total of 54 points after this segment.
"We felt so inspired by the other skaters on Team Japan today and earlier in the team event, so I'm glad we were able to skate today and also in the rhythm dance (on Friday) with no major mistakes," said Koleto.
The individual dance event takes place Feb. 12 and 14.
Pairs
Short Program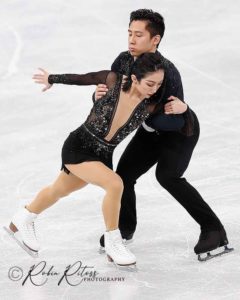 In pairs, all eyes were on the first showdown between two-time world champions Wenjing Sui and Cong Han of China and reigning world champions Anastasia Mishina and Aleksandr Galliamov of the Russian Olympic Committee (ROC) – two of the gold medal contenders in the individual event.
Facing off in the short program, the two pair teams skated near-perfect performances, receiving all level fours and only positive GOEs, especially for their triple twist and throw triple flip – their two highest-scored elements.
While Mishina and Galliamov scored more in GOE (12.42 vs. 12.27), Sui and Han scored 0.44 more in program components, winning the short program by 0.19 with a world record score of 82.83. Mishina and Galliamov's 82.64 is the second-highest pairs short program score.
"I think we performed at the level of our training, but our trainer said we were still a bit tense," Sui said following their performance. "I hope that in the individual competition, we can do better so we can put on an excellent show, together with all the other Olympians from other countries."
"For us, on one hand, this is a warm up game for our individual pair event," Han said. "On the other hand, we need to contribute to the team event."
"I hope, on the occasion of the Chinese New Year, to bring everyone a gift, a good gift in front of everybody's eyes," Sui continued.
Despite their focus on the individual event, however, Day 1 of the team event instilled within the pair a sense of team spirit like no other.
"It is the first time for us to participate in the Olympic Team Event and we are very pleased to see the performances of our team members, we were rinkside to watch everyone," Sui said. "We like to use the opportunity to perform and to fight for our team."
Team USA's Alexa Knierim and Brandon Frazier placed third for their clean skate, earning a personal best score of 75.00. Like Sui/Han and Mishina/Galliamov, they, too, received all level fours and only positive GOEs.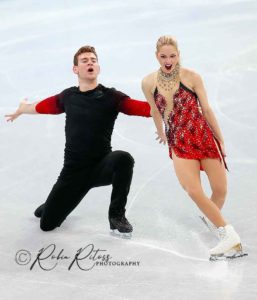 "We've been trying to compete the way we skate at home, and that's (by doing) really solid performances," Knierim told the media after their short program. "It felt good to do that today because this is where we wanted to do it most."
"We really put a lot of work into just taking everything element by element in every practice, and supporting each other, and that's exactly what we did out there," Frazier said.
Knierim noted that the performances of her teammates – who placed first in the men's short and the rhythm dance earlier that day – made her feel more self-assured when it was her turn to take the ice.
"I watched Nathan Chen kill it, and if anything it gave me a bit of excitement and calmness because I felt like our country collectively is ready."
"It just made me feel reassured that I'm on a phenomenal team," Frazier agreed.
Their placement earned Team USA 8 points for the segment and solidified Team USA's lead going into Day 2.
Free Skate
In the free skate – with Sui and Han of China substituted by Cheng Peng and Yang Jin – the door was wide open for Mishina and Galliamov to win this segment, as no other gold medal contenders for the individual event were competing.
The pair opened their program with side-by-side triple Salchow-Euler-triple Salchows – their highest scoring element. After executing a level four triple twist next, they continued to skate effortlessly through the rest of their "The Snowstorm" and "Time, Forward!" free skate, landing both of their throw jumps and their side-by-side triple toes.
Their only mistake came when disaster struck at the end of their final lift: Galliamov tripped on a mohawk during the lift's exit, causing him to drop Mishina and both of them to fall – an uncharacteristic mistake for the pair.
"We didn't understand it ourselves," Mishina told the media after their performance. "It just felt like normal skating and then that happened."
According to Galliamov, the mistake was merely due to a loss of balance.
"I just lost my balance," he said. "I couldn't hold it anymore."
Fortunately, there was no immediate sign of injury for the pair, who quickly got up for their ending pose – a move where Galliamov, coincidentally, lifts Mishina right back up into the air. Even though they received a two-point deduction for the fall and a level three for the lift, Mishina and Galliamov still earned 145.20 for the program – more than five points ahead of Japan's Riku Miura and Ryuichi Kihara in second place.
Miura and Kihara opened their free skate with a level three triple twist, which received 1.63 in positive GOE. But while they both landed their side-by-side triple toe-double toe-double toe combination, Miura's triple toe was called under-rotated, and the second double toe was called on the quarter.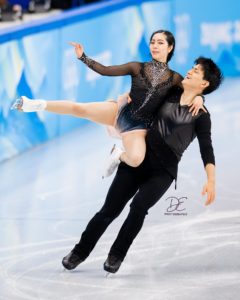 Their next side-by-side jump – the triple Salchow – was cleanly landed, however. They additionally executed a throw triple Lutz and throw triple loop as well as two level four lifts.
"We had great support from our teammates," Miura said about their experience competing in the team event. "We knew we try our best for them and give them our best performance."
The pair, who earned a personal best score in the team event's short program with 74.45, earned another personal best, scoring 139.60 for this free skate.
"We didn't make any mistakes today and this is our season best," Kihara said. "We're happy about that."
Cheng Peng and Yang Jin of China placed third in the segment with 131.75. Though Peng struggled on her side-by-side jumps, singling her planned double toe after her triple toe and putting her foot down on an under-rotated triple Salchow, the pair performed two level-four lifts and landed their throw triple Salchow and throw triple loop.
"I thought we were in good shape today," Jin said about their performance. "There were some mistakes, but the overall presentation of the program was good."
Being on home ice, the Chinese pair sought to pay homage to their country not just through their free skate music – which is a selection of songs by Chinese-American composer Tan Dun from the 2006 Chinese wuxia drama film The Banquet – but through their costumes as well.
"Our costumes are made by Beijing Institute of Fashion Technology," Peng said. "They are made of Suzhou embroidery – it is a national intangible cultural heritage skill, stitched by hand."
"It is very delicate," she continued. "Our costumes are inspired by Chinese ink painting – they were specially made for the Olympic Games."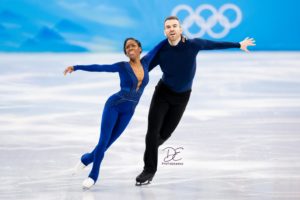 Finishing just 1.68 behind Peng and Jin were Vanessa James and Eric Radford of Canada. The pair hit a side-by-side triple toe-double toe-double toe combination, three level four lifts, a throw triple Salchow, and a throw triple flip. This was especially a success for James, 34, and Radford, 37, who had collided with Italy's Nicole Della Monica and Mattero Guarise during a practice session the day before. James appeared to be most impacted by the collision, as an NBC Olympic's clip of the incident shows four medical personnel tending to James as she skated off the ice.
"I was a little scatterbrained this morning and not feeling the best," James said about recovering from the accident. "I believed in us and believed in my partner and what we are capable of doing, and it felt good to perform like that today."
This was sadly not the first time the two pairs had collided: As NBC learned from Jackie Wong of Rocker Skating, they had another accident on a different practice session a couple days prior, which hurt Della Monica and Radford the most. In 2019, James and Guarise had also collided during the six-minute warm-up for the short program at the world championships in Saitama.
"It was really hard to come back from it," she continued. "To skate like that even with all the bruises and a bit of shock from yesterday, it gives us confidence in the next week and a half leading into the next competition."
After placing third in the team event's short program, Team USA's Knierim and Frazier placed fifth in the free skate with 128.97. Similar to Peng, Knierim did a single toe instead of a double in her side-by-side triple toe-double toe combination and put both her foot and hand down on an under-rotated her triple Salchow before turning out.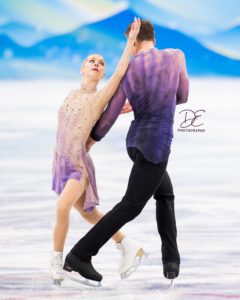 "I'm frustrated," Knierim said about her performance. "I'm grateful to be here. And I'm really proud of what we put out there, but I can do better."
Learning from these mistakes, Knierim – echoing the spirit of their free skate to "Fix You" by Coldplay – apologized to her partner when the music ended.
"Today, he (Frazier) really shined up there – he was so solid and so strong," she remarked when asked about her apology. "And there's a sense that I let him down because this is our program together, so I did say 'sorry.'"
The individual pairs event takes place Feb. 18 and 19.
Women
Short Program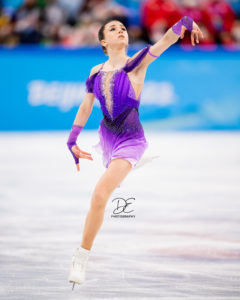 The women were the last to skate their short program in the team event, which for some countries meant their fate to qualify for the free skate, lied in the hands of the women.
After the men and pairs short programs and the rhythm dance, Team USA was in first place with 28 points, followed by the Russian Olympic Committee with 26 points and Team China with 21 points. Team Japan sat just out of the top three with 20 points. Hoping to clinch a spot in the free skate, Italy sat in fifth with 18 points and Canada was in sixth with 16 points.
In the women's short program, Kamila Valieva, of the Russian Olympic Committee, who is poised to win the Olympic gold medal in the women's event, delivered an exceptional short program that included a triple Axel. Her performance helped the Russian Olympic Committee over-take the lead from the United States in the team standings (36 points). 2022 U.S. silver medalist Karen Chen came in fifth after a disappointing short program where she fell on her triple loop. Her result dropped Team USA into the second position (34 points). Japan's Wakaba Higuchi picked up nine team points with her second-place short program to help Japan move up into the third position (29 points).
Canada advanced to the free skate thanks in part to Canadian Champion Madeline Schizas, who contributed eight team points by coming in third in the short program with a clean performance (24 points). China dropped to fifth place, tied with Georgia (22 points) after Zhu Yi finished in last place in the segment. Based on the tiebreaker rules which added up the top two placements, China advanced to the free skate over Georgia.
Free Skate
Like the short program, the women's free skate closed out the team event. While the Russian Olympic Committee had already solidified its gold medal, the event was highlighted by a history-making performance from its youngest team member.
Valieva became the first women to land a quadruple jump at the Olympics. In her "Bolero" free skate, the 15-year-old landed a quadruple salchow, and then followed it up with a quadruple toe. She fell on her second quadruple toe that she had planned to do in combination with a triple-toe. She earned a 178.92 to earn 10 points for the Russian Olympic Committee, which had mathematically already claimed the gold medal ahead of Valieva's skate.
"I am glad that I was able to do the quad Salchow, quad toe and the triple Axel," Valieva said. "Only the second quad toe did not happen, but I'll work on that."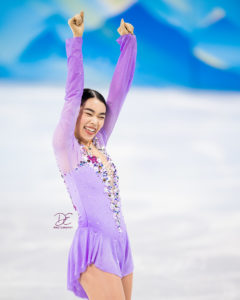 Looking for redemption after a disappointing short program, Chen skated her "The Butterfly Lovers" free skate that included a double Axel-triple toe and two triple lutzs, but underrotation calls on a few jumps left the 22-year-old in fourth place with 131.52 points. She earned 7 points for Team USA, which was enough for them to secure the silver medal.
"I had a really rough morning. I mildly hurt my ankle and so I was just really worried about that, but I'm really proud of what I did out there," Chen said following her free skate.
"It's pretty much what I've been training," she added. "Obviously there were some little boo-boos (mistakes) here and there. The jumps could be better, just overall could be better, but it's a great confidence boost moving on to the individual event (which starts Tuesday, 15 February)."
Japan's Kaori Sakamoto skated her "No More Fight Left in Me" free skate in place of Higuchi. She put out a season's best performance that included seven triples. She earned 148.66 points and nine points for Team Japan, which took home the bronze medal.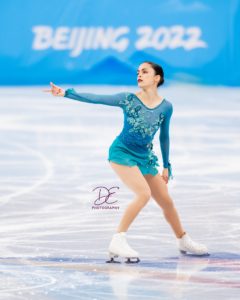 After her acceptable short program, Schizas delivered another strong performance. Her "Madame Butterfly" free skate included six triple jumps and the 18-year-old, who will turn 19 on Feb. 14, finished in third place with 132.04 points. She earned eight points for Team Canada, who would finish off the podium in fourth place.
"I'm so happy the way I skated today," Schizas said. "I came into this event knowing that it was really just an opportunity to go out there and skate. Obviously, it went pretty well."
After her short program, Yi faced a firestorm of criticism on Chinese social media platform. The California-born figure skater, who was recruited by China to compete for the country in 2018, gave up her American citizenship and changed her name from Beverly Zhu to Zhu Yi. Yi tried to seek redemption in her "Sunset Boulevard" free skate, but unfortunately, had another tough skate, falling on her triple flip and triple loop and putting her foot down on the landing of three other jumps. She earned 91.41 in the free skate and earned six points for Team China, who would finish the team event in fifth place.
"I am relieved because (there is) a lot of pressure and people are expecting a lot," she said following her skate. "But right now, I'm just going to move on and focus on my individual events."
The women's individual events take place Feb. 15 and 17 in Beijing.