By Gina Capellazzi, Team FSO website administrator
Photos by Robin Ritoss
When Team USA's Liam Kapeikis steps on the ice inside the Skating Club of Boston next week to compete at Skate America, he will be making his senior Grand Prix debut, a dream of his for a while.
"Receiving a Grand Prix has been a long time goal for me," the 18-year-old told Figure Skaters Online. "When I found out that I had been assigned to Skate America, I was shocked, but also very proud of the work I had put in to reach this goal."
Kapeikis first stepped on the ice at the age of two. At first, like most kids his age, Kapeikis played hockey. When he was seven, he began focusing on figure skating.
Up until he was 15-years-old, the Wenatchee, Washington native was coached by his parents, Paul and Louise Kapeikis, both figure skaters who met while touring with Disney on Ice.
After finishing his novice season in 2019, Kapeikis re-located his training to Richmond, British Columbia, Canada to work full-time with former Canadian figure skater Keegan Murphy and the coaching team at the Connaught Skating Club.
"Keegan is 120% committed to my skating success," Kapeikis said of his coach. "He brings structure and accountability to my training on a daily basis."
Though no longer his head coaches, Kapeikis says his parents are still a part of his coaching team. Paul Kapeikis, who is a chiropractic physician and maintains a private practice in Wenatchee, does help his son with his recovery and rehab. However, Kapeikis said his parents have now taken a more back seat approach with coaching him.
"Their role as parents is what is most important at this time," he remarked.
When he moved his training north of the border, Kapeikis chose to remain living in Washington state. While the daily commute to the rink isn't long, it became a challenge for Kapeikis at the height of the COVID-19 pandemic in 2020. When the rinks were closed, Kapeikis said Murphy and the coaching team kept every one well-trained through the use of Zoom off-ice classes. He also stay connected with his training mates through weekly social calls.
Once the rinks re-opened, Kapeikis and his mom entered Canada and fulfilled a required 14-day quarantine before he was able to resume his on-ice training. Then for the next two years, Kapeikis stayed with family in Canada so that he could remain in the country for his training.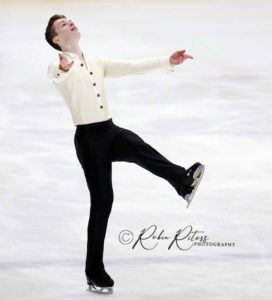 Though he isn't training on home soil, Kapeikis says it isn't that much different than what his fellow U.S. athletes are experiencing back home.
"Training is training," he said. "At the Connaught Skating Club, we have many international athletes. There are a variety of different competition schedules going on within our club. My training mates are all very supportive of each other."
Kapeikis's two junior seasons included competing at a Junior Grand Prix event in Latvia in 2019, representing Team USA at the 2020 Winter Youth Olympic Games and winning a bronze medal at the 2020 U.S. Championships.
In the fall of 2021, Kapeikis made the jump to the senior ranks. In January, he finished in seventh place at his first senior Nationals. That spring, Kapeikis made his senior international debut at Egna Spring Trophy in Italy, winning the bronze medal and also earning his senior minimum technical score.
"I learned a lot through this experience which helped me and gave me confidence going into the Philadelphia Summer International," he said.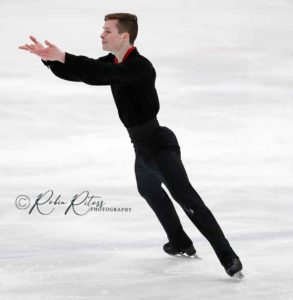 At the Philadelphia Summer International in August, which marked the start of Kapeikis's 2022-2023 season, Kapeikis kicked it off by winning the gold medal, his second senior international medal.
"It was great to skate in a senior international event in my home country," he exclaimed.
This season, Kapeikis is skating his short program to the music of Mask of Zorro, and has kept his free skate to the music from Moulin Rouge! from the 2021-2022 season.
"Both of these pieces of music were chosen by my choreographers (Joey Russell and Keegan Murphy) because they highlight my personality on the ice and are a good contrast to each other," Kapeikis explained.
This summer, Kapeikis also participated in his first Champs Camp, a performance-based camp for athletes competing in the senior Grand Prix Series.
"My first Champs Camp was great!" he uttered. "I'm so thankful for the opportunity that U.S. Figure Skating gave me to participate in this elite camp. Everyone at the camp was extremely helpful. The judges and technical specialists didn't make any major changes to my programs but did help me to polish what I already have."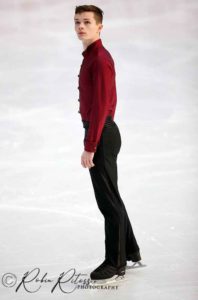 In September, Kapeikis made his Challenger series debut at Nebelhorn Trophy in Oberstdorf, Germany. He finished in eighth place, but improved on his scores from Philadelphia.
"Nebelhorn Trophy was a lot of fun and helped to prepare me for Skate America," he remarked. "I feel that my skate there was adequate for early in the season. I hope to see improvement with each competition as the season goes along."
Since returning home from Germany, Kapeikis said he's been working on running clean programs and getting his quadruple Salchow consistently for Skate America.
"At Skate America, I hope to introduce myself to the Grand Prix stage and show that I have the ability to be competitive in this group," he said. "I'm looking forward to the opportunity to skate against amazing skaters and be able to build experience at such a prestigious event."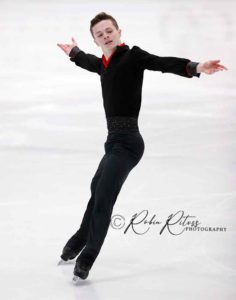 This season, Kapeikis hopes to work his way up on the world rankings in order to receive two Grand Prix events next season. He also hopes to be on the podium at the 2023 U.S. Championships in January. For the future, Kapeikis has his sights set on making the 2026 U.S. Olympic Team.
When he's not skating, Kapeikis enjoys riding his bike and skiing. He also spends a lot of time on photography and also playing with his dog, Icy.
Kapeikis calls himself a "tri-citizen" as he holds citizenship for three countries – the U.S., Canada and Great Britain. His mother was born in Great Britain and obtained Canadian citizenship upon moving to Canada. Despite this fact, Kapeikis has no intentions of skating for another federation.
"I started my skating career with U.S. Figure Skating and have had many great experiences with U.S. Figure Skating and Team USA," he remarked. "I have no plans to ever switch my competitive skating to represent any other federation."
Kapeikis has two sisters; both are skaters. His older sister, Kaela, is following in her parents' footsteps, traveling as a principal skater with Disney on Ice for the past eight years. His younger sister, Danika, is currently in her third year of medical school at Keele University in England. Along with his grandma, Kapeikis said his sisters are his biggest supporters.
Earlier this year, Kapeikis graduated from Washington Connections Academy. He would like to attend a university to study mechanical engineering. He also is interested in aviation. Though not attending in college at the moment, Kapeikis is looking to find a program that will work with his training schedule.
Right now, Kapeikis is focused on Skate America and competing in front of a sold-out crowd at the Skating Club of Boston next week.
"I'm thrilled for my first Grand Prix to be Skate America as I know that I will receive great support from the audience at this event."