The 2023 Canadian Tire National Skating Championships takes place Jan. 9-15 at the Oshawa's Tribute Communities Centre. The event will feature skaters in the men, women, pair, ice dance and synchronized skating disciplines.
Women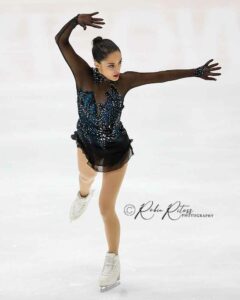 Reigning Canadian Champion Madeline Schizas looks to repeat as national champion at the 2023 Canadian Championships. The 19-year-old is just coming off of winning the bronze medal at Golden Spin of Zagreb last month, and 5th and 7th place finishes at her Grand Prix events this season.
Schizas will be joined by a bunch of newcomers to the senior scene. 2022 Canadian Junior Silver Medalist Fiona Bombardier, daughter of three-time Canadian champion Josée Chouinard and two-time  pairs champion Jean-Michel Bombardier, finished in first-place at Skate Canada Challenge. Amy Shao Ning Yang, the 2020 novice level Canadian champion, claimed silver at Skate Canada Challenge. Sara-Maude Dupuis finished in third at the qualifying event.
Kaiya Ruiter, the 2020 Canadian Junior Champion, will make her senior nationals debut and compete in her first nationals since winning her junior title.
Reigning Canadian silver medalist Veronik Mallet announced her retirement from competitive skating in July. Reigning bronze medalist Gabrielle Daleman withdrew from the event due to injury.
Men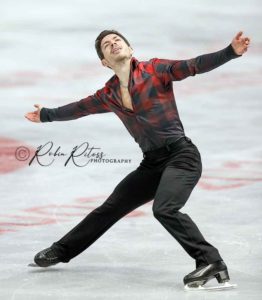 The 2023 Canadian Championships will mark Keegan Messing's final national championships after a long and successful career. Messing looks to win his second consecutive Canadian title at the event. But that's not the only thing Messing has going on. While he's focus on Canadians, his wife, Lane, is expecting their second child, due Jan. 14. Messing plans to be at the event regardless, but will return to Alaska after the men's free skate to be with Lane.
Looking to get back on top of the podium is Roman Sadovsky, who won the title in 2020. Sadovsky won bronze at Nebelhorn Trophy and finished in fifth and sixth at his Grand Prix events.
Reigning bronze medalist Wesley Chiu is also hoping to be on the Oshawa. Chiu made his senior Grand Prix debut this fall.
Also competing is Corey Circelli, Conrad Orzel and Stephen Gogolev.
Pairs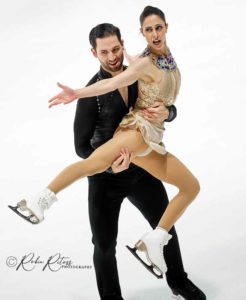 With the retirement of four-time Canadian champions Kirsten Moore-Towers and Michael Marinaro, there will be a new pairs champion at the Canadian Championships. The favorites heading into the event are Deanna Stellato-Dudek and Maxime Deschamps, who won two Grand Prix medals this season and qualified for the Grand Prix Final, where they finished in fourth place. Despite being the favorites, the 2022 Canadian bronze medalists face a challenge at Canadians. Stellato-Dudek still has not recovered from a viral illness that she had at the Grand Prix Final in December. Stellato-Dudek said some of her initial symptoms went away, but her throat is swollen and she cannot breathe/get enough oxygen through her mouth, which negatively affects her stamina. Stellato-Dudek/Deschamps told the media they are still training, doing all their elements, but are only doing one run-through a day.
Brooke McIntosh and Benjamin Mimar will make their senior nationals debut this weekend in Oshawa. The 2022 Canadian Junior Pairs Champions won bronze at NHK Trophy in November. Also winning a bronze medal on the Grand Prix Series was Kelly Ann Laurin and Loucas Éthier. The team finished in sixth place at the 2022 Canadian Championships.
Making their nationals debut as a team is Lia Pereira and Trennt Michaud, who paired up this fall. Pereira is new to pairs. She also will compete in the junior women's event at Canadians. Michaud previously skated with Evelyn Walsh, with whom he was the three-time Canadian silver medalist and the 2022 Four Continents Championships bronze medalist with.
Pereira and Michaud won their first international medal — a bronze — at Golden Spin of Zagreb in December.
Dance
Like the pairs event, there will also be a new champion in the dance event. Reigning Canadian champions and Grand Prix Final winners Piper Gilles and Paul Poirier have withdrawn from the event due to Gilles recovering from an appendectomy. Laurence Fournier Beaudry and Nikolaj Soerensen, who finished 6th at the Grand Prix Final and won gold at NHK Trophy, are looking to claim the top spot in the dance event. Fournier Beaudry and Soerensen won silver at last year's Canadian Championships.
Beaudry and Soerensen will face some tough competition from their Ice Academy of Montreal training mates, Marjorie Lajoie and Zachary Lagha, who previously won silver (2020) and bronze (2022) at the Canadian Championships. Lajoie and Lagha won bronze at both their Grand Prix events – Skate Canada International and MK John Wilson Trophy.
Carolane Soucisse and Shane Firus are looking to return to the podium in Oshawa. The team, who trains with Gilles and Poirier with Carol Lane, Jon Lane, Juris Razgulajevs in Scarboro, Ontario, won bronze at the 2020 Canadian Championships. Soucisse and Firus won bronze at Nebelhorn Trophy and finished in sixth and eighth place at their Grand Prix events.
Marie-Jade Lauriault and Romain Le Gac won the gold medal at the 2022–23 Skate Canada Challenge to qualify to the 2023 Canadian Championships. This will only be their second Canadian Championships. The husband and wife team previously represented France.
Synchro
Reigning world champions Les Suprêmes are the favorites in the senior synchronized skating, looking to capture a third consecutive title.