By Gina Capellazzi, Team FSO website administrator
Photos by Robin Ritoss
The Scott Hamilton and Friends Show hits Bridgestone Arena in Nashville on Nov. 19 with a star-studded cast that includes Olympic Champion Nathan Chen, along with four-time World champion Kurt Browning, 2022 World champions Alexa Knierim and Brandon Frazier, three-time World medalists Kaitlyn Weaver and Andrew Poje, 2022 U.S. Champion Mariah Bell, two-time Canadian cha Keegan Messing and more.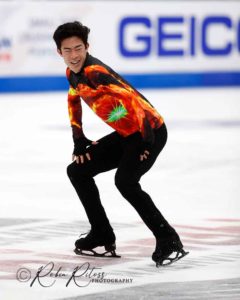 For the Olympic champion, he will be returning for the first time to Nashville, which was the site of the 2022 U.S. Championships, where he won his sixth consecutive U.S. title and was named to the 2022 Olympic team.
"I'm very excited to be performing in the show," Chen said during a pre-show interview.
The Scott Hamilton and Friends Show will be Chen's first time skating to live music. The show will feature country music stars Trace Adkins, Jo Dee Messina, Steve Wariner, Deana Carter, The Frontmen and Sixwire.
"This will be a completely new experience for me and it's going to be pretty interesting to see how it feels," Chen remarked. "I'm looking forward to it."
Chen told Figure Skaters Online that he will be skating to a Trace Adkins song. He will also be doing his own choreography.
"I have never skated to country music before, so it's definitely going to be a stretch out of my comfort zone, but I'm looking forward to it," he said.
The Scott Hamilton and Friends Show, which supports the invaluable work of the Scott Hamilton CARES Foundation, will take place during Yale's November recess. Chen is currently a senior at Yale and is due to graduate in the spring.
"I'm quite busy," Chen said of his life at school, which consists of classes, assignments and volunteering.  "This is probably one of my more busy semesters. I'm looking forward to graduating in the spring."
Following graduation, Chen plans to do a post-baccalaureate pre-medical program in preparation for medical school. The program will start in the summer of 2024.
With school keeping him busy, Chen doesn't see the ice that much. While Chen says he definitely misses training and competing, he also says he hasn't given much thought to whether he will return to competition.
"It (training and competing) is a very different sort of lifestyle, but school has been keeping me busy enough that I haven't really thought about it too much," he admitted. "Definitely there are times where, you know, it'd be fun to be out on the ice competing at the Grand Prix and stuff like that, but I'm happy. School is keeping me busy and keeping me focused."
Along with his countless accolades on the ice, Chen appeared in Time Magazine's list of the 100 most-influential people in the world in 2022 and was included in the Forbes 2020 30 under 30 Sports list. He also wrote two books, his memoir "One Jump at a Time," which was released one year ago this month, and his children's book "Wei Skates On," which hit book shelves early in 2023.
"I had a lot of help with both books," Chen explained of the writing process for the books, noting that the publishing team at Harper Collins, both their novel and memoir division, and children's division were great people to work with. "It was a lot of fun."
"I think it was a good, sort of, insightful time for me to look back and you know, sort of just remember all the steps that it took for me to get to, all my different competitions and all that, and then, you know, really reflect on the people that have helped me. So it was a really good experience for me," Chen added, reflecting on his memoir.
For his children's book, Chen said he did work with a lot of different writers to craft the right narrative and the right message. When asked if he sees another book in his future, Chen responded with a "we'll see."
"That's not really my main priority," he responded. "But should I become inspired or find people that I want to collaborate with, certainly. It's not something that I would exclude."
You can watch Chen perform in the Scott Hamilton and Friends Show on Sunday, Nov. 19 at the Bridgestone Arena in Nashville. For ticket information, visit https://www.scottcares.org/scotthamiltonandfriends.