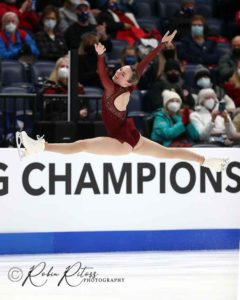 By Maura Sullivan Hill, Team FSO contributing writer
Photos by Robin Ritoss
Mariah Bell won her first U.S. Championship in 2022 in Nashville, simultaneously qualifying for the 2022 Olympics in Beijing. Both those dreams came true at Bridgestone Arena, where she will return to the ice on Nov. 19 for the Scott Hamilton and Friends show.
"It's such a special place, and I had no idea that I'd get the chance to skate there again. So I'm so excited," Bell shared during a Zoom interview. "It's absolutely, obviously my favorite arena in the U.S. So I'm really excited to go back, and for such a great cause. It's going to be awesome."
The annual Scott Hamilton and Friends Show in Nashville supports the Scott Hamilton CARES Foundation. Founded by 1984 Olympic Champion Scott Hamilton, the foundation funds innovative cancer research.
The annual show features top skaters performing alongside musical acts live at Bridgestone Arena. This year's iteration of the show is called "A salute to '90s country," and will feature country stars Trace Adkins, Jo Dee Messina, Deana Carter and The Frontmen behind the microphone.
On the ice, Bell will skate alongside a cast including Olympic Champions, World Championship medalists and fellow Olympians and international competitors: Nathan Chen, Kurt Browning, Katia Gordeeva and David Pelletier, Elladj Baldé, Alexa Knierim and Brandon Frazier, Jeremy Abbott, Kaitlyn Weaver and Andrew Poje, Kirsten Moore-Towers and Michael Marinaro, Keegan Messing, Alissa Czisny and Polina Edmunds.
Bell will be performing to the song "You're Gonna Miss This" by Trace Adkins, and says she is a fan of his music and this song in particular. Adkins will sing the song live at the show, which will be the third time Bell has skated with a live performer. She has also skated to live music while performing in the Art on Ice skating show in Switzerland, as well as during the exhibition at the 2022 U.S. Nationals.
Performing to live music is an experience that Bell relishes.
"There are things that might be a bit different, like the timing, but it's so cool. It feels very authentic," she said. "Because that's how we skate, too, it's not robotic. So it's really fun to have that piece of it be a little bit more unique. It's super cool — you can almost interact with them a little bit. When you skate past them and they're singing and I'm skating, it's a really cool situation. I'm super excited to have that experience again."
This show will actually be Bell's second return visit to Nashville, after traveling to Music City for a bachelorette party recently. She was out with friends on Broadway, the entertainment district near the arena where she won her U.S. title, and shared: "We walked up kind of near the arena, and I was just like, oooh, it just gives me chills, it makes me so happy."
Spending time with friends and family is just one of the things Bell is enjoying in her post-competitive life. She has settled in Dallas, near her parents and sister, and said she feels like she is making up for lost time, after living away from family for training since she was 19. Now, at 27, she lives in walking distance to the rink where she prepares for shows and where her sister, former U.S. National competitor and Disney on Ice performer Morgan Bell, coaches.
Bell joins her sister at the rink to coach several days a week, working with skaters on jump technique and program sections. She shares the technical expertise she learned from coach Rafael Arutyunyan with her students.
She is also a freshman in college, studying psychology and business at the University of North Texas. At the moment, she's interested in a law career, but is open to seeing where the journey takes her.
"I'm still trying to figure out what I enjoy…I got to do really everything I wanted to do [in skating] and I'm so proud of myself. And I had a really great relationship with skating the whole way. It wasn't easy by any means, but I had great coaches, and my parents were amazing. So I just look back on my career with so much gratitude," Bell said. "And I kind of thought that would expedite all of the hardship that you feel when you retire. But it was still so hard, and there were a couple of times where I was like, maybe I shouldn't be done [competing], maybe I should keep going. Last year was pretty tough, but this year has been much easier. I spend a lot of time with my dog, with my family and experiencing life outside of skating. I'm learning to enjoy it more."
She still enjoys performing on the ice, and has a full schedule of shows through the end of 2023. She'll perform at the Wollman Rink in New York City two days before the Scott Hamilton show, as part of her work as a brand ambassador for Athleta, the women's workout clothing line. Then she'll perform at the Christmas tree lighting at Bryant Park in New York City before hitting the road with the holiday Stars on Ice tour, across Canada and with a stop in Minnesota. During the Stars tour, she'll skate an upbeat number to "Hey Mickey" and a holiday program to Kelly Clarkson's cover of "White Christmas."
Bell competed as the professional skater entry for Team North America at the Japan Open this fall, and joked that she felt more retired after the event. She said she enjoyed the trip to Japan, especially the opportunity to bring her sister along as her coach.
And while we won't see Bell back on competitive ice again, she's been in the building for several recent competitions, doing digital media work with U.S. Figure Skating. She joined forces with her Olympic teammate Ashley Cain for in-arena hosting and interviewing during 2023 Skate America in Allen, Texas, and also did interviews with athletes during the 2023 Nationals in San Jose.
"It's really fun when you have somebody that you're doing it with, the videos and stuff," Bell said. "And we [Ashley and I] get along so well and have high energy, so it made it really, really fun. We were making silly little videos and trying to promote the event, which was awesome. It's where we both live, so we got the opportunity to support the hometown."
Bell is also happy to support the work of the Scott CARES Foundation when she skates in the show in Nashville on Nov. 19.
"First of all, Scott's an amazing human being, so just to get invited to this or to do any of his shows, it's an honor," she said. "But the work that he does, he's so passionate about raising awareness and raising funds. And obviously he's been through a lot himself. So to be part of something that is so special to somebody, and has such a broader impact on really everyone, is really special. I love performing, but it makes it even more impactful when it's for such a great cause."
For tickets and more details about the Scott Hamilton and Friends show, visit: https://www.scottcares.org/scotthamiltonandfriends