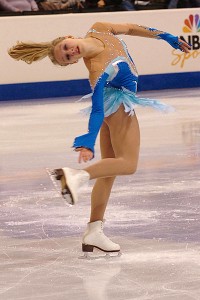 Alexe Gilles had never competed as anything other than the underdog. Until that is, she won the junior ladies crown in a stunning fashion at the 2008 U.S. Championships in St. Paul, Minn.
Gilles, 16, is now a favorite as she prepares for her second consecutive trip to the Junior Grand Prix Final. This year, the event is being held with the Grand Prix Final, Dec. 10-14, in Goyang City, Korea. She finished sixth in 2007 but went on to claim the national crown.
She was second at Junior Grand Prix United States and fourth in Croatia last year. Gilles has seen more success around the globe this season. She was second at Junior Grand Prix Mexico and won the gold medal at JGP South Africa, the first major skating competition that country has held.
After the JGP Final, Gilles will focus her attention on training her senior programs in preparation for her senior national debut at the U.S. Championships this January in Cleveland, Ohio. Her older brother Todd will compete with partner Jane Summersett in senior ice dance competition in Cleveland while Alexe's twin Piper is slated for junior ice dance with Zachary Donohue.
On a break from training at the Broadmoor Skating Club in Colorado Springs, Colo., with coaches Tom Zakrajsek, Becky Calvin and Jill Trenary, Gilles sat down with Figure Skaters Online to answer a few questions from her fans.
____________________________________
Carlee (Colorado, USA): Has it been more difficult for you to skate as the reigning U.S. Champion in junior ladies this season or as the unknown last season? Do you prefer one role over the other?
Alexe: I personally like both. I have always been sort of the underdog or under the radar and this year is the first year where I have somewhat of a name. But I really like both and I like having a name this year — it's fun!
Carlee (Colorado, USA): Congratulations on everything you've accomplished this season. Do you think anything changed in your20skating between your Junior Grand Prix competitions in Mexico and South Africa? Or did you just skate better at the second competition?
Alexe: Thank you! I didn't really change anything I was just a little more trained and prepared for my second competition.
Mia (California, USA): Where do you see yourself placing at the JGP Final?
Alexe: My goal is to medal and go for gold. But I take one day at a time and when I get there, it is what it is. I just have to try my best.
Tallie (Pennsylvania, USA): Congratulations on your silver and gold on the JGP circuit! What's it like competing at big events like those?
Alexe: Thanks! It's just like another event just with people from other countries. But competing at these kinds of events is fun and a great experience for the future.
Erin (Michigan, USA): How do you handle your nerves at competitions? Do you have any tricks to not feel nervous when you're getting ready to skate? I always feel really nervous but I am just a juvenile so I would probably pass out if I made it to the Olympics someday.
Alexe: At competitions I always watch a movie before I compete and I take a lot of deep breathes before I go out and that's what usually helps.
John (Washington, USA) Are you nervous to skate as a senior at the 2009 U.S. Championships?
Alexe: I am a little nervous to skate senior at nationals this year because I'm a first year senior and all the girls are great. I'm just gonna go out there and skate my best!
Ron (Ohio, USA): How do you balance being a junior internationally and a senior nationally? Do you have to train different programs throughout the year or just closer to the U.S. Championships? I've never been to live skating before so I am excited to watch you in Cleveland, Alexe.
Alexe: Well this is the first year I have been junior internationally and senior nationally, but about a month and a half before my junior events, I started training my junior long program. And after the Junior Grand Prix I will start training my senior long program. There is no difference between the junior and senior program, it is the same length and besides a certain flying spin the short it is the same. Overall, its not too bad.
Janice (Colorado, USA): Alexe, is it ever difficult to be a part of a skating family? Do you ever feel any pressure from having an older brother and a twin sister who are successful nationally and internationally in ice dancing?
Alexe: I don't feel any pressure from being in a skating family. I think that we push each other to get to another level and I believe that helps us.
Phil (Massachusetts, USA): Knowing that your brother and sister are successful ice dancers, do you ever think that you might switch from singles to ice dancing? Have you ever tried ice dancing before?
Alexe: I have tried ice dance before and had a partner for a few months, but we never competed. And the first time we tried out he almost threw up on me — yah, not fun. It know it's kind of gross! But now a days I think I will just stick with singles because dance is just as hard.
Madison (California, USA): What is it like being a twin Alexe? Who is the older twin and what are some of the other differences between you and Piper? Do you ever switch places? Have you ever skated for each other? I think it would be so cool to be a twin.
Alexe: Well Piper and I are fraternal twins so we look a like but were not identical so we can't really switch places even though that would be so sweet! And Piper is the older twin — and she likes to rub it in my face sometimes. Just kidding, she just likes telling people she's older. Other than that being a twin is fun and I don't really know any other way but I like it.

Lois (New York, USA): Alexe, being 5'7" makes you one of the taller ladies in singles skating. Do you think of your height as an advantage or a disadvantage?
Alexe: I don't really think that being 5'7" is an advantage or disadvantage. I think that being taller gives me a different line on the ice than the other ladies.
Madeline (Arizona, USA): What kind of makeup do you use Alexe? Who does your hair and makeup when you skate at competitions?
Alexe: My mom usually does my hair for competitions but I help a little. I do my own make-up and I use some things from Urban Decay and Bare Minerals.
Brittany (Maine, USA): Hi Alexe! It's Brittany from Maine. I want to know what you and your friends like to do when you free time? And what do you want to be when you grow up?
Alexe: Hey! On weekends my friends and I like to go to movies or go bowling. In the summertime, we like to go swimming and just hang out. When I go up I hope to be pretty successful in skating and maybe be a coach in the future. I'm not sure yet, living one day at a time.
Catie (Georgia, USA): What are your favorite foods? What do you usually eat before your competitions?
Alexe: I don't really have a favorite kind of food but I like ice cream and everything really. Before a competition I like to eat plain foods but I really like to eat a Belgium waffle!
Brittany (Maine, USA): Where is your favorite vacation spot?
Alexe: I don't take too many vacations, but when I get the chance I love sun valley and going into the mountains here in Colorado.

Renee (Washington, USA): What is your favorite country to travel to?
Alexe: My favorite country that I have traveled to so far has to be South Africa or the Netherlands because both places were amazing!

Catie (Georgia, USA): What is your favorite competition so far?
Alexe: I don't really have a favorite competition because every competition I have been to is totally different. Nationals is awesome because everyone from the United States is there!
Jamie (Arizona, USA): Alexe, thank you for taking the time out to answer questions from your fans even though you're busy preparing for your appearance at the Junior Grand Prix Final. Is there anything that you would like to add?
Alexe: I think that's it! Thanks for the opportunity to answer questions.
____________________________________
For more information on Alexe Gilles, visit her official Web site Alexe Gilles Online at www.figureskatersonline.com/alexegilles/.