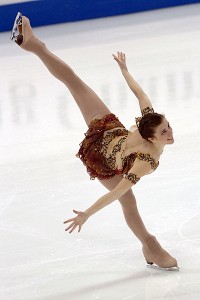 Ashley Wagner finished her season in third place at the World Junior Championships in Sofia, Bulgaria, with 153.57 points. Russian
Alena Leonova, who was fourth at the European Championships, finished with 157.18, becoming the first Russian lady since 2001 to take the title. American Caroline Zhang secured the silver medal with 154.67.
Wagner started her "Spartacus" routine, which was the top rated free skate at last month's U.S. Championship, with a triple flip-double toe combination followed by a triple Lutz. But then she fell on the triple Salchow, also downgraded to a double.
"I fell on a triple Sal —I'm still hitting myself in the head for that," said Wagner, who won another bronze medal at the 2007 World Junior event." But I'm satisfied with the program. It was good for this week."
She recovered to nail a double axel, triple loop, triple flip-double axel sequence and a triple toe-double toe combination. Three of her spins were awarded a Level 3, bringing her free skating score to 96.07 points.
"It was a good program for me," she said. "Throughout the whole week I've had a lot going up against me so I just wanted to do everything just the way I've been practicing it and focusing on everything just in pieces, not as a whole big thing."
Wagner finished fourth in both of her Grand Prix events this season as well as the U.S. Championships. At nationals, she was 12th in the short program but won the free skate to secure a pewter medal.
Former World Junior Champion and reigning silver medalist Zhang had a disastrous short program on Friday. Yet, turning in a seven triple jump performance in the free skate, which she won, pushed her up to the silver medal.
"I made a lot of mistakes (in the short program). It was kind of like it gave away most chances for the title," Zhang said. "But I think I did well in the long program, coming back. So I'm happy with my performance today."
Performing to "Ave Maria," she reeled off a triple flip-triple toe combination, a triple Lutz-double toe, a triple flip, triple loop, triple Salchow, a triple loop-double toe-double loop combination.  The lutz in her second combination did receive an edge deduction.
Zhang earned a Level 4 for her trademark layback spin and a Level 3 for the other two spins.
American Katrina Hacker finished fifth in the competition. She landed three clean triple jumps in her fourth place free skate but her triple Salchow was downgraded to a double, hurting her chances for a medal in her first career appearance at the event.
The United States had the most successful campaign in Sofia. In addition to Zhang's silver medal and Wagner's bronze in the ladies competition, the Americans won four other medals, medaling in each of the competitions.
Adam Rippon won his second consecutive World Junior Championship. In the pairs competition, Marissa Castelli and Simon Shnapir capped off their junior careers by winning the bronze medal, after the U.S. was shut out of the pairs competition last season.
Madison Chock and Greg Zuerlein won the gold medal in ice dancing, sweeping all three phases of the competition in Sofia. The silver medal went to the brother and sister team of Maia Shibutani and Alex Shibutani.
__________
Figure Skaters Online strives to be an accurate source of information related to the sport of figure skating. To report an error, please e-mail the news editor. Include the article date and title in your e-mail.