By Rylie Smith, Team FSO contributing writer
Photos by Robin Ritoss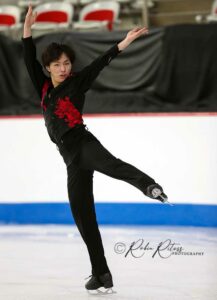 The ISU World Junior Championships in Calgary, Canada brought many up-and-coming skaters into the spotlight during the post-Olympic season. 
In the men's event, Japan's Kao Miura showed the world what he's capable of with a first-place finish and an overall score of 264.74. The 17-year-old is the sixth Japanese man to have won the men's Junior World title. Yuzuru Hanyu, Daisuke Takahashi, Shoma Uno, Nobunari Oda,  Takahiko Kozuka previously won Junior World titles.
"It is really an honor to be among those brilliant and famous skaters and to be able to be on the same path and put my name on that path is really rewarding. But, that said, this is really not my goal; this is just the start," Miura said.
Miura said he was particularly nervous after a 13th place finish in 2022.
"This year I came to redeem myself, to get revenge on the results from last year, so in that sense, it's a another different satisfaction but satisfying all the same," he shared.
Miura competed both senior and junior this season. In the fall, Miura won silver at Skate America and Skate Canada and qualified for the senior Grand Prix Final, where he finished in fifth place. Just a few weeks ago, Miura won the ISU Four Continents Championships.
At Junior Worlds, Miura finished roughly 44 points ahead of Switzerland's Naoki Rossi, who earned the silver medal. 
Rossi, who finished ninth at the event last season, earned personal best scores in the short program (79.46), free skate (141.22) and overall (220.68) to become the first Swiss man to medal at Junior Worlds since Richard Furrer in 1977. He is the first Swiss skater to win a silver medal at the World Junior Championships. Just a few weeks prior, the 16-year-old won his first senior international medal at the Tallink Hotel Cup.
"I'm actually really speechless right now," Naoki told the media following the free skate. "I never expected to be on the podium. I'm really overwhelmed and I am really grateful for what I've achieved today.
Junior Grand Prix Final bronze medalist Nozomu Yoshioka, of Japan, who was in seventh place after the short program (76.44), came in second in the free skate segment with a score of 141.35. He earned the bronze medal with a total score of 217.79.
"Did I think that I would be able to medal? No, not at all given the fact that my performance today was not as good as the performances that I gave in the past and knowing also that all the skaters in the last group are really great competitors," the 19-year-old said. "I was pretty down on myself. So when I realized I was going to get a medal, I was really very, very overjoyed.
ISU Junior Grand Prix Final Champion Nikolaj Memola, of Italy, who was considered a favorite to medal finished just off the podium in fourth place with an overall score of 216.44. Canada's Wesley Chiu, who was in second after the short program, dropped to fifth with an overall score of 213.88. Korea's  Hyungyeom Kim rounded out the top six.
Team USA's Lucas Broussard, who was in fourth after the short program, finished in 7th overall.
Japan will have three spots for men for the 2024 World Junior Championships. Switzerland, Italy, Canada, Korea, U.S., China, Estonia and Sweden will have two spots.
Women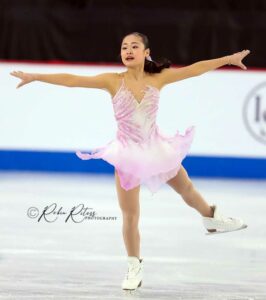 In the women's event, ISU Junior Grand Prix Final Champion Mao Shimada, of Japan, took home the title with some difficult elements in her free skate, including a triple Axel and a quadruple toe, among several triple jumps. She received a total score of 224.54, which was the highest total score in all individual women's events at both the junior and senior level this season. 
The last time the World Junior Championships was held in Canada (Kitchener, Ontario in 2005), Mao Asada won the title. Shimada shared Asada was a source of motivation for her.
"Mao Asada is my namesake and she's my inspiration so it feels really great to find myself in the same spot as her," the 14-year-old said. "As for the meaning of this medal for me, it is full of many emotions."
The minimum age for senior competitions will be 16 next season. Shimada, who will turn 15 in October, will be too young to compete on the senior level for the 2023-2024 season, as well as 2024-2025 season when the minimum age increases to 17. Shimada won't be eligible to compete at senior level competitions until the 2026-2027 season, which means she will be ineligible for the 2026 Winter Olympics.
Junior Grand Prix Final silver medalist Jia Shin, of Korea, won her second straight World Junior silver medal. She nailed a triple Lutz-triple toe as well as five more triple jumps in her free skate. She earned a personal best in both programs (71.19 short program, 130.71 free skate) and overall score (201.90). She finished roughly 23 points behinds Shimada.
"I was really happy to win my second (silver) World Junior medal," said Shin, who will turn 16 on March 19.
Following the World Junior Championships, Shin said she would be traveling to Toronto to work with choreographer David Wilson on her programs for next season.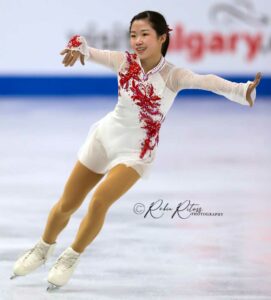 Japan's Ami Nakai also we a triple Axel in her free skate, but fell on her attempt. She did manage to complete seven other triple jumps to score a 130.12 in the free skate and a 197.40 to take the bronze medal in her Junior World debut.
"I was happy to get a medal on this big stage," the 15-year-old said.
Nakai, who will turn 16 in April, will be old enough to compete on the senior level next season.
Korea's Yujae Kim executed a triple Axel in her free skate and finished in fourth place with 193.62 points. Teammate Minsol Kwon pulled up from sixth to fifth with 191.06 points. China's Xiangyi An finished in sixth with 183.94 points.
Team USA's Clare Seo finished in eighth place. Canada's Kaiya Ruiter, who is from Calgary, finished in 10th place.
Japan and Korea will both have three spots for the women for the 2024 World Junior Championships. China, Switzerland, U.S., Georgia, Canada and Estonia each will have two spots.
Pairs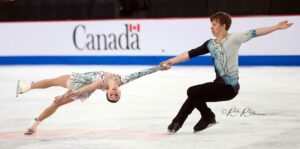 Team USA's Sophia Baram and Daniel Tioumentsev won the pairs event without their head coach, Todd Sand. On Thursday morning, which was the day of the free skate, Sand was hospitalized after suffering a heart attack.
"We found out this morning (about coach Todd Sand being hospitalized). It was a definite down-turn for me and Sophia. We skated for Todd and for everyone that has helped us through the season. It was very hard and we tried to remember what Todd told us – stay in the moment," shared Tioumentsev. 
Baram and Tioumentsev had a nearly flawless program, with just a step out of the throw triple loop from Baram. They won with a 13-point margin.
Baram, who will turn 15 in November, is too young to compete on the senior level next season. Like Shimada, she won't be able to compete at senior level competitions until the 2026-2027 season. Tioumentsev, who will turn 21 on March 14, will be too old to compete on the junior level. According to some media outlets, the ISU is reportedly considering options for junior pairs, like Baram and Tioumentsev, who are impacted by the age ruling.
Australia's Anastasia Golubeva and Hektor Giotopoulous Moore took home their second-consecutive Junior Worlds silver medal after placing first at most of their competitions this season, including the Junior Grand Prix Final.
I'm really really happy and still shocked a bit," Giotopoulos Moore said. "It's a huge achievement for us two years in a row to be in this position, to skate, to represent Australia."
Golubeva and Giotopoulous Moore will head to the World Championships in Saitama, Japan in two weeks.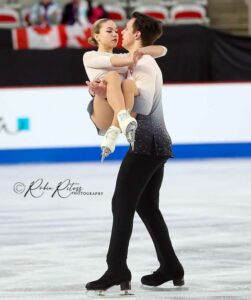 Finishing 11 points behind the Australians was Ukraine's Violetta Sierova and Ivan Khobta, who claimed Ukraine's first World Junior medal in pairs since 2000. 
"This Junior Worlds was very important for us and for our country," Khobta said. "We are very happy to be on the podium with these guys. I hope next season we also will show the whole world our good skating."
Japan's Haruna Murakami and Sumitada Moriguchi finished fourth. Like Baram and Tioumentsev, Murakami and Moriguchi will also age out of juniors, but are not eligible to compete on the senior level next season. 
U.S. and Australia will both have three spots for pairs for the 2024 World Junior Championships. Ukraine, Japan, France, Canada, Czech Republic, China and Germany will have two spots.
Dance
Siblings Katerina Mrazkova and Daniel Mrazek won gold in the ice dance event and made history winning the first medal for a Czech ice dance team at the ISU World Junior Figure Skating Championships.
For more on the dance event, visit Ice-Dance.com.