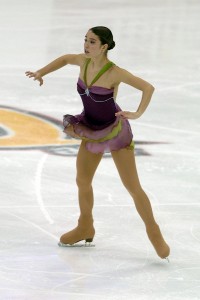 U.S. champion Alissa Czisny and two-time silver medalist Rachael Flatt head into the World Championships, March 22-29, with a lofty goal in mind. They want to skate well enough to secure three spots for American ladies at the 2010 Olympic Winter Games in Vancouver, Canada.
"I think we're going to have to skate really well in order to get those three ladies' spots back for the Olympics," Flatt said. "It's just another challenge and I'm very excited for it."
In order for the United States to qualify three female skaters for the 2010 Games, the final placements of Czisny and Flatt must add up to 13 or less. At the 2005 World Championships, Sasha Cohen and Michelle Kwan finished second and fourth but the challenge will not be as easy for the less experienced Czisny and Flatt.
Czisny is competing at her second World Championships when the event comes to Los Angeles. She won the bronze medal at the 2007 U.S. Championships and finished 15th that same year at Worlds. She faltered throughout the following season and even considered retirement.
But the Bowling Green State University student returned to competition this season with a renewed focus. Czisny started the season with wins at the Collegiate Championships and the Nebelhorn Trophy. Then she went on to win the bronze medal at Skate Canada and finished fourth at Cup of Russia before claiming her first national title at 21 years old.
Last year's Junior World champion Flatt of Del Mar, Calif., is returning to her southern California roots to make her senior Worlds debut. And it might feel like a hometown crowd when the 16-year-old takes the ice at Staples Center.
"My very first coach, Tiffany Mays, is going to be at Worlds watching," Flatt said. "It will be great to see her and her husband and son again. Some of the other coaches in California, not necessarily ones I took from but ones I knew, are coming up to watch, and most of my friends from both my old rink and my neighborhood are coming. I think we're going to have a big reunion while we're there at some point."
Flatt is the two-time U.S. silver medalist, but after winning her first silver last season, she was not old enough to advance to the World Championships. Instead, she led an American sweep of the ladies' medals at the World Junior Championships.
The high school honors student finished fourth at 2008 Skate America-the highest placement among the Americans-and won silver at Cup of Russia earlier this season. Flatt was seventh at the Four Continents Championships.
International competitors include reigning World champion Mao Asada of Japan, who won gold at the Grand Prix Final and bronze at Four Continents earlier this season, and two-time World bronze medalist Yu-Na Kim of Korea, who was second at the Grand Prix Final but won Four Continents.
Also competing is reigning World silver medalist Carolina Kostner of Italy, who won bronze at the Grand Prix Final. Canada's Joannie Rochette, the Four Continents silver medalist, is heading into Worlds with the hope of establishing herself as a contender to medal at the Winter Games in her home country.
In the Ice Network world rankings, Kim is the top-ranked female skater while Asada, Kostner and Rochette round out the top four. Flatt is ranked No. 10, and Czisny currently is No. 16, but not all ranked skaters — including No. 8 Caroline Zhang — qualified for the international competition.
The ladies competition starts with the Friday short program.
The free skate is Saturday.
__________
Figure Skaters Online strives to be an accurate source of information related to the sport of figure skating. To report an error, please e-mail the news editor. Include the article date and title in your e-mail.