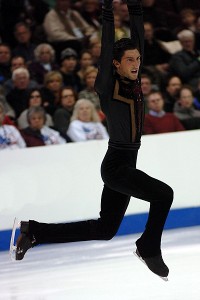 The World Championship short program was no problem for Evan Lysacek. His electrifying performance to "Bolero" brought the Staples Center crowd to its feet before he even struck a final pose.
"Once the hard elements were out of the way, I started celebrating as the rest of the program went on," said Lysacek, who started his program with a triple axel and followed it with a triple lutz-triple toe combination.
He treated his adoptive hometown crowd of Los Angeles to his best short program of the season. Lysacek scored 82.70 points, which puts him in second place heading into Thursday's free skate at the Staples Center.
"I love this building, and I'm here all the time for Lakers games," said Lysacek, who moved from suburban Chicago to LA in 2003. "I live and train here, so I felt like good energy here. I feel confident, but more so than that, I just feel really good energy in this building."
While his technical element score was third among the field of 50-competitors, his program components were only one-tenth behind short program winner France's Brian Joubert (84.40).
The difference came down to the solo triple jump in Lysacek performed, a flip, versus the more difficult triple lutz that Joubert performed as his solo jump. Both men had deductions for elements, including the wrong take off edge on Lysacek's flip.
Joubert and Lysacek are ahead of Canada's Patrick Chan (82.55). The Colorado Springs' duo of high school student Brandon Mroz (76.10) and U.S. Champion Jeremy Abbott (72.15) are eighth and 10th respectively.
"I tried too hard for that instead of creating a new moment and staying within myself and staying focused," Abbott said. Before winning the national title this season, he delivered wins at Cup of China and the Grand Prix Final.
In his first World Championship appearance, Mroz made a statement that he can contend with the best in the world. His silver medal at the recent U.S. Championships was more than luck.
"I had some disappointment with my performance at Four Continents [Championships]," said Mroz, who finished eight there. "Today I did what I do in practice and tried to deliver my best."
The high school student nailed a triple axel, performed a triple lutz-triple toe and a triple flip to make a successful transition from last year's World Junior Championships, where he was fourth, to this year's senior Worlds.
It was an off day for the normally spectacular Abbott, who holds highest score ever recorded for an U.S. man in international competition. He put his hand down on the triple toe then stepped out of the triple axel, which was downgraded to a double.
"I just felt tight," Abbott said. "It's been a long, long season. I think that, training for this, I wanted to get my best points at worlds. I've been skating consistently all season, but I just allowed my mind to get to that place of trying to be good instead of just being me and doing what I know how to do."
His program components were the fourth best of the competition.
To earn three spots for the 2010 Olympic Winter Games, the combined results of the top two U.S. men in Los Angeles cannot exceed 13. Johnny Weir and Stephen Carriere finished third and 10th, respectively, at last year's Worlds to earn the three slots for Los Angeles but neither qualified for the World team this season.
__________
Figure Skaters Online strives to be an accurate source of information related to the sport of figure skating. To report an error, please e-mail the news editor. Include the article date and title in your e-mail.