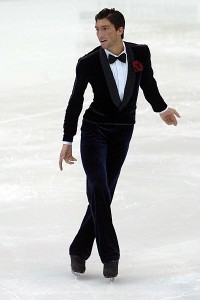 Anyone worried about World Champion Evan Lysacek's silver medal showing at the Cup of China in Beijing, China, on Saturday is not familiar with his history. He has only won one gold medal on the Grand Prix, 2006 Cup of China, since making his debut with a fifth place showing at 2004 Skate America.
But in the same time frame, he has claimed an impressive two-U.S. Championships, a national silver medal and a two national bronze medals as well as a World Championship and two-World bronze medals, all coming in the latter part of the season. He peaks at just the right time.
"I'm really happy with where I am at in this point of the season," said Lysacek. He finished third in the short program, marred by an incorrect takeoff on the triple flip, but improved to second in the free skate for 232.17 points overall, enough for his sixth silver medal on the Grand Prix.
Lysacek is the second American man to medal on the 2009 Grand Prix. At Trophee Eric Bompard in Paris, France, two-time World Junior Champion Adam Rippon claimed the bronze medal. Three-time U.S. Champion Johnny Weir narrowly missed the podium at Rostelecom Cup, placing fourth.
The top honor in Beijing went to Japan's Nobunari Oda, who also finished first at Trophee Eric Bompard, the first event on this season's Grand Prix circuit. Oda made one error in his winning free program, popping the second triple Axel, but was near flawless otherwise, landing a triple Axel-triple toe combination and a triple lutz-triple toe-double loop.
Russia's Sergei Voronov won the bronze medal with a third place free skate that included an opening quadruple toe, which earned him 10.40 points toward his overall 220.39. Americans Stephen Carriere (195.08) and Armin Mahbanoozadeh (176.53) finished off the podium in sixth and 11th, respectfully.
Skating to "Scheherazade" in the stylings of Vera Wang, Lysacek finished first in the program component marks with a score of 78.50. He received as high as 8.50 from members of the panel for his performance/execution and interpretation.
Technically, he started strong with a triple lutz-triple toe combination and then nailed a triple axel, triple Salchow, Level 3 circular footwork, a Level 4 flying sit spin, a triple axel-double toe and triple loop, all with positive grades of execution. In his triple flip-double toe-double loop, he received downgrades on the first and third jumps for underrotation. His next element, the triple lutz, also received a negative grade of execution.
"I felt nervous tonight.  I think that was stemming from how much I really like and care about [this program] and the amount of training that has gone into this program and I'm really happy with this starting point for this season," Lysacek said. " I think as the year progresses towards the Olympics this program is going to turn into something even better. I look forward to Skate America and hopefully improving on this performance."
After the early mistakes, Lysacek got back on track with a double Axel, a Level 4 change foot flying sit spin, Level 2 straight line footwork and Level 4 change foot combination spin. His technical element score was 72.87, the second highest of the event.
Carriere's performance to "Firebird," the same music that Lysacek is using for his short program, started with a triple axel, a triple loop-double Axel sequence and a triple Lutz. But he faltered in the middle of the program, receiving an edge deduction on the triple flip for the wrong takeoff edge, and a negative grade of execution on the double axel-double toe.
Mahbanoozadeh, skating in his first Grand Prix, fell on the first two jumping passes of his free skate. After falling on the opening triple Axel, he fell on the second jump in the triple Axel-triple toe. He improved as the program went on, landing five clean triple jumps for a segment score of 116.99.
Lysacek is scheduled to compete again Nov. 12-15 at Skate America in Lake Placid, N.Y. Both Carriere and Mahbanoozadeh will skate at Skate Canada, Nov. 19-22, in Kitchener, Ontario, Canada, along with reigning Grand Prix Final Champion Jeremy Abbott, also the U.S. Champion.
Three-time World Champions Xue Shen and Hongbo Zhao (200.97) of China made a successful return to competition by winning the pairs crown at Cup of China, their first competition since 2007 Worlds. Reigning World silver medalists Dan Zhang and Hao Zhang of  pulled up from fourth place to take the silver medal over Tatiana Volosozhar and Stanislav Morozov of the Ukraine, 186.49 points to 170.79.
U.S. pewter medalists Amanda Evora and Mark Ladwig placed seventh with 140.32.
Five-time U.S. Champions Tanith Belbin and Benjamin Agosto (194.51), the reigning Olympic and World silver medalists, easily captured the gold medal in ice dancing over Russia's Jana Khokhlova and Sergei Novitski (180.57). Belbin and Agosto were first in all three dances while the Russians were second, second and third.
Italians Federica Faiella and Massimo Scali (179.92) were second in the free but managed only bronze.
World Junior Champions Madison Chock and Greg Zuerlein of the United States finished eighth in their Grand Prix debut. For their seventh place compulsory dance, sixth place original dance and eighth place free dance, they received a total of 149.17 points.
Cup of China is the third event of the 2009 International Skating Union (ISU) Grand Prix of Figure Skating circuit. The series, now in its 15th season, consists of six international events in a cumulative, point-scoring format. The top six scoring athletes in each discipline move onto the Grand Prix Final, Dec. 3-6, in Tokyo, Japan, which will be combined with the ISU Junior Grand Prix of Figure Skating Final for the second consecutive season.
The six Grand Prix events are Trophee Eric Bompard, Oct. 15-18, in Paris, France; Rostelecom Cup, Oct. 22-25, in Moscow Russia; Cup of China, Oct. 29-Nov. 1, in Beijing, China; NHK Trophy, Nov. 5-8, in Nagano, Japan; Skate America, Nov. 12-15, in Lake Placid, N.Y.; and Skate Canada, Nov. 19-22, in Kitchener, Canada.
The points toward the Grand Prix Final that are awarded for each place are 15 points for first; 13 points for second; 11 points for third; nine points for fourth; seven points for fifth; five points for sixth place; four points for seventh place; and three points for eighth. In pair skating, only the top six receive points.
__________
Figure Skaters Online strives to be an accurate source of information related to the sport of figure skating. To report an error, please e-mail the news editor. Include the article date and title in your e-mail.