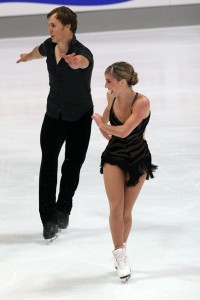 Less than a minute removed from the ice, 2007 U.S. Champions Brooke Castile and Ben Okolski were already discussing what changes need to be made to their short program. The pair finished about seven points below their personal best with 49.52 points, putting them into seventh place after the short at Skate America, their first Grand Prix appearance since 2005.
To make a bid for the 2010 U.S. Olympic team, Castile and Okolski have to prove they are one of the nation's top two pair teams. But in Lake Placid, N.Y., perhaps showing rust from the injuries that kept them off the fall international scene for two seasons, they were the lowest performing Americans in a competition filled with errors.
"It was a poor skate," Castile said. "Sometimes you can do everything you're supposed to do and it still doesn't work."
Two-time U.S. Champions Keauna McLaughlin and Rockne Brubaker (58.54) both had troubles on the side-by-side triple Salchows — she popped into a single while he turned out of the landing. Although they performed a solid throw triple loop and stellar triple twist, they could only manage a fourth place showing.
"I thought that our presentation was better than [Rostelecom Cup]," McLaughlin said. "Everything else was good except for the side by side jumps. Tomorrow we want to conquer that little demon."
Reigning U.S. pewter medalists Amanda Evora and Mark Ladwig are in sixth place with 50.14 points. Like McLaughlin and Brubaker, they too had problems on the side-by-side triple Salchows. Evora not only under rotate the jump but she also fell, sliding into Ladwig.
Castile and Okolski followed the record-tying performance of three-time World Champions Xue Shen and Hongbo Zhao, who lead the competition with 74.36 points. Ukrainians Tatiana Volosozhar and Stanislav Morozov (61.70) are in second place. Canadians Meagan Duhamel and Craig Buntin are third with 59.64.
Skating a bluesy program, Castile and Okolski hit striking positions but as their coach Johnny Johns told them, they were good on the small things but messed up on the big things. Both had problems on the side-by-side triple Salchows. He doubled while she stepped out. Later, Castile popped the triple loop into a double.
All three American teams are in the mix for a spot on the Olympic team along with two-time U.S. Champions Rena Inoue and John Baldwin, who won a bronze at last week's NHK Trophy, and reigning U.S. silver medalists Caydee Denney and Jeremy Barrett, who were fourth in Japan. Caitlin Yankowskas and John Coughlin won the Ice Challenge earlier this season to also throw their names into the mix.
Earlier in the day, Olympic silver medalists Tanith Belbin and Ben Agosto proved their worth by taking a 2.34 point lead in the ice dancing competition over Russians Jana Khokhlova and Sergei Novitski (36.94), who are second. The five-time U.S. Champions performed the best Golden Waltz of the season, earning 39.28 going into Saturday's original dance.
Italians Anna Cappellini and Luca Lanotte are third with 32.04. U.S. bronze medalists Kimberly Navarro and Brent Bommentre are fifth with 30.19 points, while U.S. world junior champions Madison Chock and Greg Zuerlein placed seventh with 28.88.
Skate America is the fifth event of the 2009 International Skating Union (ISU) Grand Prix of Figure Skating circuit. The series, now in its 15th season, consists of six international events in a cumulative, point-scoring format. The top six scoring athletes in each discipline move onto the Grand Prix Final, Dec. 3-6, in Tokyo, Japan, which will be combined with the ISU Junior Grand Prix of Figure Skating Final for the second consecutive season.
The six Grand Prix events are Trophee Eric Bompard, Oct. 15-18, in Paris, France; Rostelecom Cup, Oct. 22-25, in Moscow Russia; Cup of China, Oct. 29-Nov. 1, in Beijing, China; NHK Trophy, Nov. 5-8, in Nagano, Japan; Skate America, Nov. 12-15, in Lake Placid, N.Y.; and Skate Canada, Nov. 19-22, in Kitchener, Canada.
The points toward the Grand Prix Final that are awarded for each place are 15 points for first; 13 points for second; 11 points for third; nine points for fourth; seven points for fifth; five points for sixth place; four points for seventh place; and three points for eighth. In pair skating, only the top six receive points.
__________
Figure Skaters Online strives to be an accurate source of information related to the sport of figure skating. To report an error, please e-mail the news editor. Include the article date and title in your e-mail.