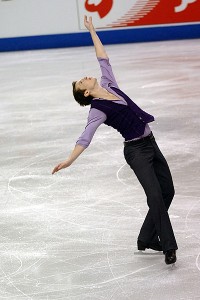 Plan on 2009 U.S. Champion Jeremy Abbott being a contender beyond the Olympic season. During a teleconference Monday, Abbott announced that after the 2010 Olympic Winter Games in Vancouver, Canada, should he compete, he will  return to training, likely for the for March's World Championships, and next season.
"After the Olympics, I plan on coming back to Detroit," said Abbott, the first American man to win the Grand Prix Final. "Depending on how I do there, I may or may not go to Worlds. I'm planning on doing both at the moment, but I guess if I win, I'll have to discuss that with my coaches. I plan on coming back to Detroit. I do plan on competing another season at least, so I will probably continue training here."
Competitors including 2009 World Champion Evan Lysacek, a two-time U.S. Champion, and three-time U.S. Champion Johnny Weir have not yet ruled out continuing his eligible career beyond the 2009-10 season. Other competitors for Abbott next season will likely include two-time World Junior Champion Adam Rippon and 2009 U.S. silver medalist Brandon Mroz, who formerly trained with Abbott.
Abbott moved to Detroit following last year's World Championships, where he placed 11th for the second consecutive year. He is coached at the Detroit Skating Club by 1994 World Champion Yuka Sato of Japan and her husband Jason Dungjen, a former U.S. Champion in pairs skating.
__________
Figure Skaters Online strives to be an accurate source of information related to the sport of figure skating. To report an error, please e-mail the news editor. Include the article date and title in your e-mail.