By Claire Cloutier, contributing writer for Figure Skaters Online
Photos by Robin Ritoss from 2018 Internationaux de France and NHK Trophy
The post-Olympic season has been a rebuilding year for Tarah Kayne and Danny O'Shea. The couple once again came back from injury (a stress fracture to Kayne's knee) and also changed coaches for the first time in their seven-year career. They now train with Dalilah Sappenfield in Colorado Springs. Despite the challenges, Kayne/O'Shea achieved considerable success this season, winning their first Grand Prix medal, as well as several medals at Challenger Series events. Looking toward Nationals, Kayne/O'Shea feel renewed and hopeful.
"We're both feeling pretty good heading into Nationals–healthy, confident, and excited to get there," said O'Shea during a recent teleconference call with the media. "The physical and mental state is very different this year. With the main thing being, physically, we're healthy, which has been the goal for a very long time, but has been elusive for a lot of our career so far. So, feeling healthy going into Nationals is a very comforting place to be. Not having to scramble and rely purely on mental toughness to overcome … a lack of physical training."
Kayne agreed, saying there is a world of difference between where the couple is now, versus last year before Nationals. Last season, Kayne was returning from knee surgery on her patella tendon, and they were only able to compete at one event prior to Nationals. This fall, they've been able to compete a full season.
"There's a huge difference. For me specifically, mentally and physically," said Kayne. She explained that last year, the couple had to scale back their difficulty on certain elements to accommodate her reconstructed tendon. "We were purposely trying to make our throws smaller to cut back the impact on my right knee and make it as safe as possible. Now, this season, I'm feeling so much healthier and stronger that we're working on making our throws bigger again."
The couple said their transition to training in Colorado Springs has gone well. Kayne described training under Sappenfield as "very empowering." When they made the coaching switch, the couple was determined to commit themselves fully to the new system. 
"With Dalilah, we started from scratch. We just came to her and let her mold us. Whatever she wanted us to do, we did," Kayne declared. "Because we didn't want to get the same results we have always gotten. We wanted to improve. We want [the skating] to be bigger, we want it to be better, we want it to be faster. And that's what you see from Dalilah's teams. We let her take control, 100 percent."
"It's definitely been different," said O'Shea. Prior to the switch, the team had trained with Jim Peterson's group in Florida for their whole career together. "When you're with a coach for seven years as a team, things become second nature, almost. There's been definite differences. Some took getting used to, some were very comfortable right off the bat. I think overall, it's been a positive for us. We're in a very good place physically right now, which is helping us be able to train hard." 
So Kayne and O'Shea feel optimistic heading into Nationals. Yet, they also realize they have their work cut out for them in Detroit. With only one Worlds slot available for the U.S. pairs, it will no doubt be a hard-fought battle at Nationals. The couple are likely to need some of their best performances to claim that sole spot at the 2019 World Championships in Saitama, Japan. 
"I'm not going to lie. It's definitely on our minds," O'Shea admitted.
Kayne was measured as she spoke about the situation. "It's a hard position to be in. I wish I wasn't in this position. I would love to be walking into this and have a little wiggle room. But that's not reality for us right now. I have to go in and do my job at Nationals to get to Worlds. And then [if Kayne/O'Shea are named to World team] I have to go to Worlds, and do my job at Worlds. To make sure that no one else is in this position again. And hopefully I can do that. Because I think we're very capable, at this point in time, to accomplish that goal for ourselves and for the United States."
"We have always gone into Nationals trying to skate our best," O'Shea added. "But this year we know we have to do that–and we have to win. We're going in to win Nationals and make that World team again.
And go to Worlds and start turning this around. We don't want to have one spot for Worlds or one spot for the Olympics any longer," he said firmly.
With the goal of winning Nationals in mind, Kayne and O'Shea have worked hard to polish and improve their skating, placing particular emphasis on their short program. At their fall competitions, Kayne/O'Shea tended to shine in the long program, typically pulling up in the standings after that segment. At Nationals, they want to make sure the short program is top-notch as well.
"We've been in this place so often in our career, where our short program is our weakness, but our long program is our strength," said Kayne. "We're long program skaters; we know that. So, since [Internationaux de] France, we've really, really worked a lot on our short program. And it is feeling stronger; I'm feeling more confident. Because in the back of my head, I've always gone into short programs knowing: 'All right, I'm not good at this.' And I go into my long program thinking: 'I've got this. This is me.' We worked on turning that around, going into Nationals. We've put in a few really strong run-throughs recently that have started making us feel more confident."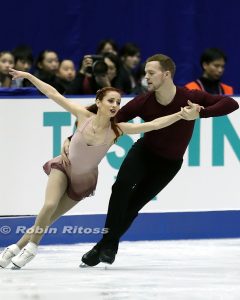 O'Shea noted that the duo changed short programs midway through the season (to "Turning Page" by Sleeping At Last). "So, what you saw at the beginning was a very raw program," he said. "It has molded to us a lot better, and we've started to understand and feel the program as we've done more run-throughs of it."
The team has high hopes for the rest of the season. O'Shea said that they gained confidence from their victory last season at 2018 Four Continents (their best international result so far). "It definitely helped us move forward and gain a little bit of momentum in our career," he said. "So it was nice to do that, and … with another American team [Ashley Cain and Timothy LeDuc] on the podium with us. You start to feel like America, as a pairs community, is building together. And I think that the top American pairs can really start to change the stigma that American pairs aren't good enough. If we can keep this group healthy and continue to maintain, I think that we're good enough to compete with the rest of the world."
But keeping healthy and injury-free remains a challenge for U.S. pairs. Along with the rest of the skating community, Kayne/O'Shea were dismayed to see fellow U.S. team Ashley Cain and Timothy LeDuc suffer a scary fall from a lift at Golden Spin in December, with Cain's head striking the ice. Although Cain is on the mend, the fall could have resulted in a major injury. And Kayne and O'Shea are well aware of the risks of such pairs elements.
"Especially as a female … you know that's a part of the risk you're taking when you enter a pairs partnership and you put your life in someone else's hands," Kayne said matter-of-factly. "Ice is slippery; things happen. And those types of mistakes happen every day. You could walk into a rink any day when pairs is happening and see a fall that would maybe not be on your head … but a lift could go down, a throw might go wrong. That's part of what you're doing every day.
"It did shake me a little bit, because I know Ashley, and I was worried for her and her health, and I wanted to make sure she was okay," said Kayne. "And I was glad, when I saw it, that my skating day was done and I didn't have to go back on the ice and skate any more [that day]. Because I think it would have been in the back of my head. We've fallen from lifts before, I've taken a lot of scary falls. But it's skating, and you just get back up, and you keep going. I think most athletes, in whatever sport they do, you know you're taking a risk. If you weren't okay with accepting that risk, you wouldn't be a good athlete."
O'Shea spoke of the responsibility that male pairs skaters feel toward their partners. "I think something that is universal, across coaches teaching male pairs skaters, is that the number one job is to protect the girl. That is something that's always in the back of your mind. Sometimes, as a male pairs skater, you're not 100 percent successful in protecting the girl. And it eats you up inside … because you have to know their safety is on you. Watching that [accident], I felt for both of them. I felt for Ashley, for her injury. But I also felt for Tim, in that situation, because you could see him trying to stop it from happening. The nature of the difficult lifts that we're doing now in this sport is, sometimes, things get a little out of your control. It definitely was in the back of our minds for a couple days. But with that said …  we know that is always a risk. And you move on. I think questioning yourself is almost more dangerous than just going full out into things."
As they prepare to compete at U.S. Nationals, Kayne and O'Shea will be looking to go full out in Detroit and win their second National title.