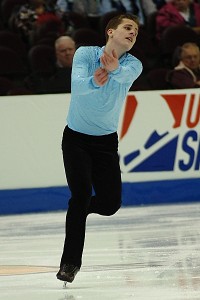 While the 2010 U.S. Championships could be one of the last stops in the competitive careers of veteran skaters like 2009 World Champion Evan Lysacek and three-time national champion Johnny Weir, the event this week in Spokane, Wash., marks the beginning for a group of new seniors.
Grant Hochstein, a Junior Grand Prix Final competitor, and Midwestern Sectional Champion Alexander Johnson and  2008 Junior Grand Prix Final bronze medalist Armin Mahbanoozadeh are among those making their senior debut at nationals this year. Keegan Messing, Andrew Gonzales and Richard Dornbush are three others.
"I really am coming into Spokane with no expectations for a placement although I would love to be in the Top 10," Johnson said last week before leaving for the event. "With so many great skaters in Spokane that already have established themselves, I know that I'm not going to make this Olympic team. I probably won't make it to Worlds or even Four Continents. But I think Spokane is a great place for me to start building toward next year and 2014. It's going to be a good opportunity for me to learn from those skaters like Evan and Johnny who have already done what I want to do. Hopefully I don't stare too much at the other skaters though — I don't want to be the one in practice who just stands there in Evan Lysacek's way."
Johnson, 19, had troubles in the short program Friday, placing him 22nd among the 23 entered skaters with only 54.29 points. In what he called a performance that was "so embarrassing but the most fun I've had in my entire life," he popped the opening triple Axel into a single, then fell on the solo triple flip, and did a triple Lutz-double toe. His spins were Level 4 while both step sequences were Level 3.
For Johnson, the placement in his first national championships does not matter so much to him, and should he learn from his mistakes, it probably should not matter in the long run either. Reigning U.S. Champion Jeremy Abbott, who won the short program with 87.85 points, did not qualify for the national championships in his first senior year. Lysacek was 12th in his first two years.
"My goal for nationals this year is to skate two solid programs," Hochstein said before the event. "Ideally I would love to be in the top eight and qualify for the World Junior Championships, but it's more important to just skate well."
While Johnson fizzled in the short, Hochstein made a statement with an eighth place finish, putting him second among senior newcomers. Dornbush edged him out of seventh place, 65.79 to 65.55 points. Hochstein landed a triple Lutz-triple toe combination to start, although the Lutz received a warning for the wrong takeoff edge, but nailed a double Axel and a triple flip.
"That was the program that I wanted to skate," said Hochstein, 19, who trains with coaches Lindsay O'Donoghue and Maria Moscato in St. Claire Shores, Mich. "Always room for improvements but I'm pleased with it."
Hochstein skated on the junior international level in the fall, finishing second at Junior Grand Prix Hungary and then placed fourth in Germany. He was fifth at the Junior Grand Prix Final.
"This season has been great for me," he said. "It was awesome to be able to travel to Hungary, Germany, and Japan and to represent the United States in doing so. I definitely learned a lot from the experiences which helps me on a day to day basis. I accomplished a lot and to be honest, it didn't really surprise me. I've always believed in myself and knew I could accomplish great things, so this season just proved that I could."
Mahbanoozadeh finished 11th at Cup of China and improved to ninth at Skate Canada this year, marking his senior debut. In Spokane, he scored 72.56 for a performance that included an opening triple Axel and a triple flip-triple toe, both which received a positive grade of execution.
All three skaters take the today in the men's free skate starting at 10:30 a.m. in the Spokane Arena. Joining them are other up and comers: Adam Rippon, who is fourth and finished seventh last year;  Brandon Mroz, who is 10th and finished second last year; and Douglas Razzano, who is 11th and finished 14th last year.
__________
Figure Skaters Online strives to be an accurate source of information related to the sport of figure skating. To report an error, please e-mail the news editor. Include the article date and title in your e-mail.