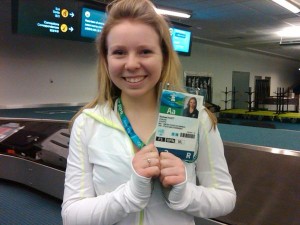 U.S. Champion Rachael Flatt, 17, and silver medalist Mirai Nagasu, 16, started their Olympic experience  in a similar way to fellow members of the 2010 U.S. Olympic team. The first step was filling up suitcases with all of the free swag that Nagasu excitedly talked about after her silver medal finish at the 2010 U.S. Championships in Spokane, Wash.
"My neighbor is my closest friend and best friend and her family is very Americanized so I got a scolding from them because they told me that I shouldn't say that," Nagasu said at a press conference Saturday. "But I've already said what's been said. The only regret I've had is coming a little bit late so a lot of my sizes have been gone. I have a lot of big sizes. I'm not sure if I want to give it up. We got so much stuff that I'm sure I'm going to have to give some of it away unfortunately."
Then both walked in the Opening Ceremony with their teammates.
"For me, I think the most special moment was probably when they raised the Olympic flag, I just got chills," Flatt said. "I couldn't believe that I was actually here. Watching the Olympic flag getting raised, the whole experience was just incredible. It's still unfathomable and I'm still in complete disbelief at this point still. It's starting to sink in now that I'm getting into a routine and everything and figuring out where everything is.  It was incredible. The entire event, it was just phenomenal.  It's a once in a lifetime opportunity that I'm sure neither one of us will never forget."
Nagasu was also able to walk with Frank Carroll, who was included for the first time because he previously coached other skaters to the podium, including Michelle Kwan in 1998 and Tim Goebel in 2002.
"I think Frank is 71, and I'm sure he'll tell you he's 36," Nagasu said. "I think he was really excited because it was his first Olympics walking into the Opening Ceremonies and of the 10 he's been in. I was really honored that he was walking beside me. I can probably play that I'm the only athlete to have Frank Carroll beside me at the Olympics."
Now both are putting their Olympic experience on hold to return home for a few days to practice before coming back to compete on Feb. 23 (short program) and Feb. 25 (free skate). Flatt will also resume her four Advanced Placement (AP) classes for a few days at Cheyenne Mountain High School in Colorado Springs, Colo.
Flatt plans to leave Vancouver on Monday but is expected to return on Friday. Nagasu, who is currently home schooled, will return to Southern California Sunday. She also plans to return on Friday.
• Nagasu has an unusual moment that stands out from the Opening Ceremony. "The thing I remember most about the Opening Ceremony is standing at the bottom of the pit for four hours in white pants so we couldn't sit down. It was basically a fight between all of the athletes because we all wanted to be at the front so we were just pushing and shoving. It was really hot and we were all sweating. When you finally got up there it was like 'Finally I'm out there to the world' and I was just so happy to be waving to everyone even though I was sweating like I was in a sauna."
• Flatt has no plans to ditch the triple-triple combination in Vancouver. "My programs were the same as they were in nationals so I'm still doing my flip-toe combination. I think my triple-triple is a great risk in and of itself. At the same time I know there are a lot of other aspects of my programs that will gain points and allow me to have good marks throughout the competition. Other than that, my programs are exactly the same as they were in nationals."
• Evan Lysacek, who trains with Nagasu in El Segundo, Calif., has taken the quad out but Nagasu joked that she had added it for the Olympics. "I think the biggest change I'm going to have in my program is I'm going to attempt the quad," she said before breaking a smile. "No, I'm just kidding. At this point in the competition, I had a strong performance at nationals, and I'd like to do better than that, so I think risking the quad isn't worth it. I certainly wish I could do it but I can't. I'd like to make a strong showing with what I have."
• Flatt is not only an Olympian but she's also a scholastic. "The basic classes I'm taking this year are AP English which is literature and composition course, AP physics, AP calculus – and that's an easy course — and AP French. It's been a little draining, honestly, but it's been so much fun. All of my teachers have been incredibly supportive of me this year as well as this entire journey. So I certainly appreciate all of their support and accommodation at this point because missing the amount of school that I am right now, it's pretty incredible and making up the work as well. It's been certainly time consuming and Tom can attest to that. It's just been great. Homework does take a lot of time, but I do my best."
• Nagasu's parents own a small Japanese restaurant with a sushi bar so it's fitting that she now has her own sushi roll. "The 'Mirai sushi roll' has the whole ocean in one role," she said. "It has salmon, tuna, yellow tail and min-tyko, which I really love. It's like spicy fish eggs and it's pink. It's really good with pasta as well. There's also masago, which is commonly found in California rolls. And shrimp tempura. Then all of these sauces and rice and seaweed and that's basically it."
• Both Flatt and Nagasu are appealing to endorsers because of their Olympian status. During the Olympic broadcasts, Flatt is featured on a commercial for AT&T. Now Nagasu is teaming with Panasonic.  "Right before I came here, I signed a deal with Panasonic, and they've given me a lot of cameras and video cameras," Nagasu said. "Through YouTube and all of these how-to Web sites I'm sure I'll be able to edit videos and it'll just be a lot of fun for me because I've always wanted to learn about everything technological. It's an honor to be representing them because they're the future of technology. To represent them means that I'm the future also so I want to do my best to represent them, especially since they're helping me out so much with helping my parents come up here, so I really appreciate their help."
__________
Figure Skaters Online strives to be an accurate source of information related to the sport of figure skating. To report an error, please e-mail the news editor. Include the article date and title in your e-mail.