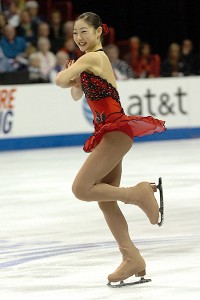 An immaculate Olympic medal streak ended for the American ladies on Thursday at the 2010 Olympic Winter Games in Vancouver, Canada. For the first time since Peggy Fleming won gold at the 1968 Olympics, the U.S. ladies failed to place on the podium, unable to overcome the stellar performances of South Korea's Yu-Na Kim, Japan's Mao Asada and Canada's Joannie Rochette.
Mirai Nagasu, the 2008 U.S. Champion who placed second this year, finished in fourth place with a personal best 190.15. The U.S. Champion Rachael Flatt finished seventh with a personal best 182.49 points, following a solid free skate where she was dinged with unexpected downgrades on both triple flips.
Skating to "Rhapsody on a Theme of Paganini" by Sergei Rachmaninov, Flatt landed five clean triple jumps, handing in a performance that brought the audience to their feet. Two of her triple jumps, the flip in the triple flip-triple toe and the flip in the triple flip-double toe-double loop, were under rotated according to the technical specialist, giving her credit for doubles.
"I was incredibly excited to have given two wonderful performances in my first Olympic Games," she said. "And it was such an exhilarating feeling, especially when the audience was reacting in such a positive way. It was great. I was little surprised, honestly, that both of my triple flips were downgraded. But it is just something to fix for the World Championships."
She scored a personal best 117.85 points for the free skate, surpassing the 116.11 points she scored en route to beating the now Olympic Champion Kim in the free skate at October's Skate America. Flatt's short program, the fifth best of the event, was also a personal best, earning her 64.64.
"I am having such a great time here that I feel like I never want to leave," Flatt said.
While Flatt opened the last group of skaters, Nagasu closed the competition with a 126.39 point program to selections from the "Carmen" opera. She landed six triple jumps and three double Axel jumps in addition to performing two Level 4 spins.
"I think I learned a lot here at my first international competition," said Nagasu, who has never skated at an International Skating Union (ISU) championship on the senior level. "It was my first time skating in the final warm-up. It was a great honor and as stressful as they say. But I was able to beat that pressure."
While Nagasu and Flatt received standing ovations for their skates, the night belong to Kim, Asada and Rochette, all thrilling in different ways. Kim scored a world record 150.06 to accompany her world record 78.50 from the short program, giving her a new world record total score of 228.56. She landed six triple jumps and three double Axels.
Asada (205.50) landed two triple Axels in her program to become the first woman ever to land three triple Axels in one competition. However, she encountered problems on the triple flip-double loop-double loop combination, having the first jump downgraded, and the planned triple toe, which she popped into a single jump.
Rochette thrilled the home country, skating to a bronze medal only four days after her 55-year-old mother died of a heart attack. It marks the first podium finish for a Canadian woman since 1988 when Elizabeth Manley claimed the silver medal in Calgary.
__________
Figure Skaters Online strives to be an accurate source of information related to the sport of figure skating. To report an error, please e-mail the news editor. Include the article date and title in your e-mail.