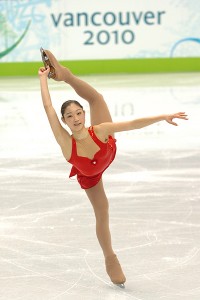 Rachael Flatt and Mirai Nagasu, who finished first and second at the recent national championships, served notice at the 2010 Olympic Winter Games in Vancouver, Canada, that American ladies skating is not dead. The two teenagers from California finished fifth and sixth in the short program, scoring a personal best 64.64 and a seasons best 63.76, respectively.
Reigning World Champion Yu-Na Kim of Korea leads the competition with 78.50, a new world second score, following her portrayal of a James Bond girl. She followed a near flawless performance from the 2008 World Champion Mao Asada, who landed a triple Axel-double toe combination to start. Asada (73.78) is a distant second.
Both Kim and Asada were spectacular but the night clearly belonged to 2009 World silver medalist Joannie Rochette of Canada. Two days after unexpectedly losing her 55-year-old mother Therese to a heart attack, Rochette skated a personal best performance, earning 71.36, for third place.
As she ended her performance, one that included a triple Lutz-double toe loop combination, a triple flip and a double Axel, the 24-year-old broke down into tears — letting out what she had been holding back since the rousing applause welcomed her on to the ice. The crowd of 11,700 at the Pacific Coliseum acknowledged her courage with a standing ovation.
Rochette did not speak to the media but is expected to release a statement.
Nagasu was the first of the top six to skate Tuesday.
"My performance tonight wasn't as good as nationals, I'm a little disappointed but I think the next Olympics I'll know how to feel," she said. While Nagasu won the short program at the U.S. Championships with 70.06, her score in Vancouver is 1.56 points higher than her international season's best from Cup of China.
The former U.S. Champion, who trains with 2010 Olympic Champion Evan Lysacek, started her program to music from the Pirates of the Caribbean movie soundtrack with a triple Lutz-double toe combination. She planned on performing a triple-triple.
"The landing was a little funky [on the Lutz] so I think I made a smart choice," she said. The combination received a negative grade of execution, bringing the value down from 7.30 to 6.10.
She said that with the short program she gave, she "can't reach the podium" in what is her first Olympics. Nagasu has only medaled at two senior events in her career, the 2008 U.S. Championships, where she was first, and the 2010 nationals, where she was second, but she hoped to play spoiler in Vancouver.
Nagasu skated remarkably well considering that she skated for more than a minute with a bloody nose, something she said was caused by dry air. "I just felt it running down my nose, I said don't think about it, just keep going," she said.
Two of her spins and her spiral sequence were graded as a Level 4 while the other spin, the flying sit that followed the double Axel, and her circular step sequence were Level 3. Nagasu also performed a solo triple flip, good for 5.70 points after a positive grade of execution.
"I feel like I could have skated better," said Nagasu, 16, who has never even skated at the World Championships or even Four Continents. "I'm a little disappointed. I'm still in the mix, and I'm happy at my first Olympics I didn't fall yet."
The reliable Flatt made her Olympic debut later in the evening with the best performance of her career. "This was better than nationals, even though my score wasn't as good. It's a new personal best for me internationally. I had the time of my life," she said.
Flatt landed a triple flip-triple toe to kick off her program to "Sing! Sing! Sing!" but soon encountered problems on the solo triple Lutz, where a wonky landing cost her a point on the grade of execution. Her double Axel earned her a positive grade of execution.
"It was a little shaky," she said about the triple Lutz. "I got ahead of myself. I was having a little too much fun and had a little too much energy. It's something I've got to keep in mind for the long: to stay calm but perform the program well."
Flatt's flying camel spin and change foot combination spin as well as her spiral sequence received a Level 4. Her straight line step sequence was a Level 3 but her layback spin, which came in the middle of her program, managed to snag only a Level 2 grade.
"I'm savoring each moment," she said. "You never know if you're going to have an opportunity like this again."
Miki Ando of Japan is currently fourth with 64.76.
__________
Figure Skaters Online strives to be an accurate source of information related to the sport of figure skating. To report an error, please e-mail the news editor. Include the article date and title in your e-mail.