by Gina Capellazzi
Photos by Gina Capellazzi and Leah Adams
O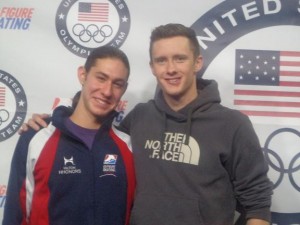 ne is a 28-year-old Olympian with four national championships and the other is a 19-year-old who just completed his first senior international season. They are two very different skaters, but they are united under the same goal. That goal is to bring home an Olympic medal when they represent the U.S. at the 2014 Winter Olympics in Sochi, Russia.
Jeremy Abbott and Jason Brown were named to the U.S. Olympic Figure Skating Team earlier this month at the U.S. Figure Skating Championships in Boston, Massachusetts. Both were excited to make the team.
"I came here to get the business done and go to Sochi and I accomplished that. I'm extremely excited," said Jeremy Abbott.
"This is incredible. It is such an honor. I'm so excited to go and represent my country in Russia," said Jason Brown.
But getting to this point in their skating careers didn't come easy. For Jeremy, it took rededicating himself to another four years of hard work and training. After competing at the 2010 Winter Olympics in Vancouver and coming home disappointed, Jeremy was determined to make the team for the Sochi Olympics. At the age of 28, he knew this was probably his last chance.
For Jason, four years ago, he watched from home as Jeremy, along with Johnny Weir and Olympic Champion Evan Lysacek competed at the 2010 Winter Olympics. Jason was the 2010 Junior National Champion. After finishing high school, Jason decided to move from his home in Illinois to train in Colorado Springs. Many thought Jason's best shot for the Olympics was in 2018. But after a third place finish at his second senior Grand Prix event in Paris, Jason wasn't ruling out a chance for the 2014 games.
So for Jason and Jeremy, all their training came down to Boston.
After skating a solid short program in front of a crowd at the TD Garden in Boston, Jeremy found himself in first place with a record score of 99.86.
"I'm really happy with how I skated. I said my goal was to come and keep it business. I have done a third of my job. I still have two thirds to go. But I have a lot of confidence in my free program," Abbott said after the short program.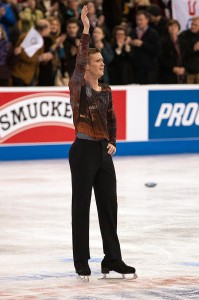 And confidence he had. Jeremy skated a strong free program to Exogensis by Muse. He finished with a record of 274.27. The program was good enough for him to capture his fourth U.S. Championship and be named to the U.S. Olympic team. But the skate was also filled with a lot of emotion.
"This was my last U.S. Championships. So when I went out to skate, I thought to myself to just enjoy it, enjoy it all, enjoy the energy, enjoy the crowd and I did," Abbott said.
Now Jeremy awaits his second chance at an Olympic medal. A medal would be icing on the cake to his exceptional competitive career.
After his short program, Jason found himself in third place, behind Jeremy and Richard Dornbush.
"I was really excited about the way I skated. I trained really hard and I put out a performance the way I have been training so that's all I could really ask for," Brown said after the short program.
So when it came time for his free skate, Jason knew, since he was not attempting a quad, that he had to have a flawless skate in order to be in contention for a medal and for an Olympic spot. But flawless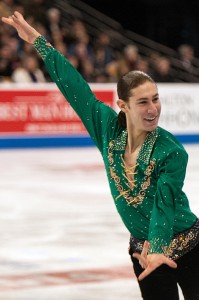 was an understatement. A surprised Jason had learned that he had scored 182.61. It was enough to win the free skate and the silver medal, finishing behind Jeremy with a score of 270.08. He had done enough to be nominated to the 2014 U.S. Olympic team.
"I can't believe what happened. The program I put out, I can't believe that happened. I have been training so hard, and I worked so hard to be able to put out that type of program," said Brown.
So Jason and Jeremy may be different skaters, but the two are looking forward to representing Team USA together.
"I couldn't be more excited and pleased to be sitting up here with Jeremy and being apart of this team," said Brown after the Olympic team announcement.
The staff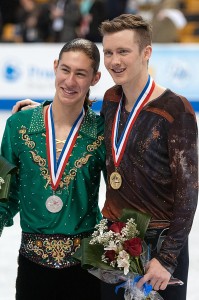 of Figure Skaters Online are proud of both Jason and Jeremy. We wish them the very best of luck in Sochi and will be rooting for them both! Stay tuned for updates from both these Olympic athletes, along with the rest of FSO's skaters who are competing in Sochi.