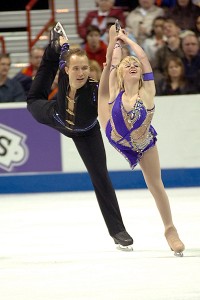 Caydee Denney and Jeremy Barrett are using the 2010 Olympic Winter Games in Vancouver, Canada, as a building block for the future. Although they are not leaving with a medal, the U.S. Champions are leaving with experience.
"We learned some much from these Olympic Games," Denney said. "We're going to go home and build off of this for the World Championships. I feel like it was a great experience for us. It was so much fun out there."
Denney and Barrett finished second among the two American teams competing, taking 13th overall with 158.33 points. U.S. silver medalists Amanda Evora and Mark Ladwig gave the best performance of their lives, setting a personal best mark of 171.92 for a 10th place showing. Evora and Ladwig also had the highest scoring element in the entire pairs competition, the Level 4 Group 5 Reverse Lasso Lift in their free skate that scored 9.15 points.
Three-time World Champions Xue Shen and Hongbo Zhao of China, less than a year out of their retirement, are now the 2010 Olympic Champions after two consecutive bronze medals. They topped their country mates Qing Pang and Jian Tong, who vaulted them from fourth place to the silver with a 213.31 overall score.
"Today's medal is a completion of a dream after so many years," Shen said.
Germany's two-time and reigning World Champions Aliona Savchenko and Robin Szolkowy settled for the bronze medal with a score of 210.60. Favored for the gold along with Shen and Zhao, Savchenko and Szolkowy took themselves out of contention with a serious error, a fall on the side-by-side double Axels.
Yuko Kavaguti and Alexander Smirnov  of Russia were fourth, marking the first time since 1960 that a Soviet or Russian team did not take the gold medal. They were third in the short program but turned in the seventh best free skate of the competition.
While it was the worst combined showing of U.S. pairs ever in an Olympics, the two pairs had less experience than most who came before them. Denney and Barrett have been together less than two years. They won the 2010 U.S. Championship after placing second last year. Evora and Ladwig have been together for eight years but did not crack the top three nationally until this year.
Denney and Barret have the only World appearance among them — ninth last year. But that will soon change as both pairs, who train together in Florida under Jim Peterson and Lyndon Johnston, will soon return to training, working toward March's World Championship in Torino, Italy. Both also plan to return next season.
"If I love the sport and if I'm capable of doing it, I'm going to keep skating," Evora said. "It's nice that we've been together for eight years, but some teams have been together for longer. It's an inspiration for me to see that Olympic dreams and Olympic champions take a lifetime of sacrifice and a lifetime of hard work. To know I'm 25 and still young and a late bloomer, there's still hope for us in future."
Denney, 16, is the second youngest member of the 2010 U.S. Olympic team.
"I bet Shen and Zhao have been skating together longer than Caydee's been alive," Barrett said.
Shen and Zhao have been to four Olympics throughout their 18 year partnership. The husband-and-wife duo finished fifth in their Olympic debut at the 1998 event in Nagano. They were third in 2002 and after Zhao's Achilles tendon injury, third again in 2006.
The world record that Shen and Zhao set Sunday in the short program proved to be the saving grace for the sentimental favorites. Halfway through the program, Shen slipped out of a lift, which could have slipped them into second place. But they competed the necessary two-rotations before she awkwardly came out, giving them 4.10 points for the move instead of the zero.
"Caydee and I have only been together two years," Barrett said. "Shen and  Zhao, this is their fourth Olympics. They're expected to be at the top. We weren't looking to medal. We were just looking to skate well, and I think we did."
Pang and Tong could not overcome the 5.16-point lead Shen and Zhao had after the short program. But the Chinese pair, skating right before Shen and Zhao, won the free skate with a world record 141.81 point performance to "The Impossible Dream" from the musical "Man of La Mancha."
Denney and Barrett skated earlier in the evening. Although they did not fall, they had a few miscues in their performance to "Scheherazade," which earned 105.07, a season's best. Their side-by-side triple toes were downgraded to doubles. In their planned side-by-side double axel sequence, he singled the first jump and then put his hand down on the second.
"One thing about being together for a while is you learn to connect a little more," Barrett said. "We made a huge improvement (in that) in the last year, but we still have a ways to go. That's something we're going to keep working on."
Evora and Ladwig's also strugged on their side-by-side jumps — their double toe-double toe sequences and their double Axels both received negative grades of execution. Both their throw triple lutz and throw triple loop were strong. And their lifts were even stronger.
Olympic figure skating continues Tuesday with the men's short program.
__________
Figure Skaters Online strives to be an accurate source of information related to the sport of figure skating. To report an error, please e-mail the news editor. Include the article date and title in your e-mail.