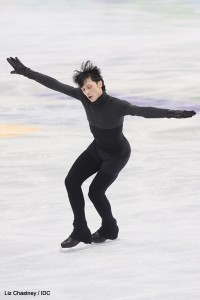 The short program start order for the 2010 Olympic Winter Games reads like a Who's Who in the past decade of men's figure skating. Among the 30 competitors, at least 10 are considered realistic contenders for podium with three Americans right in the mix.
U.S. national gold medalist Jeremy Abbott, silver medalist Evan Lysacek and bronze medalist Johnny Weir are in Vancouver after strong performances at the 2010 U.S. Championships in Spokane, Wash. Together, they have captured the last seven national titles, with Abbott taking two (2009-10), Lysacek taking two (2007-08) and Weir taking three (2004-06), with several lucrative international gold medals between them.
"I'm not sure there has ever been a deeper field in men's figure skating," Lysacek said. Reigning Olympic Champion Evgeni Plushenko and four three other World Champions, all but two of the victors since Plushenko claimed his first title at the 2001 World Championships, are in Vancouver along with four medalists who never claimed  the gold.
"Every medal contender could be first or 15th," said Weir, who finished fifth at the Torino Olympics, after an exquisite second-place short program, but has since captured the bronze medal at the 2008 Worlds. He also finished third to Lysacek at the recent Grand Prix Final.
The Americans are strong, all three could be Olympic medalists, but a medal sweep is near impossible.
"I'm honored to be apart of such a strong team but we face a challenge from the world," Lysacek said. He has called Plushenko the main competitor at the Olympics, along with Canadian teenager Patrick Chan, who took the silver medal at the 2009 World Championships but struggled with injury this season.
"I usually focus entirely on myself and try to mind my own business," Lysacek said during a press conference Saturday. "I know because I've seen these guys before, how strong they are and how good they are. I'm a sports fan and a skating fan myself and I can appreciate great athletes when I see them. But so far this competition I haven't really taken off my blinders. I've been just doing my own thing, staying relaxed in practice. I've had good run-throughs. I like the ice. I'm happy out there. That's all I can really ask for at this point."
At the European Championships, Plushenko trounced the field with help from two quad-triple combination, beating World Champions Stephane Lambiel and Brian Joubert, the silver and bronze medalists by more than 16 and 39 points, respectively. He also beat Weir en route to his season opening victory at the Rostelecom Cup.
"I've seen his long program once," Weir said. "It seems very much like what he's always done. Everyone's criticized him, myself in particular, for always having the same plan, the same set, the same order, the same style. But for Michelle Kwan, who's one of the most celebrated artists in figure skating history, pretty much you could turn on any music and it would be the same program as the year before.
"Once you get into a groove and you know how your body works and you know what order your jumps have to be in and how much time to breathe, it's hard to change from that. It'd be like changing from speedskating on a circular track to a zig-zag track. We do what we know works for us and Plushenko's the European champion after four years off, so I think his program works for this system as well. But it is definitely a more front-loaded, 6.0, system program."
Plushenko's program, criticised for it's lack of artistic merit, will be a stark contrast to that of two-time U.S. Champion Jeremy Abbott. Recently, Olympic pairs champion David Pelletier of Canada called Abbott's short program to "A Day in the Life," the best program he has seen in the last 10 years, because of the intricate choreography done by former World ice dance Shae-Lynn Bourne.
At the U.S. Championships, he performed the program to near perfection, earning a score of 87.85 points, about five points higher than his personal best. But Abbott, who had a decisive victory for his second national title, has often struggled to put two back-to-back competitions together.
The men's short program starts at 4:15 p.m. local time Tuesday at the Pacific Coliseum.
__________
Figure Skaters Online strives to be an accurate source of information related to the sport of figure skating. To report an error, please e-mail the news editor. Include the article date and title in your e-mail.