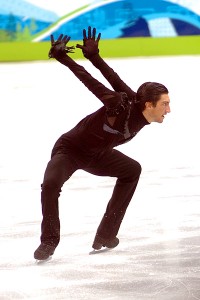 The memories of Torino were still fresh on Evan Lysacek's mind when he took center ice at Pacific Coliseum Tuesday evening for his short program at the 2010 Olympic Winter Games in Vancouver, Canada.
Then inexperienced, almost as excited for the swag as the competition, he crashed, skating a program so "gross," as he called it, he managed only 10th place. "I hadn't missed one jump all week in practice, but when the competition came I missed them," he remembered.
Could it happen again in Vancouver?
From the first note of Stravinsky's "Firebird," Lysacek's chosen theme for the short program, he showed he was far removed from the kid in Torino. The reigning World Champion, who twice captured the national title, nailed his opening triple Axel, receiving a bonus of 1.20 points it was so good, and it continued from there.
After landing a triple Lutz-triple toe combination and a triple flip, and performing three solid spins and two step sequences, each without an error, Lysacek cried. He performed the best short program of his career on the world's biggest stage, coming in second to Olympic Champion Evgeni Plushenko.
"I did have some pressure coming in as the reigning World champion, and I felt it today," Lysacek said. "There was also a monkey on my back from Torino four years ago. That short program was one of my worst. To have one of my best feels pretty good. I guess that is where that (emotional) release came from."
Plushenko, a stellar technician who opened his program with a quadruple toe-triple toe combination, leads the competition with an Olympic record 90.85 points. Lysacek came in second with 90.30, although he won the program components mark.
Three-time Johnny Weir was sixth with an 82.10, while two-time U.S. Champion Jeremy Abbott received a 69.40, a score reflecting two serious errors, which put him in 15th place. Weir is 8.15 out of third place, a spot is held by Japan's Daisuke Takahashi (90.25). Japan's Nobunari Oda (84.85) and Switzerland's Stephane Lambiel (84.63) are fourth and fifth.
Weir's only problem in his sultry short program came on the entrance to his triple flip.
"I tend to do my triple flip on the wrong edge, which is a shame," Weir said. "I've tried to work on it. I'm old, and you can't teach an old dog new tricks, especially in figure skating technique. I try to hide it on the ice, where it's not as visible to the judges and technical callers, but it's still something that's not hard to see."
His program included a triple Lutz-triple toe, a triple Axel and a kiss blown to the audience.
"I actually had fun tonight," said Weir, who considered quitting skating because of his poor performances last season. "I haven't been able to say that in a long time. I felt like I showed my heart. I smiled; I can't remember the last time I smiled like that. It was everything I was hoping it would be."
But for Abbott, nothing went according to plan.
"I'm heartbroken. I've been training so well, doing my mental and physical work, and I've been so much stronger this year than any other year," Abbott said. "I felt so good coming into the Olympics and coming into today. I was nervous, but not more than usual. I wasn't thinking about it being the Olympics, and I didn't feel the pressure of the Games. I went out like (it was) any other competition. I don't know what went wrong, and I don't know why."
He started his performance with a gorgeous triple flip-triple toe combination but it unwound from there. He singled his planned triple axel then doubled his planned triple Lutz, two mistakes that could not be erased by his beautiful program.
"I'm going to have to do a lot digging in the next two days," said Abbott, who won his second national title last month with the highest score in the event's history. "I'm not going to give up.  I'm not going to leave the Games on that experience. The way I'm feeling now, I want to go home and sleep for a week."
Of the 24 men who advanced to the free skate, Abbott skates ninth, which is third in the second warm-up, at approximately 6:21 p.m. local time. The top six men skate in the last warm-up group with Lysacek going 19th (8:15), Oda 20th, Lambiel 21st, Takahasi 22nd, Weir 23rd (8:48) and Plushenko 24th.
• Lysacek said earlier in the week that he is unlikely to attempt a quad in the free skate because practicing the jump could aggravate his left foot injury, which had him wearing a cast at the end of last season. "It was a little sore this morning," he said about his foot after the short program. "When it's humid and rainy, I have a little bit of a tough time. I took it slow in warm-up. I only did a couple jumps on my left foot. By tonight it was nice and clear, and I could feel I was going to be fine."
• Weir is fine with his possible role as the podium spoiler. "When I came in here, I knew a medal was pretty far-fetched for me. I haven't been a contender for a couple years now, so I was left out of that group of '10 People that Could Challenge for a Gold Medal.' I have no problem with that."
__________
Figure Skaters Online strives to be an accurate source of information related to the sport of figure skating. To report an error, please e-mail the news editor. Include the article date and title in your e-mail.