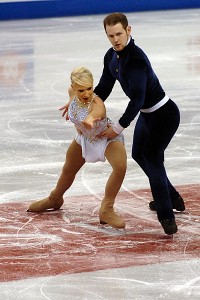 Stacy Leigh Holmes Coughlin, the mother of U.S. pairs skater John Coughlin, passed away February 24 after a lengthy battle with illness. She was laid to rest Saturday at Mount St. Mary Cemetery in Kansas City, Mo.
"One of the last things my mom said to me and Ryan Bradley was to keep skating," said Coughlin, who recently finished fourth at the Four Continents Championship with partner Caitlin Yankowskas. "I want to do that for her."
In lieu of flowers, the family is requesting that donations be made to the New England Amateur Skating Foundation of Providence, R.I., to assist with the training expenses of Yankowskas and Coughlin. To make a contribution, please read the instructions posted at www.figureskatersonline.com/yankowskas-coughlin/neasf.html.
Condolences can be sent to the World Arena in Colorado Springs, Colo.
Stacy was born July 1, 1961, in Kansas City, Mo., to Vevia Dumas Holmes and Gary Don Holmes. She was a registered nurse working in the field of mental health. She attended Penn Valley Community College and the University of Missouri at Kansas City. She became a Catholic before marrying Michael Coughlin in 1983.
Stacy was preceded in death by her mother, Vevia. She is survived by her husband, Michael; her daughter and son, Angela and John, and her father and stepmother, Gary and Nancy Holmes. Stacy loved her children and thought of them as her greatest achievement.
__________
Photo courtesy of Leah Adams
Figure Skaters Online strives to be an accurate source of information related to the sport of figure skating. To report an error, please e-mail the news editor. Include the article date and title in your e-mail.