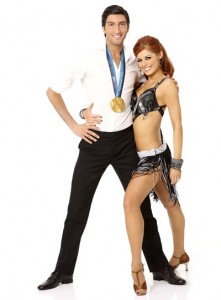 Ballroom dancer Katrina Burch sat down with Figure Skaters Online to explain the basics of the rumba, which is the dance that Olympic Champion Evan Lysacek and partner Anna Trebunskaya will be performing on tonight's episode of Dancing with the Stars. Team Evanna is contesting with seven other couples, who are performing the cha cha, foxtrot, jive, quickstep or tango.

To vote for Lysacek throughout the season, call 1-800-868-3406 or visit http://cdn.abc.go.com/shows/dancing-with-the-stars/vote. (Canadian viewers can only vote online.) AT&T customers can also text "Vote" to 3406. Voting opens as soon as the show starts.
As with the Tango, there are two different styles of Rumba. There are American Rhythm and International Latin.
The rumba originated in Cuba with influences by Blacks and Creoles. Its movements, like it's Cuban cousins, Salsa, and Mambo are part of the dance son, which is Cuban music that started in the1930s. Another cousin of the rumba (and closer than Salsa and Mambo) is the Bolero. Modern Rumba came about by French exports in the late 1950s.
The basic of the Rumba in American Rhythm is "Slow-Quick-Quick-Slow" and this is what is now as the Rumba Box. Look for it as the basic step in Dancing With the stars. In rumba, the hips of both the men and the women should be "rolling" but not over done. They should be smooth and not jerking. The character of rumba is symbolized by this statement: "The rumba is a vertical expression of a horizontal desire."
Here is Trebunskaya performing the rumba with Jonathan Roberts:
For what to look for in the other dances, please click here.
__________
Figure Skaters Online strives to be an accurate source of information related to the sport of figure skating. To report an error, please e-mail the news editor. Include the article date and title in your e-mail.