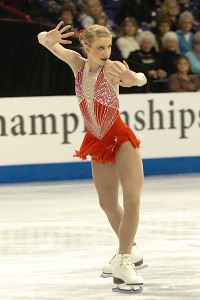 With her debut on the Grand Prix circuit only months away, 2010 U.S. Champion in junior ladies Agnes Zawadzki is proud to open her official website at www.figureskatersonline.com/agneszawadzki/ in cooperation with Figure Skaters Online.
Zawadzki, who finished second in her international debut at the 2010 World Junior Championships, was recently assigned to compete at Skate Canada, Oct. 29-31, in Kingston, Ontario. She will also skate at Cup of Russia, Nov. 19-21, in Moscow, Russia.
A native of Des Plaines, Ill., Agnes trains in Colorado Springs, Colo., under the direction of Tom Zakrajsek and Becky Calvin, a team that led U.S. Champion Rachael Flatt to the 2010 Olympic Winter Games. She was formerly coached by David Santee and Ingrid Santee.
Zawadzki's programs are choreographed by Tom Dickson, Catarina Lindgren and Lori Nichol. For her 2010-11 short program, she is using "Gopher Mambo" while her free skate is to "Ziegeunerweisen" and "Hungarian Rhapsody".
Fans can visit her site at www.figureskatersonline.com/agneszawadzki/. Agnes Zawadzki Online not only features news but also features photos, both on and off ice, and a contact form where fans can e-mail Zawadzki.
__________
Photo courtesy of Leah Adams
Figure Skaters Online strives to be an accurate source of information related to the sport of figure skating. To report an error, please e-mail the news editor. Include the article date and title in your e-mail.