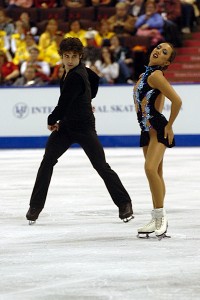 Two-time U.S. Champions Keauna McLaughlin and Rockne Brubaker have ended their partnership after four years, the pair announced today. McLaughlin will sit out next season to focus on her schoolwork while Brubaker is searching for a new partner.
"My goal has always been to win World and Olympic medals, I still plan on working toward that goal and look forward to new challenges," Brubaker said. Prior to winning the 2007 U.S. Championship in junior pairs and the next two in senior pairs with McLaughlin, he won the 2005 junior crown with Mariel Miller.
"Rockne and I have had an amazing career together, and I can't thank him enough for that," McLaughlin said. "Right now I feel like I need to devote time to school as well as other interests – photography, art, dance – and spend some time away from skating competitively."
Partnering in 2006, McLaughlin and Brubaker won every event they entered in their first season together, including the 2006 Junior Grand Prix Final and the 2007 World Junior Championships. They won three silver medals and a bronze on the senior Grand Prix season over the next two seasons.
"Keauna and I have had a wonderful career together, and it has been a great experience," Brubaker said. "I wish her all the best and feel truly honored to have worked with her."
In the 2009-10 season, the pair finished third at Rostelecom Cup and fourth at Skate America before stalling in their bid for a spot on the U.S. Olympic Team. They finished fifth at the U.S. Championships in Spokane, Wash., with the top two moving on to compete at the Olympic Winter Games and World Championships.
McLaughlin and Brubaker, who ended their competitive career together with silver medal at 2010 Four Continents, were slated to compete at 2010 Skate Canada, Oct. 29-31, in Kingston, Ontario, and Skate America, Nov. 11-14, in Portland, Ore. They performed together for the last time Saturday at Skate for Hope in Columbus, Ohio.
"We'd like to thank our families, fans and sponsors," the team said. "Last season was tough to get through, and we couldn't have done it without their support."
__________
Figure Skaters Online strives to be an accurate source of information related to the sport of figure skating. To report an error, please e-mail the news editor. Include the article date and title in your e-mail.