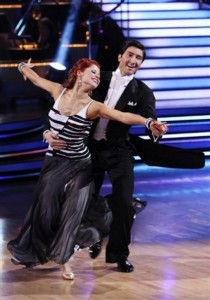 Evan Lysacek and his professional dance partner Anna Trebunskaya are the runners-up in the 10th season of ABC's reality television show Dancing with the Stars. Pussycat Dolls performer Nicole Scherzinger and Derek Hough won the Mirrorball Trophy.
"We're so proud of Nicole and Derek. They deserve it," said Lysacek, who was hoping to add the Mirrorball to his list of accomplishments, which includes his win at the 2010 Olympic Winter Games. "They inspired all the other couples in the competition."
Team Evanna took second in the Argentine Tango on Tuesday. For their quickstep, Carrie Ann Inaba, Len Goodman and Bruno Tonioli scored them at 10, 9 and 9 for a total of 28, to Scherzinger and Hough's perfect 30 for their jive.
"I am so incredibly thankful to our fans for all of their support this season," Lysacek said. "Without each and every one of them, we never would have reached this point. I love Carrie Ann, Len and Bruno, and their feedback has really helped us grow as a team, but the fans most important judges. Anna and I really appreciate everyone who voted for us. The encouragement has been so amazing."
On Monday, Lysacek and Trebunskaya struggled, finishing third among the finalists with the combined score the score of their redemption dance, the Viennese Waltz, and freestyle. TheViennese Waltz scored 28. The freestyle scored 24.
"I am really satisfied with how we have performed this season," Lysacek said. "It feels great just to have made it to the Dancing with the Stars finals. Anna has been an amazing partner. I could not imagine anyone better to dance with. I'm sad that this was the last one."
Lysacek has been performing on the show since March 22, splitting his time with the Stars on Ice tour, which he performs with on Wednesdays, Thursdays, Fridays and Saturdays. Lysacek and Trebunskaya were consistently among the top performing couples, even scoring the first perfect 30 of the season during Week 7 for the Argentine Tango.
"Dancing with the Stars has been an incredible experience," said Lysacek, who broke a toe during dance training. "When I first decided to do the show, I was excited but nervous because I wasn't sure how well I could learn and compete in something new so close to the Olympics. But Dancing with the Stars is just what I needed to come down from Vancouver. The show gave me a different but fun way to keep challenging myself."
The team performed the Viennese Waltz during Week 1 and revisited it during the finale. Other dances Team Evanna performed include: Jive, quickstep (Week 3 and the finals), tango, rumba, samba, swing, Argentine Tango (Week 7 and finals), cha-cha-cha (team), waltz, futuristic cha-cha-cha, foxtrot, Paso Doble and the freestyle.
"He's become a dancer," Trebunskaya said.
ESPN reporter Erin Andrews and Maksim Chmerkovskiy finished third, being eliminated on Tuesday's show after all three couples performed the Argentine Tango. The judges ranked Andrews and Chmerkovskiy third in that portion.Scherzinger and Hough were first.
"Everything about the past couple months has been great. But what I will most take away from this is the friendships with the other cast members," he said. "We have really become a family over the past couple months. I've been looking forward to competing at the finals this whole time but I am sad that it's all over now. I'm not ready to say 'goodbye' to everyone."
The first couple eliminated this season was 90210 actress Shannen Doherty and Mark Ballas followed by astronaut Buzz Aldrin and Ashly Costa. The other couples eliminated, in order, were:  All My Children actor Aiden Turner and Edyta Śliwinska; reality TV star Kate Gosselin and Tony Dovolani; The Bachelor star Jake Pavelka and Chelsie Hightower; Baywatch actress Pamela Anderson and Damian Whitewood; Clean House host Niecy Nash and Louis van Amstel; and Cincinnati Bengals wide receiver Chad Ochocinco and Cheryl Burke.
The three finalists will perform on Wednesday's Good Morning America.
"We don't take anything for granted," Hough said. "Everybody's been amazing and I'm so happy."
__________
Photo courtesy of ABC
Figure Skaters Online strives to be an accurate source of information related to the sport of figure skating. To report an error, please e-mail the news editor. Include the article date and title in your e-mail.