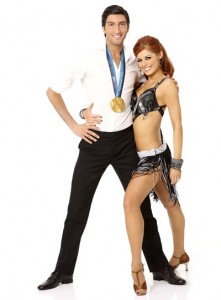 With an Olympic gold medal already to his credit, Evan Lysacek now has his sights set on the Mirrorball Trophy. Lysacek, who won the top prize at the 2010 Olympic Winter Games in Vancouver, Canada, has joined the cast of ABC's Dancing with the Stars for its 10th season, premiering March 22.
His partner is Anna Trebunskaya, who has finished as high as second.
"Everyone that I've talked to has had such a positive experience on Dancing with the Stars so I jumped at the chance to join when they invited me," Lysacek said. "I've had a good time in the audience watching my friends Apolo Anton Ohno and Kristi Yamaguchi compete so I can only imagine how much fun it is to actually be dancing for the Mirror Ball Trophy. I'm really excited about this opportunity because it will give me a challenge while allowing me to celebrate my win at the Olympics."
He withdrew from the 2010 World Championships in Torino, Italy, earlier this week. Ryan Bradley, who finished fourth at the 2010 U.S. Championships in Spokane, Wash., will replace him in the competition, scheduled for March 22-28.
Lysacek is slated to perform with the nationwide Stars on Ice tour, although the Dancing with the Stars competitions are filmed on Monday nights in Los Angeles and the results shows are scheduled for Tuesdays. He also has to be in Los Angeles on Sundays.
"Stars on Ice is the best of the best skaters, including Olympic Champions like Xue Shen and Hongbo Zhao and other medalists from Vancouver as well as world and national champions. I'm honored to be apart of such a talented group of athletes," Lysacek said. He will also be joined by U.S. Champions Jeremy Abbott, Sasha Cohen, Alissa Czisny and Mirai Nagasu.
"This year's show is going to be even more amazing than before because it's a way for me to celebrate my Olympic gold medal with the fans who were not able to make it to Vancouver," said Lysacek, who has toured with Stars on Ice at least partially for the last three years. "It's a way for all of us to have fun with our skating."
Also competing on DWTS this season: Buzz Aldrin, astronaut; Pamela Anderson, "Baywatch" actress; Erin Andrews, ESPN journalist; Shannen Doherty, "90210" and "Charmed" actress; Kate Gosselin, "Jon and Kate + 8" reality star; Niecy Nash, "Reno 911" actress and television host; Chad Ochocinco, Cincinnati Bengals wide receiver; Jake Pavelka, "The Bachelor: On the Wings of Love" star; Nicole Scherzinger, Pussycat Doll singer; and Aiden Turner, "All My Children" actor.
Lysacek is the second figure skater to appear on the show. In the spring 2008 season, 1992 Olympic Champion Yamaguchi won the competition with partner Mark Ballas, who also helped 2008 Olympic Champion gymnast Shawn Johnson to the Mirror Ball Trophy in Spring 2009.
Olympic Champion speedskater Ohno, who recently became the most decorated winter U.S. Olympian with his medal winning performances in Vancouver, and partner Julianne Hough won in Spring 2007.
Lysacek, a two-time U.S. Champion who lives near the set of DWTS, has not retired from competitive skating and will likely resume training after the May 25 finale, although his future skating plans have not been decided. "All I know is I'm not ready to say goodbye yet," he said.
__________
Figure Skaters Online strives to be an accurate source of information related to the sport of figure skating. To report an error, please e-mail the news editor. Include the article date and title in your e-mail.