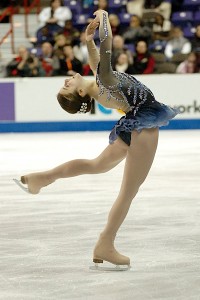 Earlier this week, Ashley Wagner withdrew from the 2010 World Junior Championships in The Hague, Netherlands. The current U.S. Championship bronze medalist is not injured and will continue training for the senior World Championships in Torino, Italy.
She is the first alternate if U.S. Champion Rachael Flatt or silver medalist Mirai Nagasu is unable to compete at Worlds. Wagner was also the first alternate for the 2010 Olympic Winter Games, which recently concluded in Vancouver, Canada.
While her coach, Priscilla Hill, was at the Olympics with Austrian men's champion Viktor Pfeifer, Wagner continued training at home but was uncomfortable with the progress of her junior free skate, which is only 3:30, versus the four-minute length of the senior program.
"I was having a really difficult time switching from the senior long (program) to the junior long," Wagner said Monday. "After the season that I had, it was tough to get into that 'junior' mindset."
Wagner started her season with an impressive silver medal performance at the Rostelecom Cup in Moscow, Russia, and then finished third at the NHK Trophy in Nagano, Japan. She placed fourth at the Grand Prix Final in December.
"When Priscilla returned home from the Olympics, we decided that it would be best to train senior programs as an alternate for Worlds. I've been to two Junior Worlds already, and I figured it would be good to give the alternate the opportunity. Obviously it is a little disappointing that it had to end so soon, but I'm very pleased with the programs I put out at nationals, and I don't mind ending my season there."
Her replacement is Kiri Baga, who won gold medals at Junior Grand Prix competitions in Germany and Turkey this season, qualifying for the Final, where she placed seventh. Baga was fourth in the junior ladies competition at the 2010 U.S. Championships in Spokane, Wash., earning her alternate status. Junior Grand Prix Final bronze medalist Christina Gao, who was fifth in senior ladies, and U.S. Champion in junior ladies Agnes Zawadzki round out Team USA's ladies roster.
Even if she does not go to Torino, Wagner is at peace with her season. "Looking back, I am really happy with what I have accomplished. Throughout the year I steadily improved, which was one of my main goals," she said.
As for looking ahead, Wagner, who turns 19 in May, is performing in some shows this spring and will soon start planning for the next Olympic cycle.
"I am planning on staying in for the next four years, so I'll start training my programs for next year. I'm also hoping to seriously get started in school, so I'll have to figure out how to balance school and skating again."
__________
Figure Skaters Online strives to be an accurate source of information related to the sport of figure skating. To report an error, please e-mail the news editor. Include the article date and title in your e-mail.