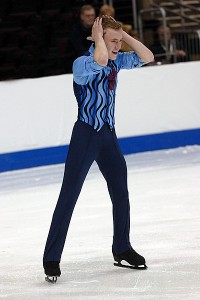 Ross Miner, the 2009 U.S. Junior Men's Champion, has withdrawn from the 2010 World Junior Championships, scheduled for March 8-14 in The Hague, Netherlands. He has been replaced by Keegan Messing.
In January, Miner withdrew from the 2010 U.S. Championships in Spokane, Wash., where he was scheduled to make his senior debut, after he sprained his ankle while performing a triple Axel in practice.
"I wouldn't have been able to train enough to show my best," Miner said. "So rather than risk re-injuring myself, my coaches and I decided it would be better to focus on getting back to 100-percent. I'm glad to report that I'm getting there."
He had a strong season prior to the injury, winning Junior Grand Prix Lake Placid, placing second at JGP Croatia and taking third at the JGP Final, all in his first appearance on the circuit. Miner placed 10th at the 2009 World Juniors.
Messing, who will make his World Junior debut in The Hague, placed ninth in his senior debut at the 2010 nationals. In 2009, he placed second to Miner in the junior men's event and also won the novice bronze in 2007. Messing has competed four times on the JGP series placing 13th in Great Britain in 2007, fourth in Czech Republic and second in Great Britain in 2008 and sixth in Poland in 2009.
The two other men competing for Team USA are Grant Hochstein and Armin Mahbanoozadeh.
__________
Figure Skaters Online strives to be an accurate source of information related to the sport of figure skating. To report an error, please e-mail the news editor. Include the article date and title in your e-mail.