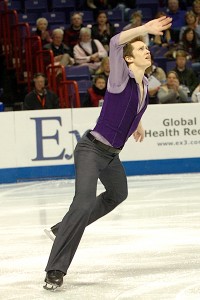 With the Opening Ceremony of the 2010 Olympic Winter Games Vancouver, Canada, just hours away, two-time U.S. Champion Jeremy Abbott is proud to launch his new official Web site Jeremazing.com.
"As you can imagine, it's such an exciting time in my life right now," Abbott said. "I am happy to have a new Web site that will better allow my fans to keep up with me during the Olympics and into the future. Hopefully everyone will enjoy Jeremazing.com."
Abbott has had an official site since winning the 2005 U.S. Championship in the junior men's category. Since, the site has expanded to include more than just the basics, including the recent inclusion of his Facebook and Twitter pages. His page also includes pictures from major competitions and shows from 2005 onward like 2009 Skate for the Heart and the recent national championships.
"Thank you to everyone who made the new site possible," said Abbott, who competes Tuesday in the short program and Thursday in the free skate with his sights set on the podium. "I have such an appreciation for those who have helped me get to where I am today, especially the fans who continue to support me."
In 2008, he established himself internationally by scoring his international personal best 237.72 points at the 2008 Grand Prix Final, which at the time was the highest score ever recorded by an American man. He recently scored 263.66 points en route to the 2010 U.S. Championships. It is the highest score ever awarded at the national competition.
Fans can also use www.figureskatersonline.com/jeremyabbott/ to access the new site.
__________
Figure Skaters Online strives to be an accurate source of information related to the sport of figure skating. To report an error, please e-mail the news editor. Include the article date and title in your e-mail.