Press release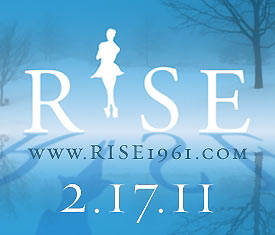 COLORADO SPRINGS, Colo. — U.S. Figure Skating announced today that the cinematic feature RISE has been named an "Official Selection" at the 2011 Palm Springs International Film Festival (PSIFF). The film festival, one of the largest in North America with more than 130,000 attendees, will take place Jan. 6-17, in Palm Springs, Calif.
Commissioned by U.S. Figure Skating, RISE celebrates American figure skating while commemorating the 50th anniversary and legacy of the 1961 U.S. World Team tragedy. An inspirational story about the power of the human spirit, RISE will take audiences on a journey that honors a group of individuals who through their loss inspired the hopes, dreams and successes of some of the most iconic names in Olympic sports history.
Serving as storytellers in RISE are Peggy Fleming, Dorothy Hamill, Scott Hamilton, Brian Boitano and Michelle Kwan. Throughout the feature, these skating luminaries will interweave the stories behind some of the biggest names and moments in the history of the sport with those of the 1961 U.S. World Team members who lost their lives in the crash of Sabena Airlines Flight 548 en route to the World Championships in Prague, Czechoslovakia.
Produced and directed by 16-time Emmy Award winners Lookalike Productions, RISE will debut at the 22nd PSIFF on Saturday, Jan. 8 at 12:30 p.m. PT, with a repeat showing Tuesday, Jan. 11 at 10 a.m. PT. The film festival will feature 193 films from 68 countries, including 59 premieres.
"We are honored that RISE has been selected to be part of such a prestigious film festival," said David Raith, executive director of U.S. Figure Skating. "U.S. Figure Skating has a rich and interesting history, and through this project we have the opportunity to share that history with audiences around the country, and the world."
RISE will make its national debut Feb. 17 as part of a one-night Fathom event that will be seen in approximately 500 theaters across the country through National CineMedia's (NCM) exclusive Digital Broadcast Network-North America's largest cinema broadcast network. The historic evening, hosted by Matt Lauer, co-anchor of the NBC News "TODAY Show," will be broadcast live from the Best Buy Theater in New York City's Times Square. The Feb. 17 live red-carpet event will also feature uniquely choreographed figure skating performances, including a piece by 2010 Olympic gold medalist Evan Lysacek; interviews with RISE storytellers; and appearances by other American figure skating legends broadcast to movie theaters nationwide. Tickets for the Feb. 17 event are available at participating theater box offices and online. Theaters and participants are subject to change.
Proceeds from RISE will be used to further the mission of U.S. Figure Skating's Memorial Fund, which was established Feb. 23, 1961, as a living tribute to the 34 athletes, officials, judges, coaches and family members who lost their lives in the crash. The Memorial Fund awards approximately $300,000 annually in grants and scholarships to skaters in need, recognizing excellence both on and off the ice.
For more details about RISE, including a list of participating theaters, visit www.rise1961.com.
__________
Figure Skaters Online strives to be an accurate source of information related to the sport of figure skating. To report an error, please e-mail the news editor. Include the article date and title in your e-mail.