By Maura Sullivan Hill, Team FSO staff writer
Photos by Robin Ritoss
NASHVILLE, TENN — Tara Lipinski became the youngest-ever national champion when Nashville last hosted the U.S. Figure Skating Championships in 1997. But in Music City in 2022, it wasn't about the youngsters: 25-year-old Mariah Bell claimed her first U.S. title and became the oldest women's champion in 95 years.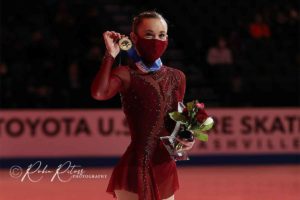 After nine years competing at the senior level — including a silver medal in 2020 and bronze in 2017 and 2019 — Bell stood on the top step of the podium. It was a triumphant return after last year's fifth place finish, when she didn't qualify for the World team for the first time since 2016.
"So last year I was pretty sad leaving Las Vegas. I had a great season kind of leading up and just didn't deliver at Nationals, and we have to do that," Bell said. "And with everything that's going on with COVID, that was just the end of my season. And that was pretty strange. So I took some time off and really decided that I was just gonna not hold back this year…And I'm really proud of how I've been able to keep fighting for this ultimate goal."
When asked about her nine years at the senior level in the post-competition press conference, Bell was nearly incredulous: "Have I been senior for nine years? I've been senior for nine years?!"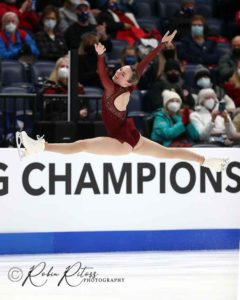 "It's really exciting to be a little bit older, and showing that you can do it at a young age and also at an older age. I'm 25, so it's not like I'm ancient, but in skating I kind of am. But I want that to be a known fact, that skating doesn't end at a certain age and you can continue," Bell said. "Even Elizaveta Tuktamysheva, I'm a huge fan of hers. She's incredible and she's in Russia where really, the heart of all these young skaters are, and she's holding her own at my age, which is awesome. So I think the idea of wanting to show that age is just a number is part of what keeps me going. But also, I do love skating and I have individual goals and dreams and things that I want to do. Obviously someday that will come to an end, but right now I have all these goals and aspirations that I want for myself, so that's really what keeps me going."
Bell won both the short and the long program, earning a new U.S. personal best score of 75.55 in the short program. She started out the season with a free skate to "Both Sides Now" by Joni Mitchell, but decided to return to her 2019-20 crowd-favorite program to "Hallelujah" by k.d. lang after her first competition of the season. She skated the "Hallelujah" program to a U.S. personal best long program score at Nationals in Greensboro in 2020, and while the performance here in Nashville didn't quite meet that score, it still earned a standing ovation from the crowd.
She doubled the toe loop on her planned triple flip-triple toe to open the program, then put her foot down on her triple salchow and stepped out of the double axel in a triple lutz-double axel sequence. But she attacked the program with great speed and fought for every element.
"I'm obviously very excited to finally be national champion. It wasn't a perfect skate, but I was really fighting for a lot of it. I really fought for every point and the audience was so incredible," Bell said. "Really looking forward to taking this and figuring out how I can make things a little more solid heading into what's next."
Bell thought on her feet throughout the program, adding in the lutz-axel sequence in order to have a third combination without being penalized for doing more than two double toe loops. It's a situation she found herself in at the 2016 U.S. Nationals, when she was hit with the deduction and dropped from 6th after the short to 11th.
"I don't remember the last time I did lutz-axel," Bell said. "As soon as I did the triple flip-double toe in the beginning, I was thinking maybe I would try triple flip-triple toe in the second half. But then I was like, Adam would kill me, so I won't do that. I'll just stick with the [planned] three jump [combination of triple flip-double toe-double loop]. But I knew that I couldn't repeat any more double toes. I had an experience several years ago where I did like, 36 double toes at Nationals, so that helped me think on my feet and just do a double axel instead."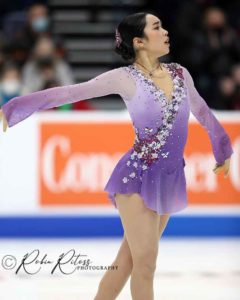 Karen Chen's silver medal performance earned her a full set of medals from the senior women's event at the U.S. Figure Skating Championships. She earned gold in 2017, bronze in 2015, 2018, and 2021, plus a pewter in 2020.
"I've never gotten silver before, so I'm super, super excited about that," Chen said.
The last skater of the evening, Chen also showcased grit and determination in her performance. An underrotation call on her opening double axel-triple toe loop combo, plus negative GOE on her solo triple lutz and final triple loop-double toe combo ultimately left her 2.4 points behind Bell, who had a one-point lead after the short. Bell won with a score of 216.25 and Chen earned 213.85 points.
"I was also just super happy with the fight that I put out there for this long program, but it definitely was not easy," Chen said. "My thoughts started racing and I had to just bring myself back into the moment…but I'm really happy with how I managed to fight through all of it and enjoy the process."
Both Alysa Liu and Amber Glenn tested positive for COVID-19 between the short program and the free skate and withdrew from the competition. Liu posted on her Instagram account that she was feeling well despite the positive test, while Glenn shared that she was feeling symptoms that may have contributed to her difficult performance in the short. When asked about how the news affected the remaining competitors, Chen shared:
"Definitely the news was very, very shocking and super unfortunate to hear. I gave myself 10 minutes to just full-on freak out about it. That's my thing now, because I tend to overthink and overanalyze, so I told myself, 'OK, you can think about this for 10 minutes, and after that you've gotta focus on your skating.' So that's just kind of what I did to help myself stay as grounded as I could and just focus on delivering my performances."
Isabeau Levito, last year's U.S. Junior Champion, said her goal coming into this event was to be on the podium, and she earned the bronze medal with a score of 210.75.
"I'm very excited because my goal was to medal, [and] here I am. I didn't really have a perfect skate, but I reached my goal," Levito said.
At 14, Levito is too young to be named to the U.S. Olympic Team, but told reporters that it is an "exciting environment" to hear the older skaters get asked about the Olympics. This competition was her senior national championships debut, after competing on the Junior Grand Prix circuit this fall.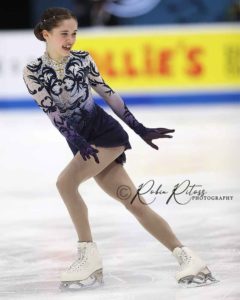 "I didn't really realize, 'Oh, I'm a senior," until actually the medal ceremony, when I went on the ice and I did a little bow," Levito said. "After the short program, I thought to myself, I thought I was feeling, 'Wow, I'm a senior now,' but I guess I didn't really all the way. It was a really great sense of warmth and happiness to see people like what I'm doing or they like how I'm doing things. It was a very happy moment for me."
Levito performed all three of her jump combinations in the second half of her program, earning the 1.1 bonus on the base value. Her triple flip-triple toe loop earned positive GOE, while the triple lutz-euler-triple salchow was called underroated. Not only did she showcase difficult technical content, but she moved across the ice with a light, bubbly quality throughout her program to "Russian Dance" from Swan Lake.
Levito and fifth place finisher Lindsay Thorngren were the only two women in the event to attempt two triple-triple combinations. Thorngren's lutz-euler-salchow was also called underroated.
Thorngren, who was sixth at Nationals in 2021, also attempted a triple axel to open her program, but she fell and the jump was downgraded to a double.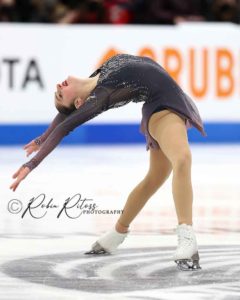 Gabriella Izzo, the 2019 U.S. Junior Champion, earned the pewter medal here with a score of 188.11. She has already competed 11 times this season, including a bronze medal at the U.S. International Classic and a fourth place finish at the Golden Spin of Zagreb.
After falling on her triple flip and popping a triple lutz, Izzo nailed her final double axel and two spins, and said, "I brought it back at the end…I definitely learned a lesson going forward that you have to stay in it until the very end of every performance."
Izzo, who balances her training with classes at Harvard University, told reporters in the mixed zone: "It's been quite a season. I ended up having surgery after last Nationals [on a torn right labrum, after having the same surgery on her left shoulder in 2020], and then I ended up switching coaches [to Aleksey Letov, Olga Ganicheva at the Skating Club of Boston] and it's just been a whirlwind. It's up and down and this is definitely up right now."
Gracie Gold, who was in sixth place after one of the best short programs of her career, struggled in her free skate and finished in 10th place overall.
The women's teams for the Olympics, Four Continents, and World Championships will be announced at 4:40 pm ET live on NBC. Check back to the FSO for the team announcement and lists of alternates.
Photos from the women's event are posted on our 2022 U.S. Championships Photo Gallery.