By Claire Cloutier, special to Figure Skaters Online
Header photo by Leah Adams
It was a dramatic, tension-filled afternoon for the U.S. pairs on Saturday as they took the ice for the long program at U.S. Nationals. With a spot for the Olympic team on the line, all the teams were looking to put out their best performances of the season.
Alexa Scimeca-Knierim/Chris Knierim, favorites coming into the competition, had a somewhat shaky performance in the long program, but did enough to win their second National title.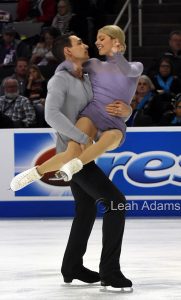 The Knierims opened with their signature element, the quad twist, which earned positive quality, or grade of execution (GOE), scores. They followed with a throw triple Salchow. But in the next minute, the program threatened to unravel as the Knierims struggled with their side-by-side jumps. Both had problems on the side-by-side triple Salchow, with Alexa falling and Chris turning out. The jump was downgraded. Then Chris doubled the side-by-side triple toe loop in their combination. The Knierims then rebounded with a high throw triple flip and several strong lifts. They earned 135.50 in the LP and 206.60 overall to win the U.S. title by almost 6 points over Kayne/O'Shea.
In tears after their free skate, Scimeca-Knierim said, "I know everything happens for a reason … I'm grateful." She admitted that it was a challenge dealing with the high expectations. "It was especially hard today. I could feel the pressure of being last in the group and being favorites. It was a little daunting–I'm not going to lie. But I think we handled it by recognizing what we've been through, and how this is not as scary or [as] big of a deal as the medical stuff I've been through."
Not only did the Knierims have to manage others' expectations, they also had deal with their own. Asked how much pressure they put on themselves coming into Nationals, Scimeca-Knierim said: "I think I put quite a bit on. Because I wanted to make a statement, after the Grand Prix–come here and really show improvement on the jump side. Unfortunately, I don't think it was successful in the sense of [the jumps] being better. So that's a little unfortunate and disappointing."
They wished they could have had a stronger performance in the free skate. Scimeca-Knierim said: "After the music ended, I was a little bummed that I didn't have that feeling when you know you've nailed your program and you just feel so alive inside and you just want to celebrate."
But the Knierims took some satisfaction in the elements they performed well. "It wasn't our best skate. We do have a lot of strong elements, which I think helped us stay up in the points. But we still need to improve and we still need to get better for future competitions," said Chris Knierim.
The Knierims' coach, Dalilah Sappenfield, commented: "I'm just such a proud coach right now. Because they didn't give up. It takes 12 elements. And they missed two. But all the other elements they did were elite and scored +2s, +3s. So they made up for that—for those [missed] elements. It took a lot of heart to not give up like that. So I'm just very proud."
Sappenfield also spoke of the challenge of handling expectations. "There was a lot of pressure. We didn't want to just get selected, we wanted to win and build optimism about our team, to go to the Olympics."
This morning, it was announced that U.S. Figure Skating has nominated Scimeca-Knierim/Knierim to the U.S. Olympic team.
"It's super-exciting. We worked so hard to get to this point. You only get the opportunity once every 4 years. So it's very exciting for us to be named to the Olympic team," said Knierim. "And everything Alexa went through–it just validates how hard she worked to get back to skating, and to get back to being healthy."
"We're just so grateful and honored to be named to the team," Scimeca-Knierim added.
The couple said they received a text message Saturday night with the news. Knierim saw the notification of the text message first. "We got both of our families together, and opened the text message on Alexa's phone, and she read it aloud, and then we all freaked out," he recounted. 
It will be the first Olympics not only for the Kneirims, but also for their coach. "It's obviously a lifelong dream," said Sappenfield. "I've been at it for a long time, I think I've paid my dues. I'm ready. I'm very honored."
"Dalilah has been an Olympic-level coach for a long time," said Knierim. "It hasn't worked out [for her] the past few Olympic cycles. But I'm very excited–taking her to the Olympics for her first, and my first. Because I've been with her for such a long time, since I was 17. She's brought me up through pairs from the beginning. So I'm just so happy that we were the team to do it for her."
"I don't think any coach deserves to be an Olympic coach more than Dalilah," added Scimeca-Kneirim. "She gives everything she has, every single day, into training. She always puts the team's best interests first. She was with me in the hospital room many times [during Scimeca's medical problems]. She was there, she saw it all. She took me to the emergency room a few times. She's family to us. She married us. It's not just Chris and I, it's her, too. And we can't thank her enough. Being able to bring her as part of our team is a huge deal."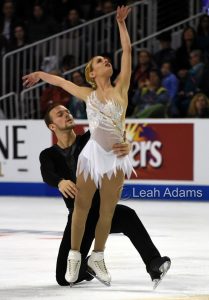 Tarah Kayne/Danny O'Shea capped their comeback from Kayne's knee surgery with a dramatic and exciting performance to Swan Lake to take the silver medal. Kayne/O'Shea, who won the U.S. title in 2016, missed most of the fall season due to Kayne's recovery but stormed back here in San Jose, with an emotional, if not flawless, long program
Kayne/O'Shea opened their free skate with a level 2 triple twist, which was a bit low but looked clean on the catch. Next they landed clean SBS 3S, followed by a nice throw triple Salchow, which earned positive GOE. Kayne underrotated and stepped out of the second jump in their side-by-side double Axel/double Axel sequence. She also fell on the throw triple Lutz. However, the team recovered quickly with strong side-by-side spins. Their closing star lift was impressive and perfectly set to the music, closing the program on a high note. Once again in this free skate, Kayne/O'Shea showed their special ability to take advantage of the unique energy at U.S. Nationals and connect with the crowd to create a moment that will be remembered. Kayne/O'Shea scored 131.87 in the long program and 200.80 overall.
It was a satisfying result for the couple after a tough experience at last year's U.S. Nationals, where they had to withdraw after the short program.
Kayne/O'Shea's strong performances at Nationals came as a bit of a surprise, after a lackluster showing at their first event this season, Golden Spin. The couple said that, following Golden Spin, they were able to increase the repetitions they were doing on elements, leading to greater consistency at Nationals.
Kayne said she also took a different approach to this event. "At Nationals, I always feel like there is nothing to lose," she said. "You're at Nationals–why are you going to hold back? So I just decided to stop being afraid. At Golden Spin, I was nervous, because I was afraid. I was afraid of making mistakes. I was just getting back into my elements, and part of my fear was: 'Am I going to get hurt again? Is my knee going to be okay? It was an involved surgery; is it all right?' And the answer is yes. I just needed to stop thinking about it so much."
"You can't go into an element thinking: 'Is my knee going to be OK?' That's not a part of the process," Kayne continued. "At Nationals this year, I just decided to give every element my all and get rid of that voice in my head, that doubt. One thing that my coach said to me was: 'One element should never ruin Swan Lake. A triple Salchow shouldn't affect the whole picture.' So that's one thing I kept in mind when I just decided to let go of the fear."
Coach Jim Peterson praised Kayne/O'Shea's effort in San Jose. "I'm outrageously proud of them. To see Tarah thrive—I was so proud of her sitting up there today. She's not skating with fear. She's skating with confidence, she's skating with pride. Honestly, I'm not all that surprised. I knew they had it in them, and I knew the programs were beautiful. I'm happy for them, that they're having this moment again, after having to withdraw last year."
Kayne/O'Shea have been named to the Worlds and Four Continents teams.
Deanna Stellato/Nate Bartholomay also surprised by winning the bronze medal. In only their second year together, Stellato/Bartholomay put out an energetic, ambitious long program to a U2 medley.
Stellato/Bartholomay opened with a nice level 3 triple twist. They had trouble on the side-by-side triple Salchow and side-by-side triple toe/double toe combo, getting negative GOE scores on both jump passes. Their throw quad Salchow ended in a fall; however, with the high base value of the throw, they still earned 5.20 points. The second half of the program was quite strong, with a solid throw triple loop and three well-done lifts. Stellato/Bartholomay showed nice energy and commitment all the way through the program, finishing strongly. They earned 129.81 in the long program and 197.65 overall to win bronze.
"We felt like we had a gutsy performance today," said Bartholomay afterward. "We went for that throw quad. It wasn't quite there for us, but we're thrilled to be among the best in the country for what we do."
Their success was all the more surprising, considering that Stellato only started skating pairs a year and a half ago.
"I feel like I still need to learn a lot about pairs," Stellato said with charming candor. "I'm used to skating with myself, not with Nate. So if I come out of a jump and it feels a little weird, I'd [usually] do a back crossover and a shimmy, and then go. And Nate's like: 'There's no shimmy in this program.'" Both partners laughed at this.
Stellato/Bartholomay's coach, Jim Peterson, said that he has been impressed by Stellato's rapid progress. "I was slightly skeptical in what the learning curve of her skill set would be. But I've been blown away by it. She's obviously hyper-talented."
As one of the older pairs in the event, Stellato/Bartholomay feel that their maturity is an asset. "We really bonded and felt that together," said Bartholomay.
The partners said they take equal roles in the relationship. "She really knows what she wants to do, and she takes the lead a lot on the effort and what we're going to do that day. I take the lead a little bit more on the technical side, because I have been doing this a lot longer than she has," explained Bartholomay.
Stellato/Bartholomay have been named to the Four Continents team. They were excited about the assignment.
"We just want to show that we deserve to be out there," said Bartholomay,
"We'd like to skate programs similar to these [at Four Continents]," Stellato added.
"I think it's a great opportunity for them to shine and earn some points," said Peterson, referring to world standing points.
After a subpar short program, Ashley Cain/Timothy LeDuc came back with a much stronger free skate to take 4th place and win the pewter medal.
Cain/LeDuc showed a lot of sass and flair in their Great Gatsby program, having fun with the footwork sections and playing expertly to the crowd. Their opening technical element was a level 1 triple twist, followed by a great SBS 3S/2T/2Lp combo (8.60 points). They also landed a good throw triple Salchow. There were a few technical issues elsewhere in the program—hand down on the throw triple flip, underrotation on the side-by-side triple loop, and a shaky star lift. But Cain/LeDuc were a hit with the audience. They scored 127.11 in the LP and 187.14 total.
"This was a really important skate for us," said LeDuc. "We wanted to step over the fear and anxiety that can sometimes hold you back when you want to skate freely. We know what we can do when we skate to our potential, and we didn't do that in the short [program]. We know that we're a force to be reckoned with in the next four years in the United States. So it's important for us to show that we're here and we're ready to go."
LeDuc noted that this season has been challenging for the team, with some disappointing results at earlier events. "That's what I think this year was about for us, was experiencing some of the difficulties and learning how to work through them as the team that we are. We've come out on the other side stronger."
Cain/LeDuc have been named to the Four Continents team.
Haven Denney/Brandon Frazier came into the event as defending national champions, but had to settle for a 5th-place finish. Denney/Frazier put out some strong elements in their long program:  A very good level 3 triple twist, a beautiful throw triple loop, and a gorgeous reverse lasso lift. However, they struggled on their side-by-side jumps, with quality issues on their side-by-side triple toe/single toe combo and a downgraded triple toe loop. The team also lost levels on many elements—the death spiral, both spins, and even two lifts were called as level 2 or 3 (instead of level 4). The combined effect of the jump downgrade and the level losses meant their base value was 5 points lower than Cain/LeDuc's.  Denney/Frazier earned 122.69 in the LP and 186.32 overall.
It was a disappointing result for the defending champions, but they looked on the positive side. "From a technical standpoint, we didn't get all of our levels we were planning on getting," said Denney.  "But I felt like we didn't leave anything out, we tried everything that we could, and just left all of our hearts out there. So I'm proud of that."
Denney/Frazier feel their side-by-side jumps are improving, despite the issues in the long program.
"Definitely much more improved than last year," said Frazier. "I think under pressure, they get tight, and we don't execute them as aggressively as we know we can do it, like we have been in practice. So that's what we need to improve on the technical side."
"In practice, it's been getting so much better," Denney concurred. "Now our next step is being able to do that under pressure, at a competition."
Marissa Castelli/Mervin Tran, defending National silver medalists, also had some problems in the long program and wound up 6th. Castelli/Tran got good height on their opening level 3 triple twist, but the catch was not clean, leading to negative GOE. Their side-by-side jump combo was a double Salchow/single toe loop/single toe loop (instead of a triple combo), and their side-by-side triple toe loop was downgraded. They earned only about 2 points total on side-by-side jumps. They did complete both throw jumps (triple flip and triple Salchow). Their spin and lift elements were quite strong, and they brought nice emotion and expression to their "Woman" LP. Castelli/Tran scored 121.63 in the LP and 182.38 overall.
"We didn't do exactly what we wanted to do," said Castelli. "We've been practicing really well."
With regard to the side-by-side jump problems, Castelli admitted to being "in a funk" right now with her jumps. "My triple Salchow has been a little hit or miss; that's why we decided to take it out today."
Castelli/Tran spent some time this fall working with Rafael Arutunian on their jumps. "Working with Raf has been a completely new experience for us," said Castelli. "He's very strict–starts yelling at us when we're doing the [jump] setup. And you're like, 'I don't know if I'm doing it right or wrong!' But it was a great experience, and we're hoping to get back soon. We haven't been able to get back [to Arutunian] since September. We'd like to get back every so often now, to start working with him more often."
Chelsea Liu/Brian Johnson placed 7th. After a strong short program, the team struggled a bit in the free skate.
Liu/Johnson put out a level 4 triple twist and several strong lifts in their Spartacus LP. However, they struggled on all four jumping passes. Liu underrotated and fell on the triple Salchow, and failed to complete the planned double Axel. She also fell on the throw triple flip and 2-footed/put a hand down on the throw triple Salchow. It was a rough skate. Liu/Johnson scored 105.12 in the LP and 167.47 total.
"Not quite what we wanted to do," said Johnson. "But it sounded like everybody loved our in-between stuff, especially our choreo sequence. So I know the performance aspect was there, which is what we're trying to focus on. So I'm happy about that." He said it was "just one of those days" with the jumps.
Liu/Johnson's coach, Jenni Meno, commented: "I think, from our point of view, they're young. And we can take this and build on it for the next four years. This was a good experience for them, skating last [in their group], in a big crowd of people, a great performance before them. So they'll learn from that, and take that, and build on it for next year." 
Jessica Pfund/Joshua Santillan placed 8th. Their Gone With the Wind LP was lyrical and pleasant to watch. They also hit some nice elements, including a good side-by-side triple toe/double toe combination and throw triple loop. However, there were also some mistakes. Santillan stepped out of the side-by-side triple toe loop, Pfund turned out of the throw triple Salchow, and their level 1 triple twist had a low catch. The couple's closing star lift also came down early and earned no points—a costly error. Pfund/Santillan scored 103.10 in the LP and 163.62 overall.
After a disappointing short program, Jessica Calalang/Zack Sidhu came back with a much stronger effort in the free skate to place 9th. Calalang/Sidhu's Carmen long program was skated with nice spirit and style. It was entertaining to watch, despite a few technical errors. The couple hit a level three triple twist and a clean side-by-side double Axel/double toe sequence. Calalang doubled the side-by-side triple Salchow. Both throw jumps had nice height, but flawed landings (2-foot on Salchow, stepout on flip). Calalang/Sidhu's lifts were good, with nice ice coverage and positions. And they kept the performance level high throughout. They scored 111.80 in the LP and 162.23 total.
Erika Choi Smith/AJ Reiss finished 10th. Their Beauty and the Beast free skate was lovely to watch, with some beautiful transitions and choreography. Smith/Reiss showed smooth, well-done lifts and a light, easy level 3 triple twist. They also completed a double Axel/single toe combo and side-by-side triple Salchows (stepout from Reiss). However, their program was marred by two big mistakes on the throw jumps. Erika fell on the throw triple loop. Then their planned throw triple Salchow went completely awry, with Erika coming out one rotation early and falling awkwardly to the ice. It was a shame, as the rest of the program was quite beautiful. Smith/Reiss scored 108.08 in the long program and 159.03 overall.
It was an eventful U.S. Nationals for the American pairs. We'll next see them in action at Four Continents (Jan. 23-28), followed of course by the Olympics, which start Feb. 9.