Press release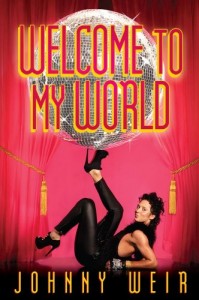 In a memoir as candid and unconventional as Johnny Weir himself, the three-time U.S. National Champion figure skater who electrified the 2010 Olympic Winter Games shares his glamour, gritty, heartbreaking, hopeful, and just plain fabulous life story in WELCOME TO MY WORLD (Gallery Books; Hardcover; On-sale January 11, 2011; $26.00).
How does a boy from rural Pennsylvania become an all-American original style icon on and off the ice, adored by fans around the world, and hailed as "the Lady Gaga of skating" (Salon.com)? The answers are here, in this invigorating and thoroughly entertaining memoir.
From his first pair of worn out black leather skates to his stunning performance at the 2010 Vancouver Olympics, WELCOME TO MY WORLD is the chronicle of Johnny's career, life and loves. Johnny takes readers from the first days when he had to choose between skating and horseback riding, the physical and emotional grinding path to becoming a champion; a family that sacrificed everything to support his passions; an ability to rise again after the most devastating defeats and never look back; an appreciation of style (from his mom) and self-discipline (that would be from his dad); and a fearless confidence to say whatever's on his mind.
Because when you're Johnny Weir, you don't worry about what other people think.
You let everyone else worry about that for you.
Welcome to his world.
__________
Figure Skaters Online strives to be an accurate source of information related to the sport of figure skating. To report an error, please e-mail the news editor. Include the article date and title in your e-mail.