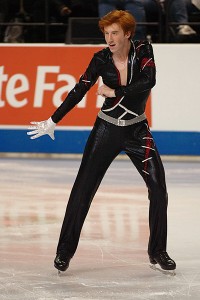 Sean Rabbitt is proud to open his official website at www.figureskatersonline.com/seanrabbitt/ in cooperation with Figure Skaters Online. Recently, Rabbitt made his senior national debut at the 2011 U.S. Championships and is now organizing a benefit show for Japan tsunami relief with Glacier Falls Figure Skating Club.
The show, Skaters Care, is April 3 at the Citizens Business Bank Arena in Ontario, Calif. With adult tickets ranging from $15-$35, and merchandise at all price ranges, proceeds will go to the the American Red Cross Japan Tsunami Relief effort, though American Giving, the employee cause arm of American Airlines. Additional information can be found at SkatersCare.com.
In 2010, Rabbitt made his first appearance at the U.S. Championship, placing 11th in the junior men's competition. He qualified with back-to-back silver medals at the Southwest Pacific Regional Championship and Pacific Coast Sectional Championship.
Skating as a senior for the first time in the 2010-11 season, Rabbitt won the silver medal at the Pacific Coast Regional Championship and followed that with a fourth place showing at sectionals, qualifying him for the 2011 U.S. Championships, where he made his senior debut despite having the flu. He was 20th.
"My mom has muscular dystrophy and it is a hard struggle for her everyday," Rabbitt said. "Being out there and seeing her enjoy my skating as much as I do, gives me joy and a freedom that I only wish she was able to experience. I also enjoy entertaining a crowd. The more people, the more fun."
Fans can visit his site at www.figureskatersonline.com/seanrabbitt/. Sean Rabbitt Online not only features news but also features photos, including shots from the recent nationals, a blog and a contact form where fans can e-mail Rabbitt.
__________
Photo courtesy of Leah Adams
Figure Skaters Online strives to be an accurate source of information related to the sport of figure skating. To report an error, please e-mail the news editor. Include the article date and title in your e-mail.