Press release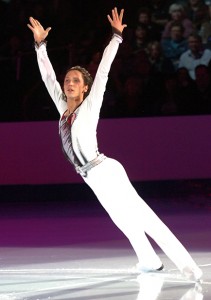 NEW YORK – "Ice Dreams Starring Johnny Weir" is returning to The Edge Ice Arena in Bensenville, Illinois, on April 30. This year's show will feature 100 young local skaters in a group number. The "Future Stars" were chosen to participate in the show through live and web auditions.
Weir, a three-time U.S. national champion, two-time Olympian, and World medalist, will be joined on the ice by Brandon Mroz, Ashley Wagner and Chicago-area natives; World Junior Bronze Medalist Agnes Zawadski of Des Plaines and Ice Dance Olympian Melissa Gregory of Northfield. Their special guest will be local up and comer Jordan Moeller, who claimed the gold as an intermediate in 2010 and is the 2011 novice silver medalist.
The champions are looking forward to sharing the ice with the "Future Stars".
"Performing with young skaters is great, because our fans are what keep us going," said Weir. "It is our job to inspire young skaters and encourage them to follow their dreams on and off the ice."
"Olympic dreams start every day at ice rinks around the world, and Fireworks is lucky to see young skaters become champions," said Tara Modlin, president of Fireworks Sports Marketing and Ice Dreams' executive producer. "Maybe our next Olympian will make their debut performance at Ice Dreams!"
Ice Dreams will donate $1 of every ticket sold to the Japanese Red Cross in support of the relief effort. There also will be a silent auction held the night of the show, with all auction proceeds to be donated to the Japanese Red Cross.
For more information visit www.icedreamstour.com.
__________
Photo courtesy of Leah Adams
Figure Skaters Online strives to be an accurate source of information related to the sport of figure skating. To report an error, please e-mail the news editor. Include the article date and title in your e-mail.