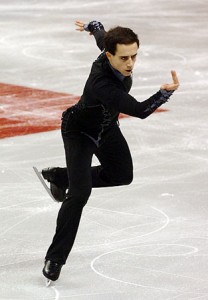 The Nebelhorn Trophy, Sept. 21-24 in Oberstdorf, Germany, kicks off the 2011-12 senior international season. Of the 89 athletes expected to compete in the ladies, men, pairs and ice dance events, 12 represent the United States: Joelle Forte and Mirai Nagasu in ladies; Max Aaron and Stephen Carriere in men's; Caydee Denney and John Coughlin and Tiffany Vise and Don Baldwin in pairs; and Madison Hubbell and Zach Donohue Anastasia Olson and Jordan Cowan in ice dance.
In Oberstdorf, Michal Brezina of the Czech Republic is the favorite to claim the men's title following a fourth place performance at the 2011 World Championships, which included a quadruple Salchow and quad toe in the free skate. He withdrew from his two 2010 Grand Prix events, Cup of China and Trophee Eric Bompard, after undergoing surgery for a varicose vein in his abdomen but previously won bronze on the circuit at 2009 NHK Trophy. He was fourth at the 2010 Worlds.
Yuzuru Hanyu and Tatsuki Machida of Japan are also contenders for the podium. Hanyu's 2010 Grand Prix scores fluctuated but he was able to set a personal best 228.01 points en route to a silver medal at the 2011 Four Continents Championships. Machida's persona best 217.48 points is lower than his teammate's score but he comes in to Oberstdorf with the momentum of a win at Triglav Trophy. He's also the reigning Nebelhorn Trophy Champion.
Other international skaters who could factor into the medals: Spain's Javier Fernandez, who was 10th at Worlds; Russia's Konstantin Menshov, who was seventh at Europeans; and Kazakhstan's Denis Ten, who was 14th at Worlds. Menshov is the 2010 Nebelhorn Trophy silver medalist.
America Carriere (Wakefield, Mass.), the 2008 U.S. Championship bronze medalist, withdrew from the last two U.S. Championship because of injury. He is making his first major appearance since finishing ninth at 2010 Skate America. Over the summer, he competed well at the Boston Open and Liberty Open among other events.
Reigning U.S. Junior Men's Champion Aaaron (Colorado Springs, Colo.) is making his senior debut at the Nebelhorn Trophy. On the 2010-11 Junior Grand Prix circuit, he won the bronze medal in France, the silver medal in Japan and finished fourth at the Final. He was also fifth at the 2011 World Junior Championships.
Brezina should win the championship but the late finish to the 2010-12 season, which saw the Worlds held in May, and his upcoming Grand Prix events may affect his readiness. Podium predictions: 1) Michal Brezina, Czech Republic. 2) Yuzuru Hanyu, Japan. 3) Stephen Carriere, United States.
The men's short program is Thursday and the free skate is Friday.
— Amber Lewis contributed to this report
__________
Photo courtesy of Leah Adams
Figure Skaters Online strives to be an accurate source of information related to the sport of figure skating. To report an error, please e-mail the news editor. Include the article date and title in your e-mail.