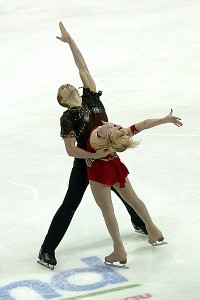 The Nebelhorn Trophy, Sept. 21-24 in Oberstdorf, Germany, kicks off the 2011-12 senior international season. Of the 89 athletes expected to compete in the ladies, men, pairs and ice dance events, 12 represent the United States: Joelle Forte and Mirai Nagasu in ladies; Max Aaron and Stephen Carriere in men's; Caydee Denney and John Coughlin and Tiffany Vise and Don Baldwin in pairs; and Madison Hubbell and Zach Donohue Anastasia Olson and Jordan Cowan in ice dance.
The pairs competition in Oberstdorf should be dominated by the Russian pairs Tatiana Volosozhar and Maxim Trankov, the gold medal locks, and Vera Bazarova and Yuri Larionov, favorites for the runners-up position. In their first season together, Volosozhar and Trankov won the silver medal at the 2011 World Championships, coming in about six points behind Aliona Savchenko and Robin Szolkowy, the three-time World Champions from Germany. Volosozhar and Trankov's only competitions prior to Worlds were Mont Blanc Trophy and the Russian Championships, both of which they won.
Bazarova and Larionov come into Nebelhorn Trophy as reigning champions and with the momentum of a strong 2010-11 season that saw them win five medals in seven events, their only non-podium performances coming at the Grand Prix Final and Worlds, where they were fifth. The pair won silver medals at Trophee Eric Bompard and Nebelhorn Trophy and bronze medals at the Russian nationals and European Championships.
Denney (Ocala, Fla.) and Coughlin (Kansas City, Mo.) could also factor into the medals but Nebelhorn Trophy marks their first serious competition since forming a partnership in May 2011. Both have had success with previous partners, Denney winning the 2010 U.S. Championship with Jeremy Barrett and Coughlin winning the national title the following year with Caitlin Yankowskas.
Vise (Peoria, Ariz.) and Baldwin (Peoria, Ariz.), who formed their partnership in May 2009, have competed once internationally before, placing second at 2010 Ice Challenge. They placed eighth at the 2010 U.S. Championships and improved to sixth this year.
Volosozhar and Trankov have competed consistently well in their short time together. Podium predictions: 1) Tatiana Volosozhar and Maxim Trankov, Russia. 2) Vera Bazarova and Yuri Larionov, Russia. 3) Caydee Denney and John Coughlin, United States.
The pairs short program is Friday and the free skate is Saturday.
— Amber Lewis contributed to this report
__________
Photo courtesy of Leah Adams
Figure Skaters Online strives to be an accurate source of information related to the sport of figure skating. To report an error, please e-mail the news editor. Include the article date and title in your e-mail.