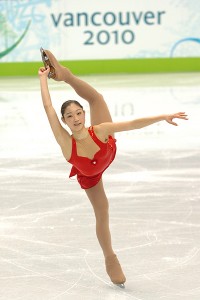 The ladies competition at Skate Canada is one of the toughest fields in the 2011 International Skating Union (ISU) Grand Prix of Figure Skating Series. While only Japan's Akiko Suzuki has won a Grand Prix event, six of the 10 athletes could realistically claim the title in Mississauga, Ontario, Canada.
Rachael Flatt (Del Mar, Calif.), Mirai Nagasu (Arcadia, Calif.) and Ashley Wagner (Mission Viejo, Calif.) finished second, third and sixth, respectively, at the 2011 U.S. Championships behind Alissa Czisny (Bowling Green, Ohio), who captured the season opening Skate America crown. And all three could win their first Grand Prix title at Skate Canada.
Three-time World team member Flatt, a four-time silver medalist on the Grand Prix, returns to competition for the first time since her 12th place finish at the 2011 World Championships, where she competed with an injury. Since Worlds, the now healthy 2010 U.S. Champion moved from Colorado Springs, Colo., to attend college at Stanford University in Palo Alto, Calif., and is now under the guidance of Justin Dillon, Lynn Smith and Sergei Ponomarenko at three ice rinks near her college. While she appeared at ease at the recent Evening with the Champions charity show, Flatt has been working hard over the summer, hoping to incorporate the triple flip-triple toe combination in her "East of Eden" short and the triple Lutz-triple loop sequence in her new free program to "The Firebird".
At Nebelhorn Trophy at the end of September, Nagasu won her first senior international crown, but she gave a less than stellar performance. She fell on the opening triple loop-double loop in her free skate. Nagasu, the 2008 U.S. Champion and fourth place finisher at the 2010 Olympic Winter Games, also had three under rotated jumps and two edge calls, bringing her overall score to 167.46 points. While she was not at her best, Nagasu's standings generally improve as the season progresses, and the 2011-12 season marks the first time in her senior career where she has not kicked off the year at a Grand Prix event. The 2010 Trophee Eric Bompard silver medalist and 2011 Four Continents Championship bronze medalist is working on implementing a triple-triple but has not committed to attempting it in Mississauga.
After finishing fifth at the NHK Trophy and third at Cup of Russia last season, Wagner placed sixth at nationals. She announced in June that she was leaving coach Priscilla Hill in Wilmington, Del., to train with famed coach John Nicks, who recently trained 2006 Olympic silver medalist Sasha Cohen. At her first competition with Nicks, the Glacier Falls club competition, she won with 167.31 points, higher than her ISU personal best mark of 167.02. Wagner, who has a silver and three bronze medals Grand Prix medals dating back to her third place showing at 2007 Trophee Eric Bompard, is working on a triple-triple as well as giving focus to program components.
While all three Americans have the potential to win Skate Canada, it is unlikely that the U.S. ladies will sweep the podium. Japan's Akiko Suzuki and the Russian duo Alena Leonova and Elizaveta Tuktamysheva could shut out Team USA.
Suzuki was fourth at Japanese nationals last season, leaving her off the World team despite a strong fall campaign. She was second at 2010 Cup of China and Cup of Russia before taking fourth at the Grand Prix Final. In the 2009-10 season, Suzuki won Cup of China, finished fifth at Skate Canada and placed third at the Final. She was eighth at the Olympics, where she set a personal best of 181.44, and 11th at Worlds.
Leonova turned heads with a fourth place performance at the Worlds, just narrowly missing out on the bronze medal won by Italy's Carolina Kostner, who won silver last week at Skate America. In Moscow, she landed a triple toe-triple toe combination in both the short program and the free skate, helping her to a personal best 183.92. Despite finishing the season strong, her 2010-11 campaign was a mixture of highs and lows. She was third at Cup of China but ninth at Cup of Russia. She won a second consecutive silver medal at Russian nationals then placed fifth at Europeans. She's the 2009 World Junior Champion. Also in 2009, she was second at NHK Trophy, third at Cup of Russia and placed sixth at the Grand Prix Final.
At 14 years old, Tuktamysheva is ineligible to compete at the World Championships until 2013 but is making her Grand Prix debut this season. Following a successful 2010-11 campaign that saw her win two Junior Grand Prix (JGP) events, silver medals at the JGP Final and Junior World Championships and a bronze in seniors at Russian nationals, Tuktamysheva won the Japan Open to kick-off the 2011-12 season. She scored 118.59 points in the free skate only competition.
Six ladies can win Skate Canada but only three will leave Mississauga with a medal. Podium predictions: 1) Mirai Nagasu, United States. 2) Elizaveta Tuktamysheva, Russia. 3) Rachael Flatt, United States.
__________
Photo courtesy of Leah Adams
Figure Skaters Online strives to be an accurate source of information related to the sport of figure skating. To report an error, please e-mail the news editor. Include the article date and title in your e-mail.