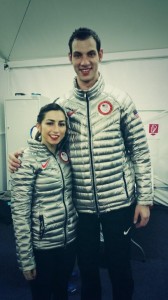 The Olympics started less than a week ago and in just that short amount of time, life has changed for Marissa Castelli and Simon Shnapir. In a span of less than seven days, the two-time U.S. Championships have skated four times on Olympic ice. They helped Team USA win a bronze medal in the first-ever Olympic Figure Skating Team Event. But they get much time to celebrate. Just a day later, they were back on the ice, skating in the individual pairs competition.
On Tuesday, Castelli and Shnapir scored a 67.44.  It was their best score for their short program at an international event this season. At the end of the day, they found themselves in 9th place. Their goal for the event was a top 10 finish.
On Wednesday, Castelli and Shnapir closed the chapter on their 2014 Olympic experience with another strong skate. The two scored another season's best and had a 120.88 in their free skate and had a total score of 187.82 points.  They finished the competition in 9th place, achieving their goal of top 10  finish.
Now that they are done with their competition at the Olympics, the two are ready to relax, enjoy the rest of the Olympic experience and cheer on their Team USA teammates.
Marissa Castelli and Simon Shnapir's website

Olympic Schedule (We will be posting a daily TV schedule each day)
February 13, 2014: 10:00 a.m. (EST): Men Short Program (Live on NBC Sports Network or NBCOlympics.com).  Jeremy Abbott will skate at 11: 21 a.m. and Jason Brown will skate at 12:17 p.m.
Social Media
FSO has decided to provide as much live updates on Twitter as we can. If you would like to follow our live updates, make sure you follow @FSOnline on Twitter or staff member Gina Capellazzi @ginaballerina. Also make sure to follow our skaters on Twitter. They are posting lots of updates from Sochi.